Could THE GREATEST SHOWMAN Be Coming to Broadway?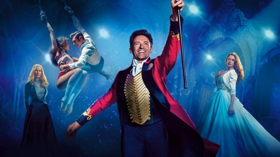 Will The Greatest Showman come alive on a Broadway stage someday? According to 20th Century Fox film chairman-CEO Stacey Snider, it's very possible!
While no details have been confirmed, Snider told The Hollywood Reporter that there are talks to create a stage adaptation of the Hugh Jackman-led musical film, following its box office success.
The film began its run with a disappointing first weekend at the box office but quickly gained traction and is on its way to becoming one of the top-grossing musicals of all time in North America.
Read more here.
Inspired by the imagination of P. T. Barnum, "The Greatest Showman" is an original musical that celebrates the birth of show business and tells of a visionary who rose from nothing to create a spectacle that became a worldwide sensation. "The Greatest Showman" is directed by exciting new filmmaker, Michael Gracey, with songs by Academy Award winners Benj Pasek and Justin Paul ("La La Land") and starring Academy Award nominee Hugh Jackman. Jackman is joined by Academy Award nominee Michelle Williams, Zendaya, Zac Efron and Rebecca Ferguson. The film hit theaters on December 20th!