Click Here for More Articles on Stream Now
Constantine Maroulis, Ace Young, Diana DeGarmo and More to Take Part in Axelrod PAC's Virtual Summer Concert Series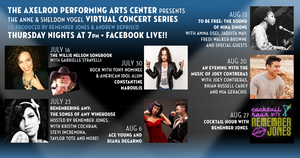 The Axelrod Performing Arts Center is introducing the Anne & Sheldon Vogel Virtual Concert Series, Thursday evenings at 7 pm, beginning on July 16, streaming on Facebook Live. Co-produced by Remember Jones and Andrew DePrisco, this summer series includes a lineup of Broadway stars, American Idol alumni, and up-and-coming young artists.
As APAC continues to bring the arts into our community's homes, this virtual concert series is free to the public. With a team of professional sound and video technicians, these concerts are performed and livestreamed from the theater. Donations will be accepted to help support the theater and compensate the singers, musicians, and technicians who make these livestreams possible. APAC is also raising funds for two community-outreach organizations, the Loveland Foundation and Encircle.
The series begins on Thursday, July 16, with New York jazz artist and Bistro Award winner Gabrielle Stravelli performing from her most recent album "Pick Up My Pieces: Gabrielle Stravelli Sings Willie Nelson," accompanied by Art Hirahara, piano; Pat O'Leary, bass, and Eric Halvorson, drums. The set includes reinventions of such Nelson standards as "Crazy," "Always on My Mind," "Somebody Pick Up My Pieces," and "Mammas Don't Let Your Babies Grow Up to Be Cowboys." The Wall Street Journal described Stravelli's new album as "her most remarkably transformational."
On July 23, Remember Jones will pay homage to Amy Winehouse on the ninth anniversary of her death, performing the artist's "Back to Black" album with a full band. "Remembering Amy: The Songs of Amy Winehouse" will feature Kristin Cochran, Molly Dorsman, Stevi Incremona, and Taylor Tote.
On July 30, Tony Award nominee and Broadway star Constantine Maroulis will be performing his favorite rock songs plus songs from his brand new album, "Until I'm Wanted." Maroulis, known for his star turns on Broadway in "Rock of Ages" and "Jekyll and Hyde," performed in the Axelrod's 50th Anniversary Concert of "HAIR" in 2018.
Two more American Idol finalists take the stage on August 6: Ace Young and Diana DeGarmo. Young portrayed Radames in the Axelrod's production of "Tim Rice and Elton John's AIDA" last summer. Young and DeGarmo starred opposite each other while performing on Broadway (and subsequently married). Both artists, currently living in Nashville, have released new albums within the past year.
On August 13, APAC pays homage to Black chanteuse and civil rights activist Nina Simone with a new show, "To Be Free: The Sound of Nina Simone," featuring Amma Osei (Broadway's "Rock of Ages"), Fredi Walker-Browne (Broadway's "Rent"), and recording artist JaQuita May with special guests.
Last summer at APAC, Osei played the Narrator in "Joseph...Dreamcoat" and JaQuita played the Acid Queen in "The Who's Tommy" concerts. A portion of the tribute's proceeds will support the Loveland Foundation, an organization committed to showing up for communities of color, especially Black women and girls. Their "resources and initiatives...prioritize opportunity, access, validation, and healing."
On August 20, APAC presents New York singer-songwriter Joey Contreras, whose first album "Love Me, Love Me Not" featured multiple Broadway singers and earned him international attention. He is the composer of two-stage musicals and a Disney short film. Contreras will be performing his songs alongside Brian Russell Carey and Mia Gerachis.
A portion of the concert proceeds will benefit Encircle, an LGBTQ+ family and youth resource center based in Utah with national outreach. Called "a place for everyone," Encircle provides programs and services that "meet people wherever they are in their lives with cultural competency and sensitivity, using community partnerships, best practices, and innovative techniques."
Remember Jones returns on August 27 for a new installment of his popular virtual show Cocktail Hour, which will feature several special guests from the local music scene.
THE ANNE & SHELDON VOGEL VIRTUAL CONCERT SERIES SCHEDULE:
July 16: The Willie Nelson Songbook with Gabrielle Stravelli
July 23: Remembering Amy: The Songs of Amy Winehouse, hosted by Remember Jones
July 30: Tony Award Nominee Constantine Maroulis
August 6: American Idol's Ace Young and Diana DeGarmo
August 13: To Be Free: The Sound of Nina Simone
August 20: An Evening with the Music of Joey Contreras
August 27: Cocktail Hour with Remember Jones