Clare Perkins, Marcus Adolphy & More to Star in THE WIFE OF WILLESDEN North American Premiere at A.R.T.
The Wife of Willesden begins performances at the Loeb Drama Center on Saturday, February 25.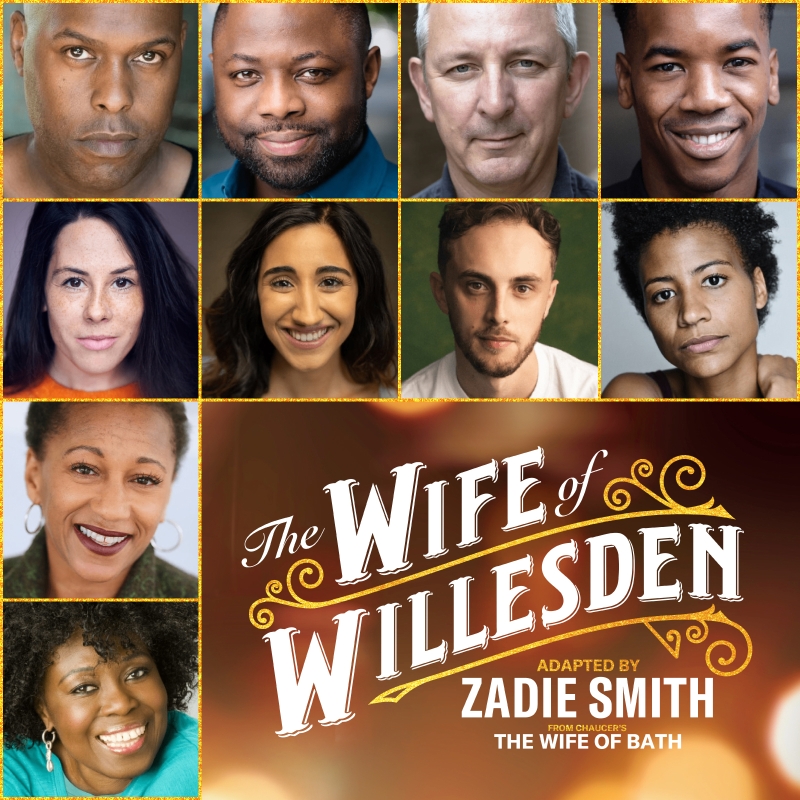 American Repertory Theater (A.R.T.) has announced the cast and creative team of The Wife of Willesden. Adapted by Zadie Smith from Chaucer's The Wife of Bath from The Canterbury Tales and directed by Kiln Theatre Artistic Director Indhu Rubasingham, The Wife of Willesden begins performances at the Loeb Drama Center in Harvard Square on Saturday, February 25; opens officially on Thursday, March 2; and completes its limited run Saturday, March 18, 2023. The Wife of Willesden is a Kiln Theatre Production and is presented in association with BAM, where it will open April 1.
Clare Perkins leads the cast as Alvita, the Wife of Willesden. She is joined by Marcus Adolphy as Winston/Mandela/Black Jesus, George Eggay as Pastor/Eldridge, Andrew Frame as Ian/Socrates/Bartosz, TROY Glasgow as Darren/Young Maroon, Claudia Grant as Polly/Sophie, Nikita Johal as Asma/Kelly, Scott Miller as Ryan/Colin, Jessica Murrain as Author/Zaire/Queen Nanny, and Ellen Thomas as Aunty P/Old Wife. Sophie Cartman is the understudy for Alvita and Aunty P/Old Wife.
The Wife of Willesden introduces Alvita, a proper local legend who will tell her life story to anyone in the local West London pub-there's no shame in her game. The question is: are you ready to hear it? Because this woman's got the gift of the gab: she can rewrite mistakes into triumphs, turn pain into parables. And her love life? It's an epic poem. They call her the Wife of Willesden. Join her at the pub for an exuberant evening that celebrates the human knack for telling elaborate tales, especially about our own lives.
Winner of the 2022 Critics' Circle Theatre Award for Most Promising Playwright, critically acclaimed and multi-award-winning best-selling author Zadie Smith transforms an excerpt from Chaucer's The Canterbury Tales into an unbelievable-and unforgettable-beautiful and bawdy new comedy.
"Chaucer could not have imagined the way we have re-embodied his lines," said Smith. "Yet I felt the presence in the rehearsal room, of Chaucer's humor and bawdiness, his philosophical depth and intellectual perversity. All transformed by the process of passing through these various flesh-and-blood actors, with their human voices and human gestures, with which they are able to perform the miracle of turning text into experience, words into action, ideas into something like 'life.'"
The Wife of Willesden is currently playing a return engagement including a two-week extension due to popular demand at Kiln Theatre in London following its critically acclaimed, sold-out premiere in 2021. Following its North American premiere at the A.R.T.'s Loeb Drama Center, The Wife of Willesden will receive its New York premiere at the Brooklyn Academy of Music (BAM) April 1 - 16, 2023.
"It is a great pleasure to bring The Wife of Willesden to the A.R.T. and an international audience," said Rubasingham. "So much has happened since we first produced this play at Kiln in 2021, and it feels even more imperative to celebrate diverse communities and to bring people together to laugh and to share after the experience of recent years. To be given the opportunity to reach American audiences is truly exciting, and we cannot wait for you to meet Alvita and this brilliant cast."
Adapted by Zadie Smith from Chaucer's The Wife of Bath, The Wife of Willesden is directed by Indhu Rubasingham, with design by four-time Olivier Award nominee Robert Jones, lighting design by Guy Hoare, and composition and sound design by Drama Desk Award Winners Ben and Max Ringham. Associate direction is by Hannah Hauer-King, associate costume design is by Kinnetia Isidore, casting is by Julia Horan CDG, movement direction is by Imogen Knight, fight direction is by Kev McCurdy, voice and dialect coaching is by Hazel Holder, and wigs, hair & make-up is by Campbell Young Associates.
Alex Constantin and EJ Saunders are the Company Stage Managers, Anna Townley is the Deputy Stage Manager, Michael Medina is the Assistant Stage Manager.
TICKETING INFORMATION
Tickets from $30 are available at AmericanRepertoryTheater.org/The-Wife-of-Willesden. Discounts are available to students and ticket-buyers under age 25, Blue Star families, EBT cardholders, seniors, Harvard faculty and staff, and others. More information at AmericanRepertoryTheater.org/PlanYourVisit.
A limited number of seats located onstage "in the pub" will be available for $45.
---
Shop BroadwayWorld

Shop this season's new musicals! Get dressed up for a night at the theatre, or just a night at home, with merch from some of Broadway's biggest hits including SOME LIKE IT HOT, KIMBERLY AKIMBO, and more!
---
Related Stories