Casting Announced For THE APPLE BOYS: A BARBERSHOP QUARTET MUSICAL at HERE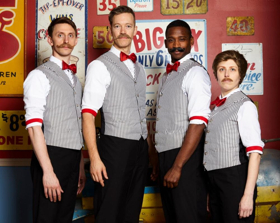 Heart On Sleeve Productions (Johnnie Moore Hawkins, Executive Producer) is delighted to present the world premiere of The Apple Boys: A Barbershop Quartet Musical, a one-of-a-kind musical that propels the uniquely American art form of the barbershop quartet into the stratosphere. Hilarious and heart-warming, The Apple Boys features a book by writer and performer Jonothon Lyons, music and lyrics by 2017 Jonathan Larson Grant recipient Ben Bonnema (Adult Swim's Peter Panic, Boys Who Tricked Me), and is directed by David Alpert (If/Then, The Trip to Bountiful). Performances will begin November 30 and run through December 23 at HERE (145 Sixth Avenue) with an opening on December 9.
Set in Coney Island at the turn of the 20th century, The Apple Boys features four actors playing over forty characters. The story centers on Jack Chapman III (Johnny Appleseed's grandson) who sets out to save his family apple orchard by enlisting the help of Nathan Handwerker (founder of Nathan's Hot Dogs), Warren Lincoln Travis ("The World's Strongest Man"), and Lina "Hank" Beecher (designer of the first looping roller coaster). Together, this very different group of friends discover the magic of a new kind of music: barbershop harmony.
The cast for The Apple Boys includes Jonothon Lyons (Basil Twist's Symphonie Fantastique, Sleep No More) as Warren, Amanda Ryan Paige (Zanna Don't!, Charlie Brown, Henry and Mudge) as Hank, Jelani Remy (Smokey Joes Cafe!, The Lion King) as Jack, and Teddy Yudain (The Little Match Girl, Improbable; Madama Butterfly, Anthony Minghella; El Gato Con Botas, Moisés Kaufman) as Nathan.

"Barbershop quartet music is a quintessentially American art form," says book writer and performer Lyons. "Nostalgic even at the time of its origin, this music is deeply rooted in a culture of friendship, kindness, and joy. The Apple Boys is a timeless story of overcoming obstacles through unity, illustrating that harmony is something beautiful that is only achieved by embracing our differences."

"The Apple Boys is a flag waver of a musical planted firmly in the American Spirit of 'can-do-ism,' " says Executive Producer Johnnie Moore Hawkins. "I love its bounce, its humor, its lyrics, and heart. I love that people of all ages, demographics, and persuasions will laugh and enjoy a romp through elegant, old-time Coney Island."
The creative team for The Apple Boys includes Rui Rita (lights), Starlet Jacobs (sets), Marc Kimelman (choreography), Lindsay McWilliams (costumes), Cynthia Meng (music direction), and Rona Siddiqui (pianist).
Performances of The Apple Boys: A Barbershop Quartet Musical will take place November 30 - December 23 (see schedule above) at HERE, located at 145 Sixth Avenue (Enter on Dominick, 1 Block South of Spring), just below Spring Street. Critics are welcome as of December 5 for an opening on Sunday, December 9 at 2pm. Tickets - priced at $15 previews, $25 general, and $45 premium - can be purchased by visiting appleboysnyc.com or by calling 212-352-3101. In person sales at the box office after 5pm only on performance days and two hours prior to curtain for matinees.
This production is a part of SubletSeries@HERE: a curated rental program, which provides artists with subsidized space and equipment, as well as technical support.
Related Articles
More Hot Stories For You