Broadway's Chester Gregory Releases 'Remembering Jackie' Tribute Album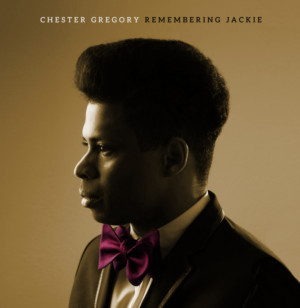 Chester Gregory first made his mark in theatre portraying Jackie Wilson in The Jackie Wilson Story (Black Ensemble Theatre). His performance earned critical acclaim throughout the nation, including the New York Times saying, "Gregory puts on a show of such physical and vocal dexterity that it's almost impossible to imagine that anyone elsecould do it."
Eight weeks after his New York debut at the Apollo Theater, Gregory made his Broadway debut in Hairspray, which lead to more than a decade of principal roles in Broadway shows. During this time, Gregory received numerous messages from supporters asking him to reprise the role of Jackie Wilson. Gregory took this into consideration and collaborated with Crystal Lucas-Perry, Dawn Bless, Dana Marie Ingram, Da'Vine Joy Randolph & Rob Lewis to debut The Eve of Jackie, a tribute performance and intimate look at Wilson's final moments on stage. Now, with the approval of Jackie Wilson's son, Thor Wilson, Gregory decided to do a tribute album called Remembering Jackie which is now available online.
Produced by Etienne "EJ" Porter and Gregory, Remembering Jackie features Gregory's interpretation of some of Wilson's timeless hits, including: Lonely Teardrops, Higher and Higher, To Be Loved, Reet Petite and more. For Gregory, this project is a chance to further celebrate the legacy of Jackie Wilson. "I wanted to honor the requests from supporters who have been asking me to record this music for years. However, I didn't want to simply cover his songs. I had to interpret them in my own voice, emulating how he's inspired me and honoring the sound of the era with a modern spin. Remembering Jackie is a keepsake, a soundtrack, and bridge across generations." Stream Remembering Jackie on Apple Music, TIDAL, and all major streaming platforms today!
Chester Gregory recently relocated to Los Angeles, CA and is set to star in the Wallis production of Blues in the Night which will run from April 27th through May 20th. Other roles for which he is known include Berry Gordy in Motown The Musical and originating "Sweaty Eddie" in Sister Act. In addition to musicals, Gregory has also been in several plays, including Lyons in August Wilson's Fences and Sterling in Two Trains Running. He has toured nationally with Dreamgirls, Sister Act, and his one-man show The Eve of Jackie. Gregory has received a number of awards including the Joseph Jefferson Award and the NAACP Theatre Award. He even performed for Michael Jackson and received a standing ovation from the King Of Pop himself. Gregory has been presented with the keys to two cities including his hometown of Gary, Indiana and East Chicago. He was chosen as an Honorary State Representative of Indiana and has received an Honorary Doctorate from his alma mater, Columbia College in Chicago.