Click Here for More Articles on Broadway by Design
Broadway By Design: Scott Pask, Finn Ross, Adam Young & Gregg Barnes Bring MEAN GIRLS from Page to Stage
Who is Annie without her red dress? Or Eva with out her balcony? It is the charge of the Broadway designer to transport the audience into the world of a show, whether it be Great Depression-era New York City or outside of the Casa Rosada.
In Broadway by Design, BroadwayWorld is shining a spotlight on the stellar designs of this Broadway season, show by show. Today, we continue the series with Tony nominees Scott Pask, Finn Ross and Adam Young, and Gregg Barnes, who acted as scenic, video and costume designers for Broadway's totally fetch new musical, Mean Girls.
---
Cady Heron may have grown up on an African savanna, but nothing prepared her for the wild and vicious ways of her strange new home: suburban Illinois. How will this naïve newbie rise to the top of the popularity pecking order? By taking on The Plastics, a trio of lionized frenemies led by the charming but ruthless Regina George. But when Cady devises a plan to end Regina's reign, she learns the hard way that you can't cross a Queen Bee without getting stung.
How did the design process begin? "The inspiration for the scenic design came from the pace and character of Tina Fey's book for the musical, in which the stage environment rapidly changes - from the prologue, to the plains of Africa, the high school hallways, bathroom, and cafeteria, all in the first number," explains Scott Pask. "Casey Nicholaw and I were inspired to explore digital projection as our main source of transformation to establish that pace visually, and to interweave scenic elements within that space to create interesting staging possibilities throughout the show. New (and evolving) media is so often the chosen "language" of communication between teenagers, and to use that vocabulary in a transformative and humorous way felt like the perfect solution for our production."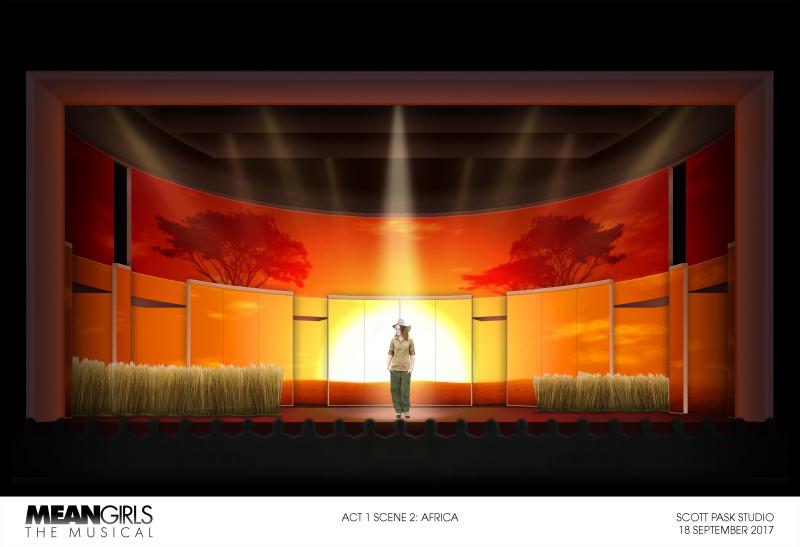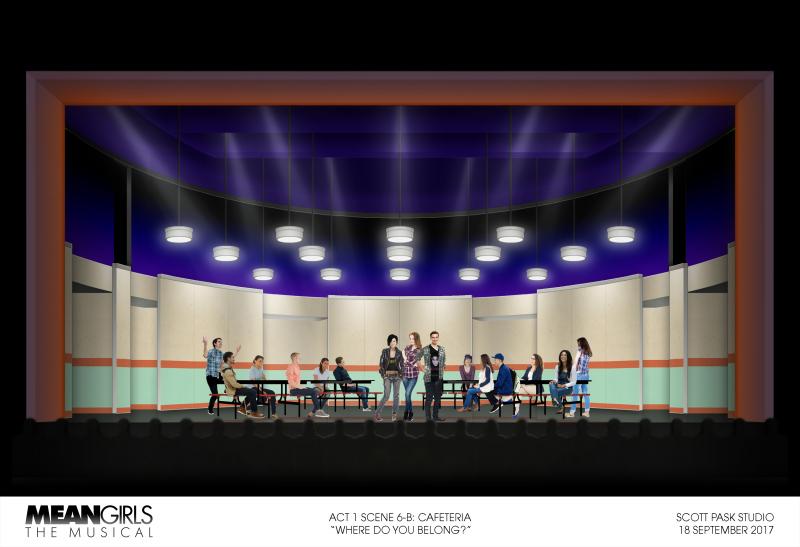 "Each piece of onstage furniture, all doorways, lockers, and platforms were made to be manipulated easily by the cast, to accompany the transformative pace of the digital surround. And the lack of floor tracks onstage, common for moving scenery, allowed The Plastics to wear the most delicate (or ambitious) high heeled shoes!"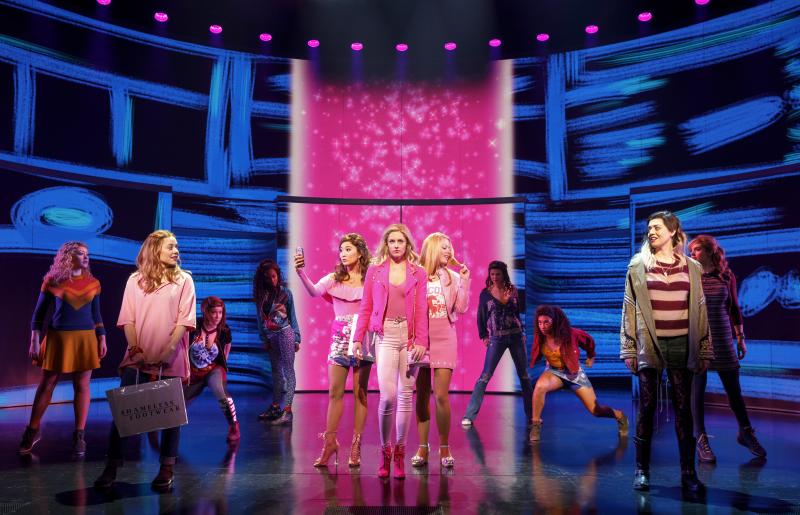 Finn Ross and Adam Young's video design played a huge part in transforming Pask's scenic vision. "As much as we wanted to use video to create space, we also wanted to get inside the heads of Cady, Damian, Janis, Regina, etc. to bring out the world as they see it. A lot of the show is about the clashing teen ideologies - Regina is shiny and prefect, Janis is the resident "art freak" and Damian wants to live in a big show number," say Ross and Young.
What were some of their biggest challenges? "Making things look as real as possible on the LED walls so they blended with real items was tricky - the colors had to be so precise and toned exactly with lighting to make it believable. It was an absolute task of trial and error - endlessly updating a piece of content again and again over the course of a work call until you could hone in on the exact shade of blue."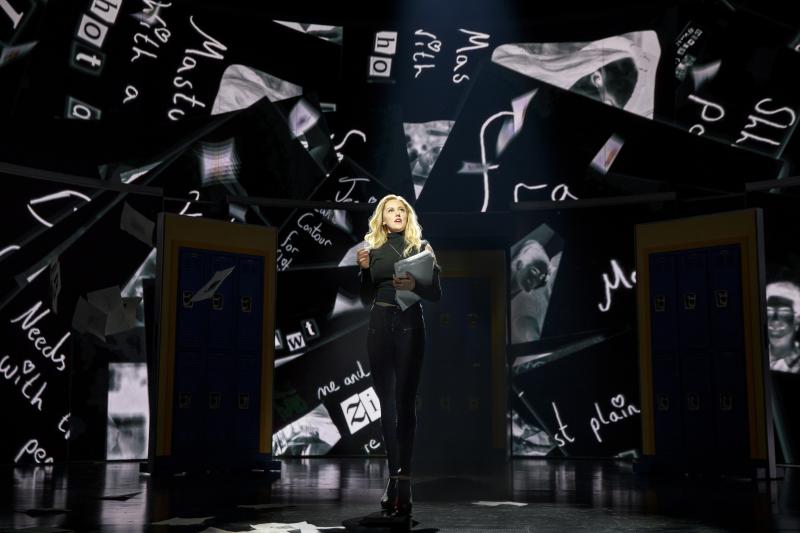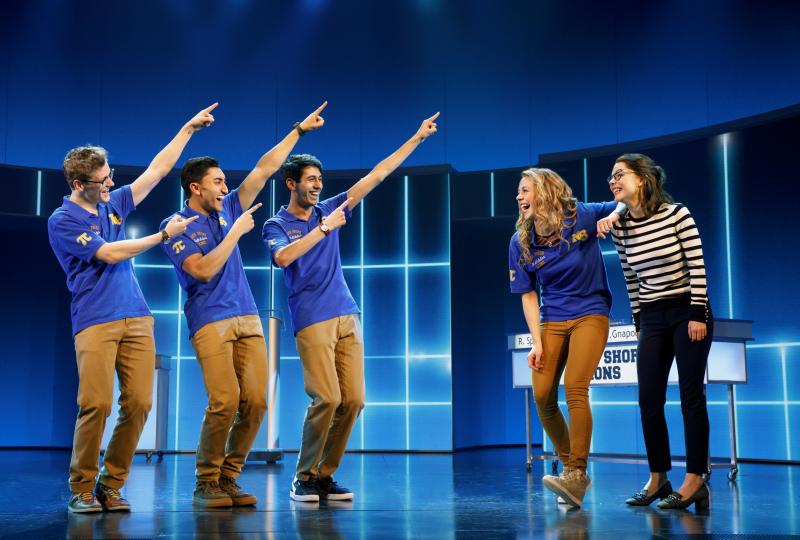 "The show visits so many different locations - each place had to be fully fleshed out, filled with intense detail and wit as well as being mindful to the audience's understanding of the story - like helping them by sign-posting the time of year as parts of the show progress through months within the span of a verse or a chorus," the pair explains.
Costume designer Gregg Barnes made it his mission to keep up withe the genius around him. "Mean Girls was created by a host of incredible and hilarious collaborators. With Tina Fey's uproariously clever book, Nell Benjamin's inventive lyrics, Jeff Richmond's witty score, and Casey Nicholaw's ingenious direction and choreography, our job was to try and keep up with their brilliance and pair it with our observations of the world around us to find the humor in the ways these characters dress. Our mission was to enhance the sense of joy, humor, and wit inherent in the material."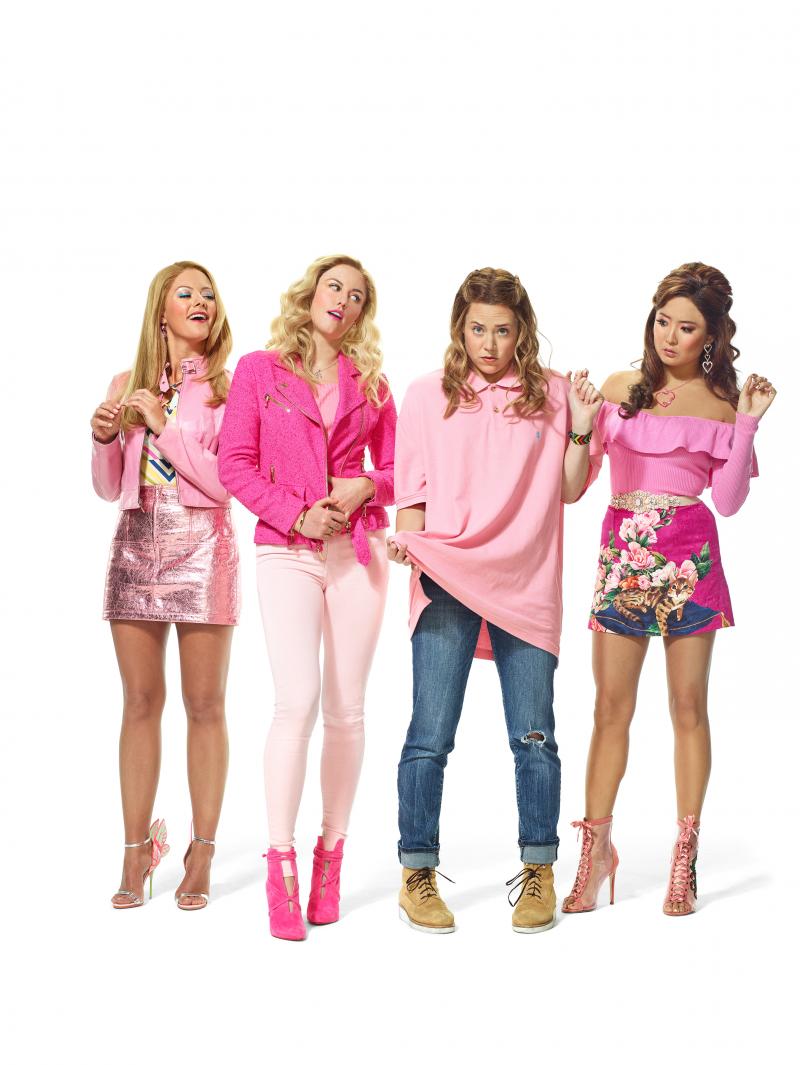 "Mean Girls is cinematic in its structure and moves at an accelerated pace-the transitions between scenes function like jump cuts," says Barnes. "The show takes place over the course of a school year, so the clothes have to reinforce the passage of time (often without characters leaving the stage)-this means a lot of creative quick changes! Part of the thrill of designing this show was collaborating with Stage Management and our amazing wardrobe team to sort out the logistics of all of these changes while still maintaining the integrity of the design."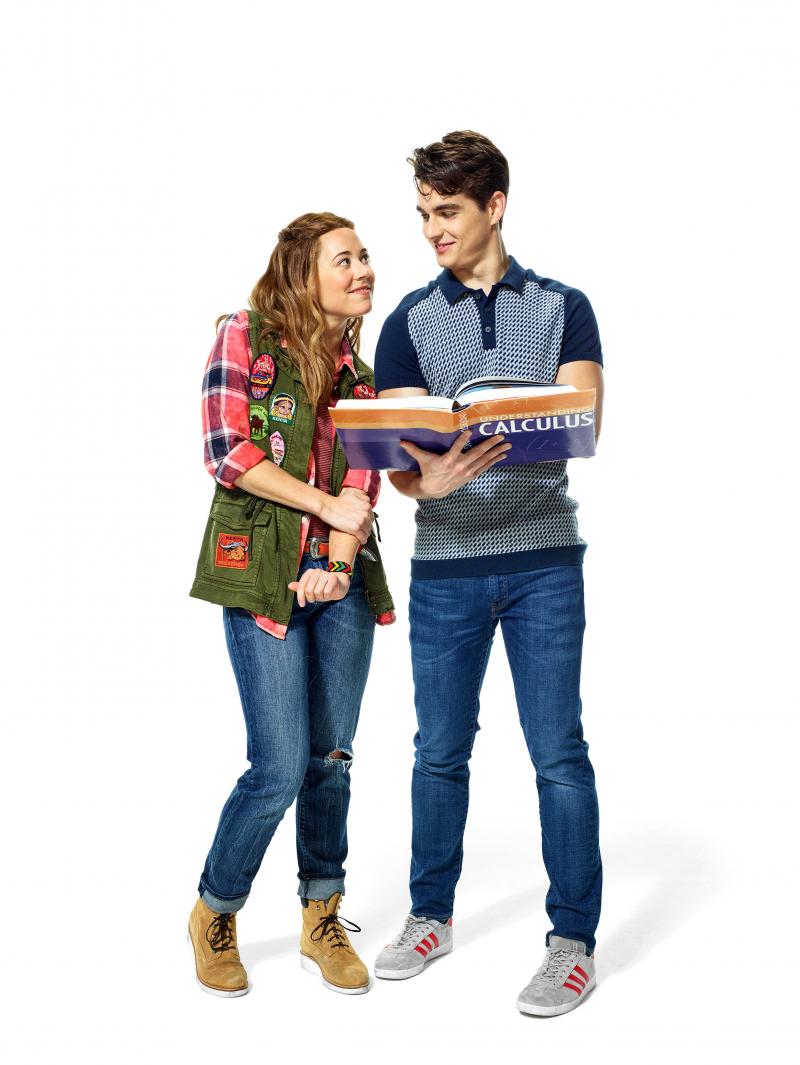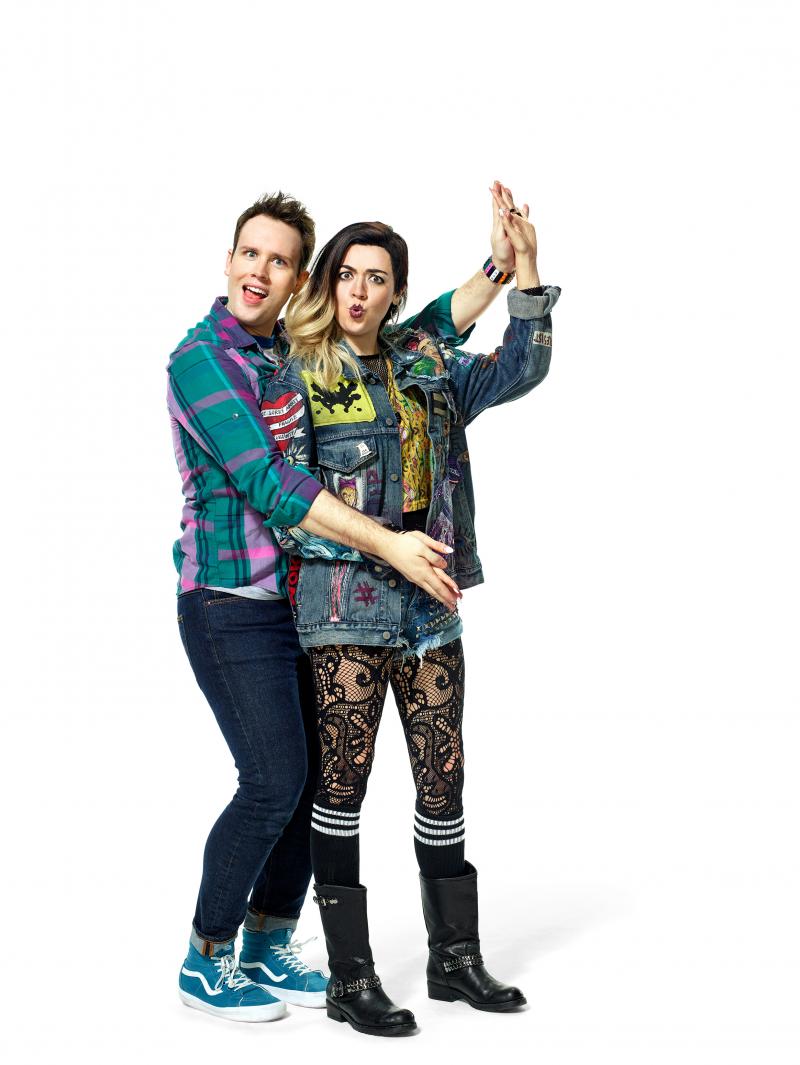 Want more Broadway By Design? CLICK HERE.
---
Mean Girls, the new musical comedy produced by Lorne Michaels, Stuart Thompson, Sonia Friedman, and Paramount Pictures based on the hit film, is now in performances at Broadway's August Wilson Theatre (245 West 52nd Street).
Mean Girls features a book by nine-time Emmy Award winner Tina Fey, based on her screenplay for the film, music by three-time Emmy Award winnerJeff Richmond, and lyrics by Tony Award nominee Nell Benjamin. Tony Award winner Casey Nicholaw directs and choreographs.
The Broadway cast is led by Erika Henningsen as Cady Heron, Taylor Louderman as Regina George, Ashley Park as Gretchen Wieners, Kate Rockwell as Karen Smith, Barrett Wilbert Weed as Janis Sarkisian, Grey Henson as Damian Hubbard, Kerry Butler as Mrs. Heron / Ms. Norbury / Mrs. George, Kyle Selig as Aaron Samuels, Cheech Manohar as Kevin Gnapoor, Rick Younger as Mr. Duvall. The cast also includes Stephanie Lynn Bissonnette, Tee Boyich, Collins Conley, Ben Cook, DeMarius R. Copes, Kevin Csolak, Devon Hadsell, Curtis Holland, Myles McHale, Chris Medlin, Brittany Nicholas,Becca Petersen, Nikhil Saboo, Jonalyn Saxer, Brendon Stimson, Riza Takahashi, Kamille Upshaw, Zurin Villanueva, Gianna Yanelli, and Iain Young.