BWW VIDEO BLOG: CHIX 6 at Citifield and More!
Whazzup,folks? It's Lourds Lane here again - the book/music/lyrics writer of the rock musical, CHIX 6. This month, we will begin our limited 5 week run at the Queens Theatre in the Park from September 27 to October 30 before we head to Broadway in 2012! Check out the blogs from the past couple of weeks here and here!
Today was just unforgettable!! The six stars of CHIX 6 sang songs from the show at Citi Field opening for the Mets. My music was blasted in a stadium!!! WEEEE!! Plus, I just saw the beginnings of our set and projections at the theatre. I can't believe how everything is coming together! Today, I felt so happy I wanted to cry... OK, I did.
These past weeks have been such immense learning lessons for me. First of all, I learned that my favorite thing about being an actor in a show is the inside jokes between the cast members. For instance, there is this black light number where we need to be the arms of a humungous villainess. Since we don't have the props we will be holding as our makeshift hands, we have been using rolled up pieces of oak tag. While we were waiting for our cue to enter the scene, Molly Tynes said, "After rehearsal, I'm going to the gym." Then, she put one end of the oak tag against her nose and made the slide-whistley sound that Pinocchio's growing nose makes. "Woooooooop!" All the rest of The Chix cracked up. Now, it's the thing we say whenever we know we're being full of shit. "Hell yeah, I remember all the choreography!" Woooooooooooop!
Plus, there's a classroom scene where all of us CHIX have to write our answers into a notebook. Celina Carvajal stays in character the whole time while she doodles obscene things in her notebook. Adorning her pages are crooked cocks, hairy balls, vaginas, and... "Hey Celina, what does that dot in the diamond say?" She responds, "Oh, it says 'Man in boat.'" Random. And friggin' hysterical. Anyone who ends up with Celina's notebook always gets a little surprise and has to try to refrain from cracking up while the scene is going on.
When I read the notice about rehearsal the other week from our ever-so-efficient stage manager, Patty Grabb, it said "Stumble through" ACT I. I just laughed out loud. I thought Patty was being witty. Danielle Lee Greaves told me it was an actual theatre term. Then, she added, "And it's not the thing that happens when you and Sarah (drummer of CHIX 6 and my band, LOURDS) have been hanging out at Friday's all night!" So yeah, rehearsal literally was a "stumble through" for me. I wear big mutha KISS platform boots that I got from our costume designer and Bravo TV star, Chris March. Don't get me wrong, the boots are a totally rad looking red plaid and I love them... but holy cow, I have to jump up and down on a couch, run around spinning a bed, climb scaffolding, dance, AND skip in these monsters. Not that I don't wear chunky boots all the time at my gigs with my rock band. But I'm not spinning a bed 2 times around in a count of 8. Whatevs. I'm sure I will totally get used to these bad boys and never ever "stumble through" again! Woooooooooooooop!
As you know, I have a soft spot for nerds and I learned that Wendy Bobbitt Cavett, who seriously rocks my world, might even be a touch nerdier than me. Choreographer, Ron DeJesus needed music for the hip hop dance break so I planned to go to the studio and just pump out a jam. Wendy took a more academic approach. She sat with Ron, had him beat out rhythms with his mouth, charted everything down, and handed me a sheet of paper filled with rhythms and counter-rhythms so I can compose the hip hop. Knowing that this approach TOTALLY worked for the dance arrangements that Wendy created with the other numbers (and boy, those numbers kick some MAJOR booty!), and because I'm an over-achiever, I put my thinking cap on and went to the studio with the best of intentions-- to give Ron and Wendy the exact beats that they wanted. About a half an hour into it, I flipped my cap backwards, aborted the charts, and just put together something that made my ass shake. After the session, I nervously sent the track to Ron, not sure of how attached he was to the charted beats. His response: WTF! FUCKIN HOT!!!!!!!!!!! YES- BITCH!!!!" Wooooohooo! Just call me MC Lourdsy, yo.
More learning... There is A LOT that goes into making a scene look effortless and natural. To weave emotional dialogue with dance and music is a total art form. My amazing partner in crime,
DJ Salisbury
, has a BIG job. This is what
Carrie Manolakos
and
Brian Gallagher
sound like when they were working through a scene... "OK, first we click on the light, kiss, lean, say the line, turn off light, say line... no, wait, that line was changed... so click, lean, line, turn off light... shit, forgot to kiss. All the while, dancers are moving with them and around them. Later on that day, Brian admitted, "It's hard to break up with someone with counts." Yet in the end, the scene looks seamless. And more learning... A little while ago when Director,
DJ Salisbury
would tell me not to get married to anything, I'd say, "But DJ, I bought the dress!" Now it's like, dress shmesh. Every day, something changes... the music, the dialogue, the choreography. Shifting, growing, getting better. The best are the ideas that come from the cast who lives and breathes their roles. I love the collaborative aspect of theatre. Our cast and creative team just excite me.
I learned that the more people who truly believe in something, the more likely the show will become a huge success. People's hearts are in it. There is so much passion on our team and that excitement ripples to friends, colleagues, and families. Almost every person in our extended team has told me how much our show means to them at one time or another. It's just inspiring. I get choked up on a daily basis. Another thing I learned...
Danielle Lee Greaves
is the script whisperer. I lose my script on the regular and Danielle would just "feel" where it is. It's under the sheets on the bed, its behind the piano... oh, have you tried taking out the third brick in the wall, yeah... it's there.
Oh, also
Nicolette Hart
and
Molly Tynes
told me I cover my mouth with my cupped palm and sniff the valley between my index finger and my thumb when I'm stressed... and that I play with my earlobe when I'm thinking. I also learned I need an assistant.You want a little taste of the show? Click on the video below! It's
Molly Tynes
doing some aerial insanity and
Celina Carvajal
and Molly singing their faces off! COME OUT TO SEE
CHIX 6
!! September 27 to October 30 at the Queens Theatre in the Park!!! Get your tix today at
http://queenstheatre.org
.
CHIX 6
 facebook: 
https://www.facebook.com/#!/pages/CHIX-6/80407936780 
CHIX 6
 website: 
http://chix6.com
CHIX 6
 Twitter: 
http://twitter.com/chix6rocks
CHIX 6
 Youtube: 
http://youtube.com/chix6rocks

Related Stories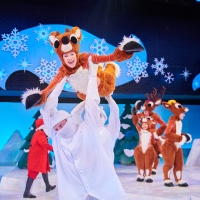 Photos & Video: First Look at RUDOLPH THE RED-NOSED REINDEER: THE MUSICAL at First Stage

November 25, 2022

See photos and videos of First Stage's heartwarming production of RUDOLPH THE RED-NOSED REINDEER: THE MUSICAL!, based on the 1964 television special Rudolph the Red-Nosed Reindeer and stage production directed and conceived by Jeff Frank and First Stage.
---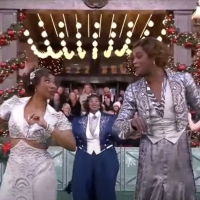 Video: Watch SOME LIKE IT HOT Cast Perform at the Macy's Thanksgiving Day Parade

November 24, 2022

The cast of Some Like It Hot spent their morning on 34th Street as performers at The Macy's Thanksgiving Day Parade! Below, watch as they perform 'Some Like It Hot'
---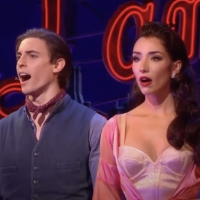 Video: MOULIN ROUGE! Cast Performs at the Thanksgiving Day Parade

November 24, 2022

The cast of Moulin Rouge! can-canned to the Thanksgiving Day Parade this morning, where they performed 'Elephant Love Medley' Watch the full video below!
---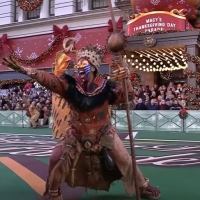 Video: THE LION KING Celebrates 25 Years on Broadway at the Macy's Thanksgiving Day Parade

November 24, 2022

Earlier this month, the company of The Lion King celebrated the show's epic 25th Anniversary and the celebration continued at the Macy's Thanksgiving Day Parade. Watch below as the cast performs 'Circle of Life'.
---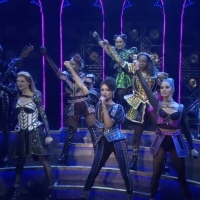 Video: SIX Queens Unite for the Thanksgiving Day Parade

November 24, 2022

For the second year in a row, the cast of Six performed at the Thanksgiving Day Parade, this time as a part of the CBS broadcast. Below, watch as they perform 'Ex-Wives'.
---