Review: The Mint's YOURS UNFAITHFULLY, An Intriguing 1930s Look At Open Marriage
Teetering somewhere between an incisive study of human fidelity and a sexy comedy of manners, Miles Malleson's Yours Unfaithfully is the kind of play that, under different circumstances, might have been made into a classic Hollywood romantic comedy starring Doris Day, Rock Hudson and Tony Randall.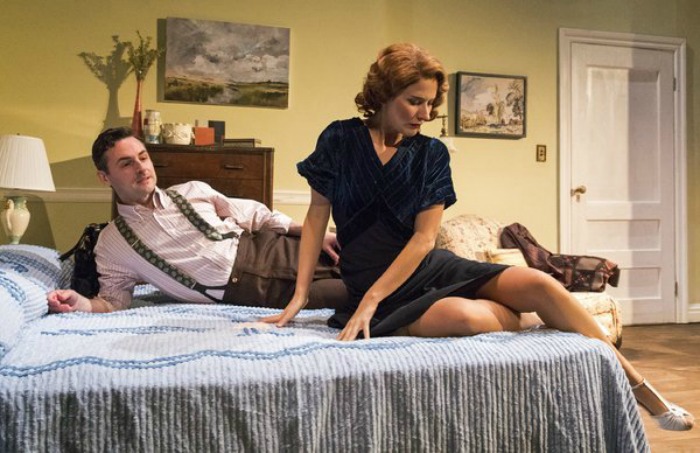 But the British playwright, known primarily for his film work as both a character actor and a screenwriter, practiced his craft on the other side of the Atlantic. This 1933 curiosity about an open marriage, certainly a scandalous topic at the time, has been left unproduced until now, as the Mint Theater Company, traditionally known for reviving rarely seen plays whose notoriety has slipped into obscurity, presents a gracefully done world premiere.
Elisabeth Gray is elegantly alluring as Anne, a progressively minded woman making a comfortable living as the founder and headmistress of a school. Her open-minded ideas about relationships are a far cry from the way her husband Stephen (dashing but emotionally fragile Max von Essen) was raised by his Reverend Father (Stephen Schnetzer).
Anne's success allows Stephen the time to pursue a career as a serious writer, but after eight years of marriage, he's in a bit of a malaise that's blocked his creatively. When his practical wife suggests he take off for London on his own and indulge in whatever kind of mischief he'd like, Stephen is initially reluctant ("I've Soho-ed my wild oats too long ago.") but eventually he succumbs to her encouragement that he partake in a dalliance with their lonely and lovely friend Diana (Mikaela Izquierdo).
Naturally, as the three acts go by, the couple begins questioning their own attitudes about sex and romance, especially when Anne begins spontaneously exercising her own freedoms. Todd Cerveris does an excellent job as Anne's intellectual friend and sounding board, Alan.
While the charming visuals of Carolyn Mraz (sets) and Hunter Kaczorowski (costumes) suggest a buoyant drawing room comedy, Jonathan Bank's direction leans towards the darker side of Anne and Stephen's marital issues. There's a good deal of humor and wit throughout the evening, for sure, but Bank seems to be downplaying frivolity in favor of the emotions that may have inspired Malleson to write the play after his open marriage to Lady Constance Malleson ended in divorce after eight years.
This isn't a flaw, but rather an interesting turn in a finely acted production of an intriguing play.