Click Here for More Articles on NEW YORK CITY
BWW Review: New York Gilbert & Sullivan Players Turn THE MIKADO Topsy-Turvey
As the history books and Stephen Sondheim tell us, in 1853 Matthew C. Perry, Commodore of the United States Navy, sailed to Japan on a mission to forcibly end the island empire's policy of national seclusion and establish trade with America.
Soon after, Great Britain was in on the act and by the mid-1880's England was swinging with a pop culture obsession with all things Japanese. In addition to the fad of collecting Japanese fans, vases, screens and other decorative items. (Cheaply-made knockoffs naturally followed.), proper English ladies were often seen attending social functions dressed in imported Japanese kimonos and would even paint their faces to resemble what they would think to be an authentic Japanese style. The Japanese Village in Knightsbridge became a popular attraction, employing over 100 people of Japanese descent to demonstrate what was perceived as their culture's typical lifestyle.
So when Gilbert and Sullivan's THE MIKADO premiered at The Savoy Theatre in 1885, its setting in the fictional town of Titipu, a quaint, storybook locale in an exoticized depiction of old Japan, might have been considered a commercial move to hop on the bandwagon.
But the cleverer ones in the audience took note at how the exclusively white members of producer Richard D'Oyly Carte's company, despite their costumes and yellowface make-up, were still acting and speaking in a veddy English manner.
Gilbert's opening lyric for the male chorus ("If you want to know who we are / We are gentlemen of Japan, / On many a vase and jar, / On many a screen and fan.") indicates that his version of Japan is only what can be concocted in the imagination of a white Englishman whose exposure to the culture is limited to imported decorative items.
Sullivan's beautiful score has moments inspired by the setting, but it's mostly the kind of operetta merriment typical of his style. The plot, concerning a romantic triangle between a squeamish executioner, his young ward and a wandering minstrel with a secret, has nothing to do with Japanese literature and when the characters refer to themselves as assuming a "characteristic Japanese attitude," or wondering in their "artless Japanese way," Gilbert's overwriting has its tongue firmly in its cheek.
It's unlikely that Gilbert had meant THE MIKADO to be taken as a serious attack on insensitive white people appropriating another culture for their own entertainment. He was more concerned with lightheartedly satirizing his countrymen's foibles.
Of course, that was over 130 years ago and topical satire has a short shelf life. There's surprising little in Gilbert's text that indicates a Japanese setting, but as the decades have passed, it's been more and more common to see productions of their classic employing offensive stereotypes of Japanese characters, giving the impression that THE MIKADO is itself a racist entertainment.
So when the New York Gilbert and Sullivan Players, who have included THE MIKADO in their repertory since the beginning of their forty year existence, sent out a mailer in the fall of 2015 promoting their upcoming season, a photo that included a white performer sporting Japanese garb and painted in yellowface was met with so much protest that artistic director Albert Bergeret soon announced that the operetta's slot that winter would be filled instead with THE PIRATES OF PENZANCE and that the company would set out to find a way to stage future productions in a manner that would respect both the material and contemporary realities.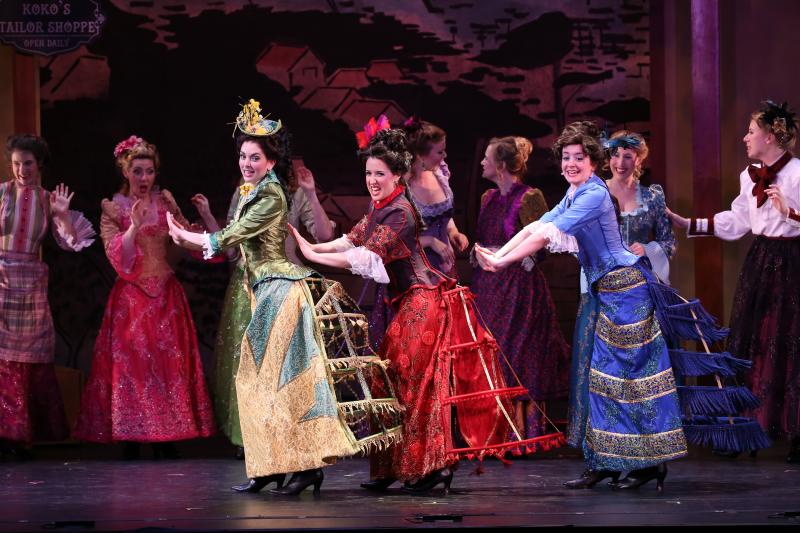 That task has been tackled primarily by company member David Auxier, a terrific comic basso who has taken helm as director and choreographer of NYGASP's re-imagined version of the piece, which has opened a limited run at Hunter College's Sylvia and Danny Kaye Playhouse. The company received assistance from various Asian-American arts organizations as well as a Mikado Advisory Committee, which included several theatre artists who have been outspoken about their objections to the images typically presented in recent productions.
This white reviewer will leave it to others to determine whether or not Auxier and his colleagues have axed every hint of racism out of THE MIKADO, but there can be no doubt that the re-imagined production bends over backwards in its attempts to be a rollicking entertainment that anyone can enjoy.
Rather than charging right into the opening number, the overture is now followed by a prologue set in an office of the Savoy Theatre where D'Oyly Carte is pressuring Gilbert and Sullivan to come up with a subject for a new operetta. G&S aficionados will chuckle at the librettist's suggestion of a story involving a magic lozenge, a concept the real-life Gilbert suggested many times, only to be instantly rejected.
The trio is interrupted by various actors with their issues and their combination of British expressions and wordplay ("pish" "bah" "yum-yummy") suggest the genesis of the character names soon to be employed. A delivery of preview items from the Knightsbridge exhibit prompts a discussion revealing the trio's westernized knowledge of Japanese culture, and when Gilbert is conked on the head with a ceremonial sword, the pieces fit together in his mind and he's suddenly transported to Titipu, where, still dressed in his Victorian garb, he assumes the role of nobleman Pish-Tush, with the ensemble men guiding him through the details of the exposition.
Scenic designer Anshuman Bhatia offers a period postcard view of what a 19th Century Englishman would recognize as serene Japanese quaintness, contrasting with costume designer Quinto Ott's wild mish-mosh of cultures, utilizing styles that span Europe, Asia and, in a couple of cases, science fiction. One particularly amusing outfit has the high-born Katisha looking like a Swiss milkmaid with cherry blossom branches sprouting from her shoulders.
References to Japan have been cut from the spoken text (In this version, it's tenors who don't use pocket handkerchiefs.) and "Miya Sama" has been given a new English lyric. Also, the choreographed fan-work, practically a staple of the operetta's staging, isn't used, and the feel of Auxier's delightful production is more in the vein of 1920s musical comedy.
This is especially apparent in the snazzy performance of David Macaluso, who, for half of the run's performances (each role is double-cast), plays Arthur Sullivan in the prologue before emerging as the hapless tailor turned Lord High Executioner, Ko-Ko. Prancing about the stage with exuberant showmanship and handling Gilbert's verbal wit with crackling dexterity, he's the evening's energetic comic engine.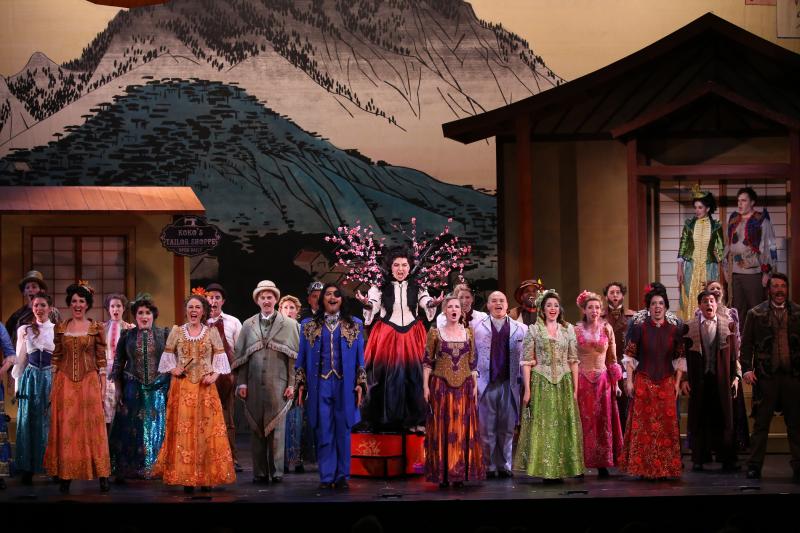 After appearing as D'Oyly Carte, Matthew Wages takes on the role of graft-taking public official Pooh-Bah, distinguishing between the haughty fellow's multiple high offices with enough British characterizations to fill a Charles Dickens novel. Joshua Miller, who first appears as W.S. Gilbert and is then coached by the male chorus to portray Pish-Tush, charmingly brings out the author's delight in discovering the piece as it's performed.
Daniel Greenwood comically flashes matinee idol charisma and a sexy tenor as wandering minstrel Nanki-Poo and Sarah Caldwell Smith is wryly humored as his beloved Yum-Yum.
Chris White appears to be having a grand time as The Devilishly bloodthirsty title character and Caitlin Burke, sporting a rich mezzo, gives a wonderful performance, fully evolving Katisha from a scowling menace to a heartbroken lover to a playful flirt.
As is customary with NYGASP, the singing of the soloists and ensemble members is first rate under music director Aaron Gandy, who conducts the twenty-five piece orchestra.