Review: Mobile Unit's A MIDSUMMER NIGHT'S DREAM Parties On at The Public
For most New York playgoers, the words "Shakespeare In The Park" will immediately bring to mind the free performances at Central Park's outdoor Delacorte Theater, created decades ago by The Public Theater's visionary founder, Joseph Papp.
But pick any weekend during the city's warm months and you're bound to find numerous free productions of Shakespeare, often played by unpaid actors working within a shoestring budget, performed in public parks, community gardens, parking lots and public spaces.
So when spotting the street sign designating director Jenny Koons raucously funny new Mobile Unit production of A MIDSUMMER NIGHT'S DREAM as taking place at Lafayette Street and Astor Place, and seeing how cast members have created a party atmosphere by recruiting audience members to join them in pre-show line dancing, it brings to mind this beloved urban tradition.
Vitally important in fulfilling Papp's mission of making Shakespeare available for free to everyone, the Mobile Unit presents compact productions, always featuring a small company of actors performing texts trimmed to about 90-100 minutes, bringing the bard's classics to populations who cannot attend at Central Park's Delacorte Theater. They tour prisons, nursing homes, community centers and shelters throughout the five boroughs before settling into The Public for a limited run, which is also free to the public.
With audience members seated on four sides, scenic designer Kimie Nishikawa hangs lines of small green pennants, representing leaves, above the playing space where past attendees have written their answers to the question, "What do you dream of?" Take a peak beyond the seating sections and you'll see costumes hanging on portable poles to help the quick-changing actors assume their multiple roles.
Young Athenian Hermia (Carolyn Kettig) is being forced by her father Egeus (David Ryan Smith) to marry Demetrius (Leland Fowler), who has seduced and dumped Hermia's friend, Helena (Rosanny Zayas). Lysander (Jasai Chase-Owens) is the man of Hermia's choosing and the two of them head to the next town to elope, by way of an enchanted forest. Demetrius sets out after them and Helena sets out after Demetrius.
But the four are unaware that they've become innocent bystanders in a quarrel between Oberon (Merritt Janson) and Titania (Marinda Anderson), the King and Queen of Fairyland. Complications involving Oberon's sprightly assistant, Puck (Natalie Woolams-Torres) and a magic flower that can make people fall in love cause couples to be matched and mismatched.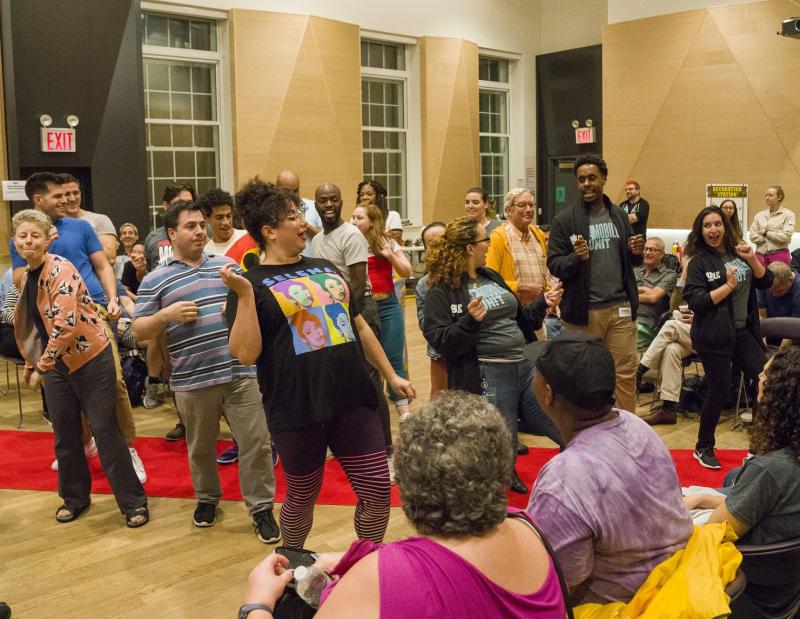 The comical romance is fun, but the production really takes off with the entrance of the ragtag collection of local amateur actors preparing a dramatization of the tragic romance of Pyramus and Thisbe for the celebration of Duke Theseus' (Janson) marriage to the Amazonian Hippolyta (Anderson).
Smith transforms into a flamboyantly fastidious Peter Quince, delighting in the opportunity to direct the drama and putting up with the grand hamminess of his leading man, Bottom (Christopher Ryan Grant in full-on John Barrymore mode). Though Francis Flute is hesitant to play leading lady Thisbe at first, the diva within him eventually emerges. Also great fun are Chase-Owens as the shy Snug, assigned to play a roaring lion, Kettig as a deadpan, disinterested Robin Starveling, playing the Moonshine and Zayas as Snout, playing the Wall that separates the two lovers and getting a huge laugh with a bawdy sight gag.
Confetti, soap bubbles and the occasional dance break add to the merriment, ending with audience members being invited to snack on free cookies and boogie with the cast.