Click Here for More Articles on MANHATTAN THEATRE CLUB
BWW Review: Jason Alexander and Sherie Rene Scott as Would-Be Lovers in John Patrick Shanley's THE PORTUGUESE KID
If the spot-on hilarity of first scene of director/playwright John Patrick Shanley's The Portuguese Kid could be replicated for the play's remaining three-quarters, this review would be happily exclaiming that New York has got a solid, old-school sexy romantic comedy in town.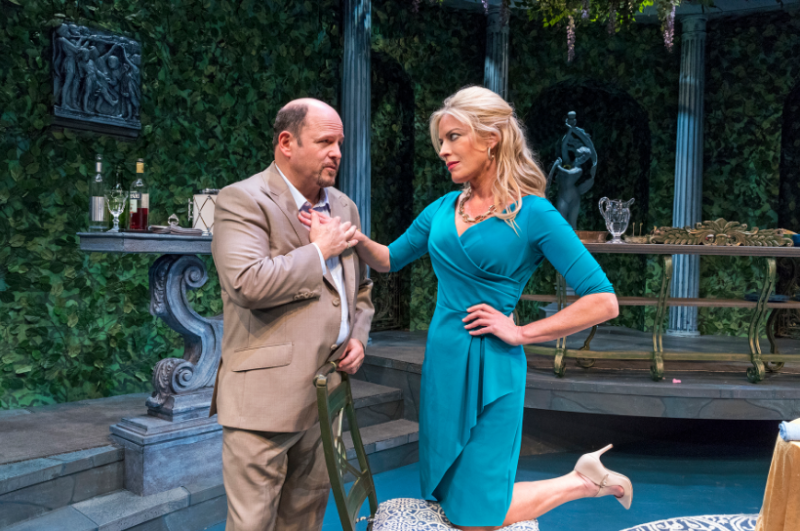 It helps, of course, that the first scene is played by three enormously skilled comic actors, Jason Alexander, Sherie Rene Scott and Mary Testa, and that while the play never strays far from familiar conventions, the premise is just quirky enough to give an extra jolt of energy to the proceedings.
Lights go up and savvy audience members can start sizing up the situation right away. Designer John Lee Beatty's set, which revolves to more colorful locales as the evening progresses, initial depicts the drab law office of Barry Dragonetti (Alexander) a nebbishy fellow of Sicilian/Croatian heritage (ethnic types figure heavily in this one) in a meeting with Scott's glamorously widowed Atalanta Lagana, a passionate Greek American. (Designer William Ivey Long provides her smashing ensembles.)
A pivotal moment in both their lives occurred when 10-year-old Atalanta saved Barry from being mugged by conking his 10-year-old assailant (armed with a can opener) over the head with her bottle of root beer.
She calls it the best moment of her life while he regards it as the worst of his.
"You stole my moment," he insists. "You castrated me!"
The play's title refers to a convoluted gag that has Barry believing the kid, and anyone else who upsets him, is Portuguese.
Testa plays Barry's hard-nosed Croatian mom, who is also his secretary. Given the age difference between her and Alexander, she had him when she was four.
Outlasting a succession of wealthy husbands, the well-off Atalanta admits to always having been attracted to Barry and tells him that with every spouse it was his name she would yell out during sex. As they discuss the possibility of his helping to swing the late fellow's finances better in her favor, mom barges in every so often to voice her distain for their visitor and her disappointment in her son. ("Barry's no shyster! He's just a lousy lawyer!")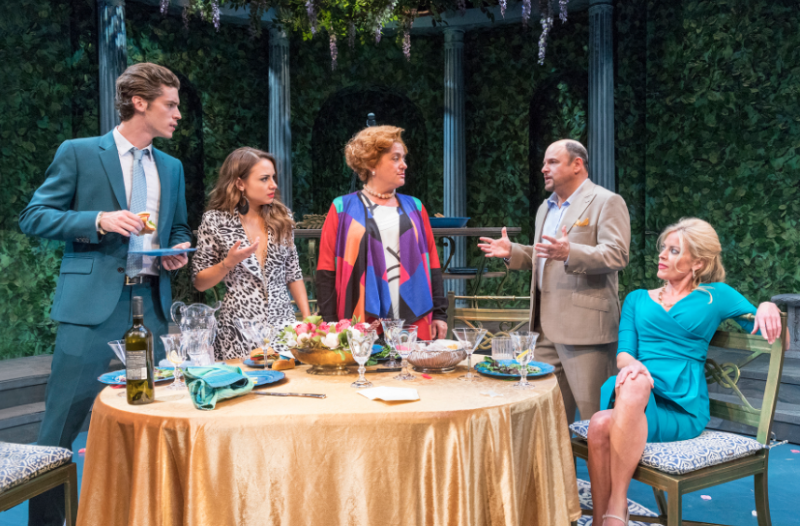 When the scene switches to Atalanta's bedroom, she is indeed screaming you-know-who's name, despite being underneath a well-chiseled twentysomething Italian boy toy named Freddie (Pico Alexander), who tries romancing her with spontaneous poetry.
"Your ass is my prison, my pillow, my palace," he waxes.
Meanwhile, Barry's equally young New Jersey Puerto Rican wife is the manipulative and bikini-clad Patty (Aimee Carrero). Both of the younger actors give fine, energetic performances that display comic chops, but the sagginess of the script becomes more apparent as the play slogs on, and the climactic dinner between the two couples (mom barges in unannounced, of course) ends with a site gag that has Jason Alexander sporting a fake erection to prove that Barry has wanted Atalanta all along.
"It's my boner!," Scott's Atalanta happily cheers. "It's always been my boner. It's always been me."
Insert "limp" comment here.
Related Articles
After 20-odd years singing, dancing and acting in dinner theatres, summer stocks and the ever-popular audience participation murder mysteries (try improvising with audiences after they?ve (read more...)