Review: Heidi Schreck's Pulitzer-Worthy WHAT THE CONSTITUTION MEANS TO ME Moves To Broadway
"Would you please raise your hand if you are a white man who also owns property?", playwright/performer Heidi Schreck asks her audience. The number of respondents is typically a very low percentage of the house.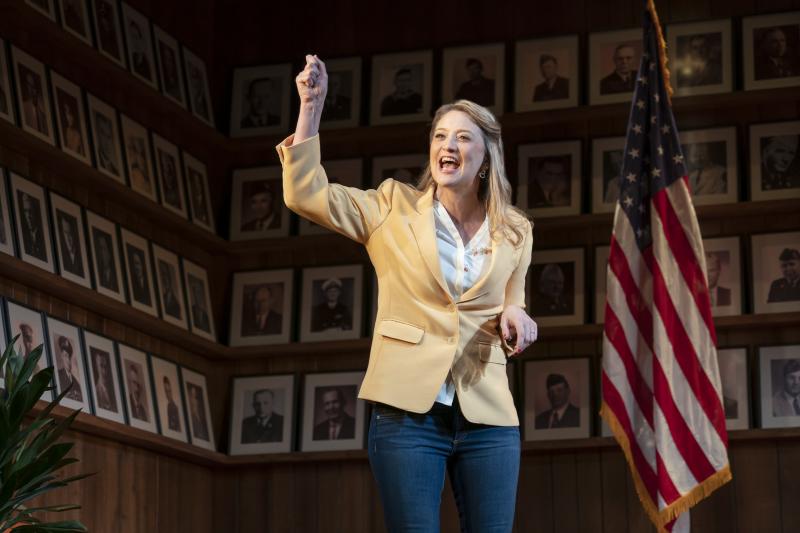 "Under the original terms of the Constitution, you are the only people who are considered citizens. How would the rest of you feel if they went into another room and made all the rules for the rest of us?"
Fortunately, The Constitution of The United States of America is regarded as a living, breathing document, open to amending and interpreting.
The same goes for Schreck's inescapably truthful, yet eventually hopeful autobiographical performance piece What the Constitution Means to Me, which, as press notes advise, can be amended, so to speak, by its author at any given time.
Certainly, with the frequent occurrence of constitutional issues making headlines in the past couple of years, audience interpretation of certain moments can vary.
When this reviewer attended the play's Off-Broadway mounting at New York Theatre Workshop last October, the Senate's confirmation of Brett Kavanaugh to the Supreme Court had occurred earlier that day, and while Schreck never spoke directly about the situation, events of the past week drew audible responses to certain passages.
At Friday night's performance at Broadway's Helen Hayes Theater, the loudest audience response occurred during an observation about the First Clause of the 14th Amendment, stating "nor shall any state deny any person of life, liberty, or property, without due process of law; nor deny to any person within its jurisdiction the equal protection of the laws."
"It actually uses the word 'person,' not 'citizen.' Which means that if you are an undocumented
immigrant, you must be given all the protections of Clause Three, the due process clause. You
cannot be locked up without a fair trial. You cannot have anything, or anyone, seized from
you.
Director Oliver Butler's production is performed on set designer Rachel Hauck's recreation of an auditorium stage based on Schreck's memories of her home town's VFW Hall, with three walls covered with over 200 framed 8x10 photo portraits of middle-aged and older white men in their Veterans of Foreign Wars uniforms.
As a teenager, Schreck stood on many similarly decorated stages across the county, in front of all-male audiences and all-male judging panels, trained by her debate coach mother to earn enough money to pay for her entire college tuition by winning numerous contests where she delivered a short speech about the United States Constitution and then spoke extemporaneously on randomly chosen amendments. The inclusion of personal experiences was encouraged.
The author plays her 15-year-old self, delivering a reconstructed version of the long-lost speech and responding to questions regarding the Fourteenth Amendment, with her present-day self, now in her 40s, adding her more experienced views.
"I remember being obsessed with theater, the Salem Witch Trials and Patrick Swayze," she says of her teenage years in Wenatchee, Washington. "The Apple Capital of the World. Conservative. Rural. An abortion-free zone."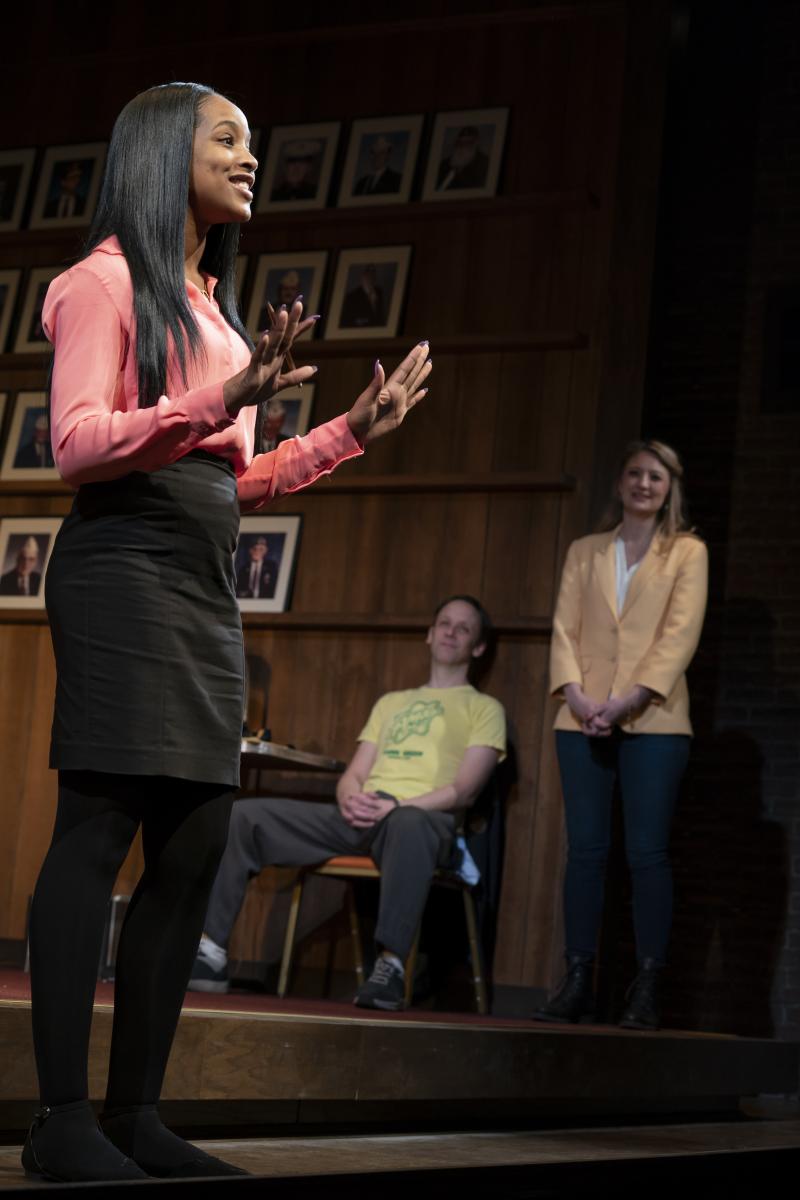 Her younger self is a bolt of animated, imaginative energy, pouncing on every cue to begin speaking as if determined to display every spec of her accumulated knowledge that she can until her time runs out.
In her prepared speech, she describes the Constitution as a crucible; "a pot in which you put many different ingredients and boil them together until they transform into something else."
Though it may be a little jarring when this leads to her description of a childhood fantasy about "being attacked by a rapist or murderer" and making him stop by convincing him that she is a fellow human being, there's an entertaining precociousness to her presentation, which includes mentions of her one-time imaginary friend and of her admiration for Supreme Court Justice William O. Douglas' use of the word penumbra when speaking of the Ninth Amendment.
But it's that entertaining precociousness that might make you wonder if young Heidi's competitive persona is modeled to appeal to the sensibilities of conservative older men who prefer girls to be more sugar than spice.
Contemporary Schreck, while still very engaging, is the serious messenger of uncomfortable truths, often using instances of abuse involving the women of her family tree to lead into explorations of historic constitutional issues, sometimes highlighted by embarrassing audio clips of nine male Supreme Court judges determining the legal rights of women.
One clip, involving a 2005 case deciding whether or not police were required to respond to a woman's plea for protection against her violent husband, reveals debate over what the Founding Fathers meant when they used the word "shall."
In a related story, she tells of 17-year-old Heidi being alone in a car at night on an empty street with a boy she just met and being agreeable to his sexual advances because "it seemed like the polite thing to do." But looking back as an adult, though she is 99.9 percent sure that he would have accepted her refusal without incident, she's more certain that she agreed because her conscience was telling her to "stay alive."
It's all an extraordinary balance of historical fact, legal analysis and personal experience presented with a warm, conversational tone.
Because a great deal of her text involves facts and statistics concerning violence against women ("More American women have been killed by violent male partners in the last century than Americans have been killed in wars, including 9/11."), Schreck explains that it's important to her to have "some positive male energy up here with me," so she shares the stage with Mike Iveson, who at first dutifully takes on the role of moderator/timekeeper in his VFW uniform, but then reveals a bit more of himself.
Reminding us that the United States Constitution was created by white male landowners for the purpose of securing rights for their fellow white male landowners, Schreck brings us to the final section of her work with the suggestion that in order to fairly represent the rights of all Americans, the document must either undergo major revisions or be scrapped altogether for a brand new one. She explains how our Constitution is primarily a negative rights document, describing what the government cannot do to its citizens, and points out how countries like Germany and South Africa have scraped their old constitutions for ones that emphasize positive rights, focused on what the government provides for its citizens.
As they did off-Broadway, high school students Rosdely Ciprian and Thursday Williams alternate performances to debate Schreck on the issue of revising the Constitution or completely replacing it.
Having seen Ciprian in October and Williams on Friday night, what is immediately noticeable about both of them is how they present themselves much differently from Schreck's depiction of herself as a young teenager. They both display great poise, are succinct in their presentations and speak with authoritative tones; in no way precocious, just impressively quick-thinking and prepared.
And in admiring them, the audience can stop thinking of 15-year-old Heidi working hard to impress a roomful of white men from a past century and perhaps shed a few tears of joy and hopefulness because, even in these times that are displaying the worst side of America's collective patriarchal attitudes, young girls like them can stand in front of a diverse collection of viewers who are impressed by their brains and can imagine ever expanding opportunities in a world that will respect them simply for being people.