Review: Encores! I MARRIED AN ANGEL Is A Heavenly Sip of Vintage Rodgers and Hart
One of the quirky charms of the musicals that packed Broadway houses during early decades of the 20th Century, was the practice of allowing a stray remark that has nothing to do with anything that's going on to serve as the cue for a novelty song that has nothing to do with anything that's going on.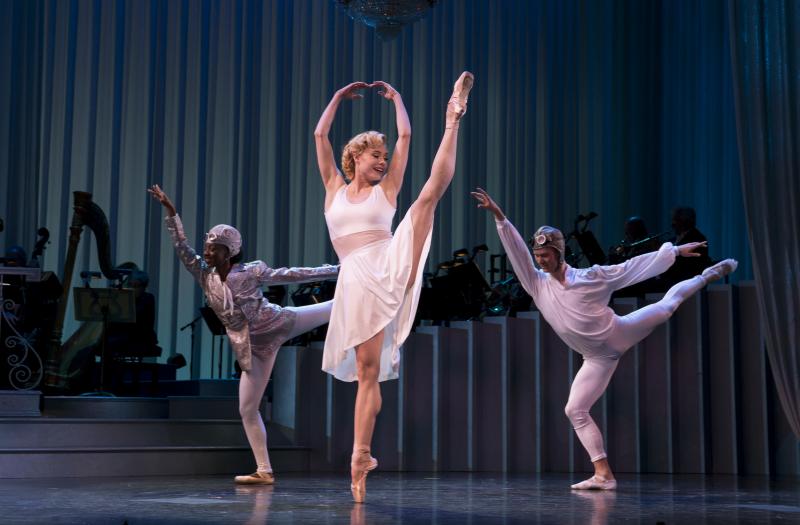 So the villains of BABES IN TOYLAND suddenly start singing a ditty about health food, a can-can about Elinor Glyn's "It Girl" makes its way to the Moroccan sand dunes of THE DESERT SONG, and FIFTY MILLION FRENCHMEN introduces a furrier character just so Cole Porter could pen a parade of suggestive rhymes about animal mating habits.
Late in the second act of Rodgers and Hart's frothy bit of drawing room comedy elegance, I MARRIED AN ANGEL - a musical with a title that summarizes 75% of its plot - a random mention of New York's famed movie house not only springs a featured belter into a snazzy rhythm number titled "At The Roxy Music Hall" ("It's a wonderland where everyone is Alice / And the ladies room is bigger than a palace."), but the leading players then take turns demonstrating the eclectic assortment of acts one might see at the showplace before taking in the screen attraction, including a freestyle tap solo, a hearty male chorus singing of their Milwaukee heritage and a surrealist ballet interpretation of "Othello" choreographed in the style of... well, George Balanchine.
It was, in fact, Balanchine who choreographed that 1938 confection and before the close of its 9-month Broadway run he had married the leading lady, Norwegian ballet star Vera Zorina.
For the luscious City Center Encores! concert staging, Joshua Bergasse takes on both directing and choreographing duties in a production starring his wife, New York City Ballet star Sara Mearns.
Richard Rodgers and Lorenz Hart penned both the book and score for this one, based on play by Hungarian Janos Vaszany, about a Budapest banker, Count Willy Palaffi, who desires a traditional marriage to "a pure, innocent girl" and is cursed with getting exactly what he asked for.
The book for this concert staging was constructed by Sandy Rustin and Sarah Saltzberg, using both the Broadway original and versions that followed, with an eye toward selecting material that might seem sexist or otherwise objectionable to some contemporary viewers. (Surprising, they left in a joke about an adult having a fling with a 15-year-old.)
Playing Willy, Mark Evans seems plucked right out of a 1930s RKO musical feature, cutting a dashing image with a bit of comedic stiffness and singing the title ballad and the score's most enduring hit, "Spring Is Here" with a lovely light tenor.
Nikki M. James, playing a role originated by Vivienne Segal, lands her funny one-liners skillfully and sings with upscale panache as Willy's sister, Peggy, who tries fixing him up with an American, Anna, who proves too much of a jazz-baby for his taste.
Played with terrific song and dance verve by Hayley Podschun, it's Anna who'll get that second act Roxy sequence started, but first she sums up the leading man's unreasonable desire by telling him, "You don't want a woman. You want an angel!"
Willy's assistant, Peter, who definitely doesn't want an angel, is happy to keep Anna company. He's played by Phillip Attmore, who contributes some sensational tap-dancing.
As these matters tend to evolve in 1930s musical comedies, an angel, in the form of Sara Mearns, suddenly appears before Willy, wearing wings and toe shoes. They talk a little, kiss, fall in love immediately, rush to Paris to be married, then go on a whirlwind honeymoon that has Angel and ensemble members dancing to the traditional footwork of every country they visit, including a high-stepping cowboy routine to represent America.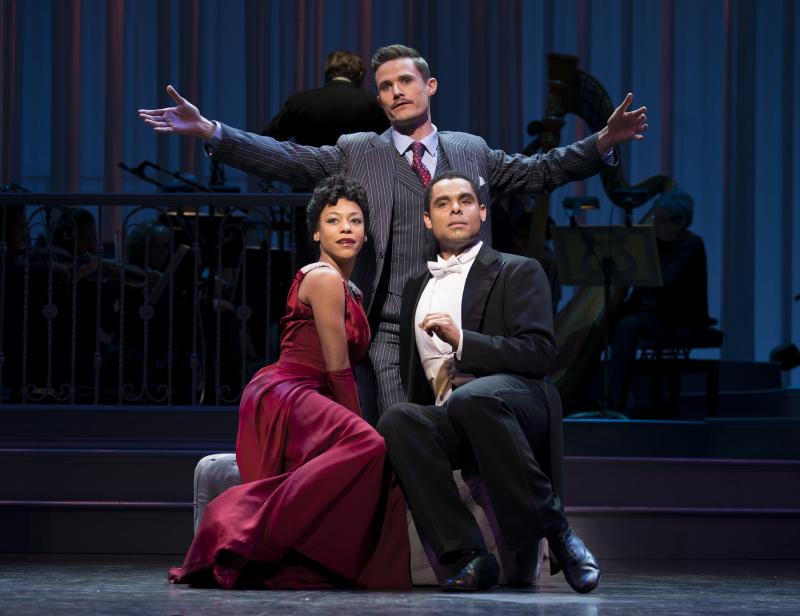 Acting-wise Mearns isn't required to do much more than speak with warm sincerity, which she does very well, but the remarkable part is how she seems completely relaxed standing in place doing love scenes while on her toes with her feet constantly taking tiny steps to keep her balanced.
The character doesn't sing, but she partakes in musical sequences that have her speaking lightly in rhythm, a popular technique of the era. One of them contains a particularly delicious exchange with an insider reference to the original production's set designer.
"What a modern house, nothing could be keener."
"Tell us who designed it."
"Jo Mielziner."
After their first night together, Angel wakes up having lost her wings, but she retains her insistence on always telling the truth, a quality Willy finds charming until her honesty accidentally insults the wealthy Duchess of Holstein-Kuloff (Ann Harada, drop-dead hilarious in a small role) threatening a run on the bank with the loss of her business.
Peggy saves the day with a bit of bribery, and by teaching Angel how in polite society, the truth isn't always polite.
If the plot is a bit creaky (it may have seemed fresh eighty years ago), the music and lyrics remain heavenly, particularly with Rob Fisher conducting twenty-nine onstage musicians playing the orchestrations of that master of textures, Hans Spialek.