Review: Christine Lahti is Gloria Steinem in Emily Mann's Riveting GLORIA: A LIFE
"I grew up in working class Toledo," says the subject of Emily Mann's Gloria: A Life, arguably the most potent, informative, emotionally riveting and ultimately uplifting theatre piece currently playing in New York, "and my biggest dream was to become a Rockette."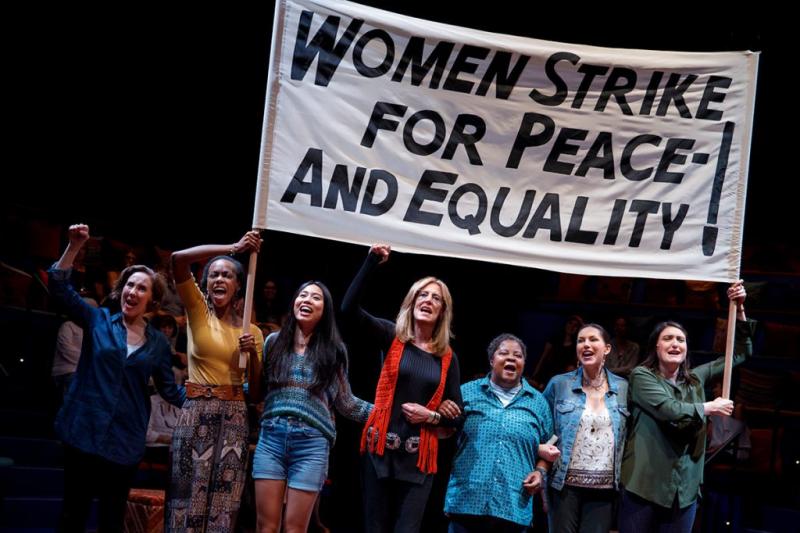 "I think back then entertainment was to girls what sports were to boys-a way to get out and up."
Well, the show biz dreams of the young tap dancer didn't quite come true, so instead Gloria Steinem grew up to become one of the most vitally significant Americans of the 20th Century by helping to change the lives of millions of women for the better.
As depicted by the playwright, it was the discrimination Steinem encountered early in her career as a journalist that led her to equal rights activism, and GLORIA: A LIFE plays as a reporter's view of the Feminist Movement, shining spotlights on women who never received the national coverage given to her and celebrating their important contributions to the cause.
"The truth is, I learned feminism from black women," says Christine Lahti, playing Ms. Steinem, with a cool, friendly crispness.
In one sense, the play comes off as a personal appearance. With the audience seated arena style in an oval surrounding the playing area the history-making activist talks about America's current political landscape.
"476 women ran in primaries for Congress this year! And given what we've been through in the last few weeks, I bet that number keeps growing."
But, as directed with the typically strong hand of Diane Paulus, one of the best at creating vivid defining styles for stage pieces, there is also a sense of story theatre to the proceedings, with a diverse ensemble of women using designer Jessica Jahn's costume pieces to quickly change into all of the women and men who pop in and out of the narrative.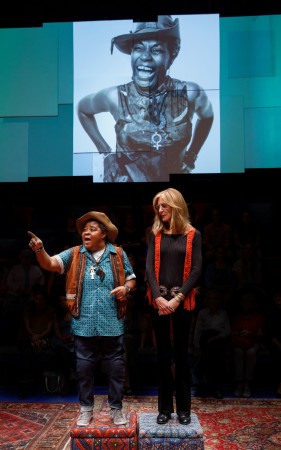 Patrena Murray gives a grandly assertive turn as Florynce Kennedy, the civil rights lawyer and galvanizing public speaker who was among those black women who taught Steinem about feminism but was ignored by media journalists more interested in getting camera time with the white woman.
Joanna Glushak is full of old-school New York moxie as Congressional Representative Bella Abzug, who marched to end the Vietnam War and pressured her fellow Democrats to support gay rights, legalized abortions and the ratification of the Equal Rights Amendment. She also plays Steinem's mother, Ruth Nuneviller, herself a tragic victim of the misogynist norms of her time.
Perhaps the most fascinating person portrayed is Wilma Mankiller, who was chief of the Cherokee Nation for ten years. She explains how the Cherokee language contains no gendered pronouns, so "people are people."
She also tells how the heart of the Cherokee governance is the caucus, or talking circle; a consensus among women and men.
"The paradigm of human organization for us is the circle, not the pyramid."
Mankiller (see the play for the explanation of her surname's origin) is played with balanced authority by her real-life cousin, DeLanna Studi.
Fedna Jacquet (as Dorothy Pitman Hughes and Coretta Scott King), Liz Wasan and Francesca Fernandez McKenzie also make notable contributions in their various roles, most effectively as the unnamed women who share their stories of enduring illegal abortions and legal spousal abuse.
Designer Elaine J. McCarthy's projections contrast the personal stories with media views of the unfolding events. When young Steinem goes undercover as a Playboy bunny to expose the abusive working conditions at Hugh Hefner's Manhattan club, the cast spoofs the venue's training sessions on stage while a film clip shows the actual bunnies practicing their serving skills.
Scenes involving the creation of Ms. Magazine lead to a clip of news anchor Harry Reasoner ridiculing the idea of a publication for women that doesn't include articles on fashion, beauty and food. ("I can imagine some stark, anti-sexist editorial meeting trying to decide what to do next.")
A clip of Steinem's appearance on Larry King's program, where a woman caller says that she "should rot in hell" for being "one of the primary causes of the downfall of our beautiful American family and society today" serves as a reminder that not all women have believed in her message.
After the play appears to be over and the actors have taken their bows, the audience is invited to stay for Act II, which devotes twenty minutes to voluntary audience participation in their own talking circle, hosted by a guest moderator. The evening this viewer attended, it was Gloria Steinem herself, who quipped that Christine Lahti's portrayal was a tough act to follow.
After some initial hesitation and politeness, the comments grew more passionate. A senior member of the audience spoke with incredulous disbelief at how low the country has sunk in such a short period of time. Another lashed out at the 52% of white women who voted for Donald Trump.
When time is up, the audience is invited to continue the conversation at the theatre's bar and, more importantly, to keep it going beyond the theatre doors and, especially, to the voting booth.