Click Here for More Articles on DEAR EVAN HANSEN
BWW Interview: Michael Park Has Found Yet Another Family in DEAR EVAN HANSEN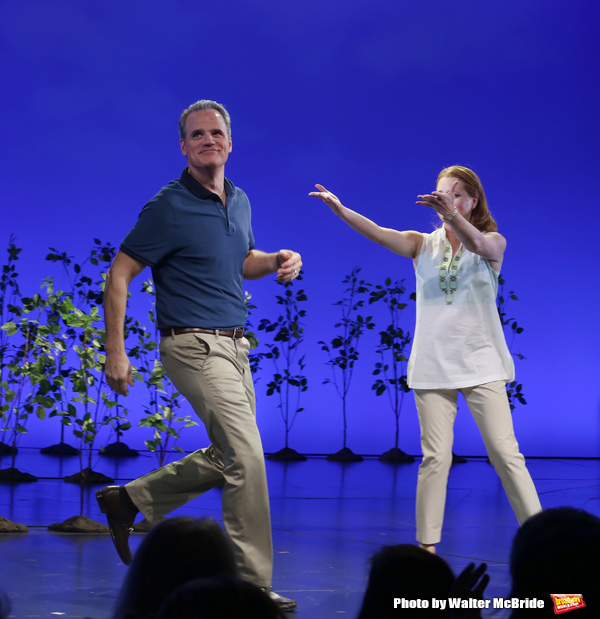 When Dear Evan Hansen made its off Broadway debut at Second Stage Theatre last spring, Michael Park was there... just not onstage. That's because following a successful regional premiere at Washington DC's Arena Stage, he moved straight from one show family to another, heading an eternally youthful clan in Tuck Everlasting.
Now that Dear Evan Hansen has moved to Broadway, Park is back in the role that he created in 2015- a role that seems as perfect a fit as a snug baseball glove. BroadwayWorld checked in with Park soon after opening night to chat about all things Dear Evan Hansen and how he found himself back in this profound and deeply moving piece of theatre.
---
Firstly I have to say, truly, this show moved me beyond anything that I can even remember.
Oh thank you very much, I appreciate that. It's been a wonderful little journey for the show and I'm just glad it's being accepted the way it is.
Now that opening is behind you, how are things going at the theater?
We are kind of getting settled in, which is nice. We had the pleasure of working out of town in DC at the Arena Stage, so we're very familiar with each other. We aren't barbecuing as much as I would like [Laughs], as we did out in DC, but yeah it's a very wonderful environment here. I'm overwhelmed at the love I feel for these people.
Yeah, it seems like you've all become very close.
Yeah we are, truly. We are sharing a lot onstage too. So, I think it's imperative that we are as close as we are.
You play Larry, the dad. I know that you have teenagers at home, right?
I do. My son is a a sophomore at Northeastern and my daughter Kathleen is 16 and my daughter Annabelle is 12.
Do you think that your experience as a dad helped to shape this character at all?
Great question. I think it's gone both ways actually. I think Larry Murphy has helped me become a better parent in a very weird way. As far as listening goes and being there and being present and not giving advice or dictating the way people should feel, I'm actually listening to my children. I get emotional thinking about it, to tell you the truth. As guarded and as distant as Larry Murphy is, it makes me all the more open and connected to my children.
I really loved the moment "To Break in a Glove." Your character really opens up and the audience gets to see a little bit more of him...
I lost my Dad probably a year and half, 2 years ago now. I remember working on my very first baseball glove with him. He was a sports star in our hometown and I remember one time losing the glove and feeling like a huge part of me was lost. I remember praying to Saint Anthony, "Saint Anthony, please look around." I remember that distinctly. And it was on Park Street in Canandaigua, New York. I can see it now. It was in a bush. I don't know why it was in a bush. I left it on top of a hedgerow and it had fallen down into the bush and it rained. It was awful and I remember being completely heartbroken. So those images run through my head before, or just about before every performance. That song is really an homage to my father as well.
It's very rare for a role that I've been a part of, that art imitates life and vice versa. I feel completely connected to Larry Murphy in that moment and his wish- the hope that him and Connor could've connected in that way. The way that my father and I did. I felt like I had let him down when I lost that glove, oh my gosh. It was a defining moment in my life.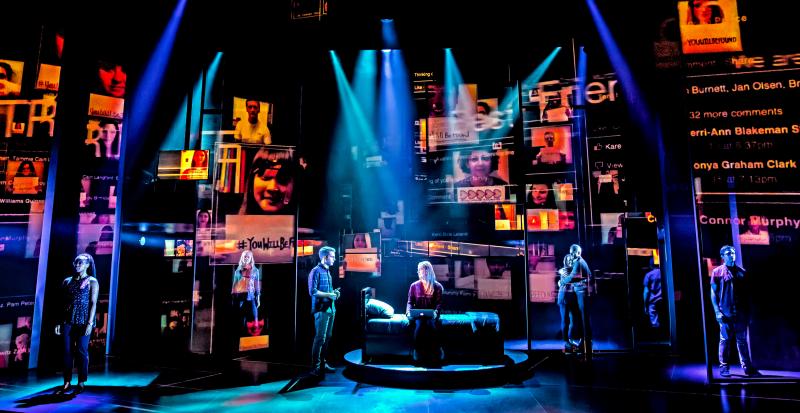 You were in the DC production, but not off Broadway because you were doing TUCK EVERLASTING. Was that difficult for you? Having to step away and kind of watch from the outside?
No, in fact. It was kind of a wonderful thing to be able to go to the opening night at Second Stage and see the piece performed. I had never witnessed it. It was very informative to say the least. I was so happy for everyone and the piece just kept growing and it got better. I understood that some things were cut and people were kind of unhappy with those cuts, but I tried to reassure them the best I could having seen it. It's a rarity to be able to see a production you are about to do. But seeing it, I tried to comfort them by saying, "Hey, listen. We could all have 17 more songs and 5 more scenes and it wouldn't take away from the journey that is witnessed that Evan goes on." It was really kind of incredible to be part of that.
I'm sure just being able to attack it with even fresh eyes was huge.
For sure! It's almost intimidating stepping back in, because I saw the IMPACT first hand that this show has on its audience. It was daunting, I'm not gonna lie. Rarely am I that intimidated, but I really was coming back with these people that I've worked with for so long. So yeah, as happy as I was to be back, I definitely understood a little more of what was needed from Larry Murphy.
The show is emotionally draining just for the audience. The sobs are audible. I know for the cast, it's a whole different animal. Have you yet mastered snapping out of that at the end of the night?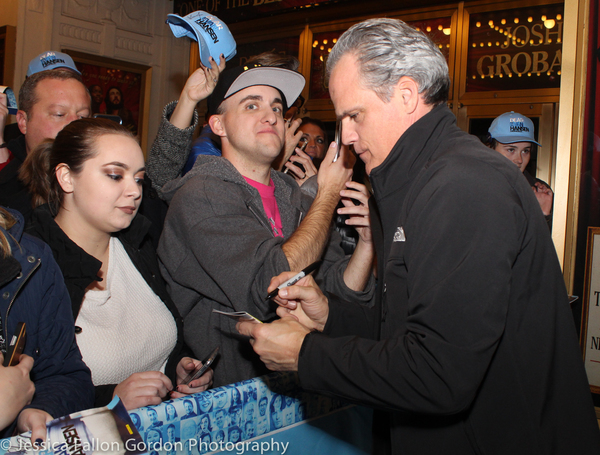 You know, Will Roland is across the hall from me in my dressing room. So he kind of snaps me out of it anyway [Laughs]. He IS Jared Kleinman. The great thing about being part of such an emotional show is that, in this case in particular, we are all on the same kind of journey together in those moments. It's a very safe place to be.
It's one of those things that I gear up for every night and the come down is getting a little easier. I'm not gonna lie, it's getting a little easier, but those emotions are right there on your sleeve. This show brings you to those moments. That song "You Will Be Found." What a wonderful message to share with people every night. So, it's really easy having teenagers at home that kind of feel lost every now and then. It's really easy to kind of fall apart as a parent. Yeah, coming down is great because there's always Will and and Mike Faist and I share a nice little nip of Jameson at the end of the show to warm down with them. [Laughs]
Do you have a favorite moment in the show? Or does it change night to night?
Every time Ben Platt sings, words fail. It crushes me a little bit inside. What I think is SO unique about the show is that you have a number of scenes where there aren't songs to further the plot along. Two or three of those scenes, for me, are the principal's office scene, the scene when Evan comes to deliver the emails, and when Heidi comes to dinner. Those three scenes for me, they're so perfectly written and so precise and so incredibly uncomfortable. You have the audience chuckling at the irony and being so completely uncomfortable. I really don't know how to explain it, but there's so much going on and the storytelling is so truth-driven that they're really fun scenes to navigate every night.
This is a show with a message. I think it's different for everyone depending on what stage of their life they're in. What is your hope that people are taking home with them every night?
I hope that kids, parents, grandparents, aunts and uncles, go home and hug their loved ones. I hope they realize how important they are to each other in their lives. And that, truly, no one is alone in feeling lost. I didn't realize it at the time because maybe I blocked it out or I compartmentalized my feelings, but when I was 16, 17, 18 years old, feeling lost was kind of what it was. For me I had my cousins. I'm from a big Italian family, so I had my cousins and my aunts and uncles to always keep me on track and I am so grateful for that and so thankful to them... but a lot of people don't have that. I realize that now.
So being there for my children is the most important thing I can do. This show has taught me that it's more important than EVER because kids are going through this every day in school, in their lives, people go through it in their twenties, in their late twenties. They're going through it now in their forties. People are lost and it's really important to know that you are not ever, EVER alone. So, I hope they realize that when they see this show.
Related Articles
Originally from Pittsburgh, Pennsylvania, Nicole began writing for BroadwayWorld in 2010. She currently resides in New York City, where she gets to enjoy far more (read more...)