Interview: Meet Broadway's Top Legal Eagle, Mark Sendroff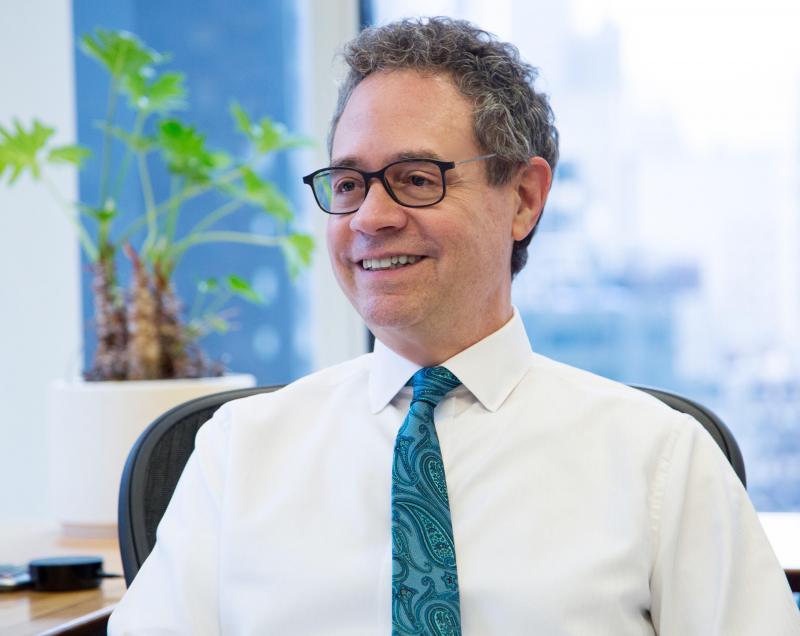 Billy Flynn might get all the attention, but Broadway's real, go-to man of the law is Mark Sendroff.
Sendroff started his law career at the firm of Bomser & Oppenheim in 1975 and moved to the firm of Gottlieb, Schiff, Ticktin & Sternklar in 1979, eventually becoming a partner until that firm's dissolution in 1995, at which time he founded Sendroff & Associates, P.C. In January, 2007, he and Jason Baruch formed the current firm of Sendroff & Baruch, LLP.
Now he represents countless Broadway productions, stage stars and entertainment personalities and he's telling us all about how he ended up here and the current landscape of Broadway law.
---
Who was your first client when you established your own practice?
That would be Jack Feldman, my life-long best friend, who became my first professional client. We had just graduated Syracuse University and Jack was a budding songwriter who met Bruce Sussman in the BMI Lehman Engel songwriters' workshop. Bruce was a friend of Barry Manilow's and the two of them began writing lyrics with Barry. They wrote a couple of songs and one of the earliest songs they wrote together was "Copacabana." Jack needed a lawyer, I had just started to practice and so that was the first major moment for the both of us.
Shortly after that, Marc Shaiman and Scott Wittman came along. They had just written a show called DEMENTOS and I met them as they were writing a 60's parody musical, LIVIN' DOLLS, which, on retrospect, was the forerunner of HAIRSPRAY. I was not unique in recognizing their talent at the time, but I was lucky enough to have been introduced to them by our friend, Laura Kenyon.
My first celebrity client, though, was Kaye Ballard, who introduced me to many others, most importantly, Rosemary Clooney.
Does it make it easier or harder when you have friends as clients?
For me, it's easier. I only want to have clients who, when I hear they're calling, I don't roll my eyes before picking up the phone. I want to be happy to talk to my clients. I enjoy my practice because I have the opportunity to be in touch with people whose talent and behavior I respect and enjoy.
Does that make it harder when you have to give them bad news?
Not terribly. I don't often deliver bad news. I mean, if the deal isn't what they want it to be, you could call that bad news, but I don't often have to deliver the kind of bad news that a lawyer practicing in other fields might have. It's all ups and downs in a career and most people roll with it. Yes, I have had clients who have been fired from a job and I've had to talk them through it.
When that happens, do you get the phone call, or do they get the call and come to you?
It can happen either way.
And then it goes to contractual things and union things?
Loose ends have to be tied up. Often people are fired and there's no contractual right to have fired them. So you know that you have to work it out because that's just how the world works. You can't be forced to work with somebody who doesn't want to work with you and ultimately, as angry as they might be that they're being asked to leave, it's a hostile situation in which they wouldn't be happy staying.
And with most projects, are you involved in the embryonic stages of when it's being conceived and the first deals are being done?
Sometimes. I remember when Stuart Ross came into my office and said, "I would like to do a musical about that Perry Como early '60s period of music, which is a gold mine catalogue that hasn't been re-discovered." And that's how and when FOREVER PLAID was born and I remember being there at the very start of that. Another more recent example..last year I had lunch with a producer (Joshua Goodman) and he came to see my office afterwards. As he was walking out, he saw a poster of WHEN PIGS FLY (written and directed by my clients) and he said, "I love that show," to which I said, "I love it too, why don't you produce it?" His revival production of that show is now in rehearsal (with client Bob Mackie designing the costumes, no less) and they open in October. I'm so proud when something like that happens! I
Often, I'll get a call on behalf of an artist who's being hired on a project that's already happening. But sometimes I have clients, like the wonderful Director/Choreographer Jerry Mitchell, who conceive and perpetuate their own projects. So, I help put the rights together.
What does that mean, helping to "put the rights together?"
Acquiring underlying rights in the property on which the musical or play is to be based and securing the writers to adapt that property for the stage.
So that means calling film studios or rights holders?
Yes. And then putting the staff together, finding opportunities for other clients along the way.
Have more studios become more receptive to properties over time?
Yes. They didn't take it seriously until the time of WICKED, I would say. It was always a pain in the neck for the business affairs department to look up the chain of title and they didn't feel that, in terms of movie world, the money was enough justification to have a whole department to specialize in it. Then Marc Platt and WICKED came along, and now, many musicals are based on films or on some kind of audio/visual property, so it's become a big business for them. And now they produce live theater.
Studios like Warner Bros. and Universal... they produce their own shows now. And, sometimes you can't get rights because their standard answer is "We're developing all of these properties ourselves." Other times they hire producers like Scott Sanders or Kevin McCollum to go through the catalogue and make suggestions and put teams together to help mine the gold that's in their vault.
When you get one of those "No" answers, do you push back, or are there other people to go to, either at the studio or original writers?
Sometimes. I don't consider myself having that kind of power. I know a couple of the most powerful people in Hollywood, but I rarely call upon them, because I don't want that to be the relationship.
As technology has evolved, how has your job evolved?
Well, that's really interesting. Do you know the term "carbon paper?" That's what we used when I started practicing. Contracts had to be cut and pasted and xeroxed. I started my career as a summer clerk and wound up an excellent typist. And that fascinates me-- that everyone has become a typist. When I was first starting, that was a skill that I could use. Now, everybody on the street is typing! Then fax machines came in. And then when email and computers started, it changed my entire business. It's like a boomerang--you do something, you put it out there and it's back on your desk in five minutes. You used to mail it and you could wait weeks to get things back and forth. And then faxes came in and then email just changed everything.
Which pace do you prefer?
[Laughs] You know, I get more work done and I make more money when I do more volume, but the volume of work is quite stressful and large at this point.
What about the complexities of things now, like putting shows into movie theaters, or on streaming services?
It's a whole specialty now, acquiring audio/visual rights in live plays. When you do a play, those rights are not included. So you not only have to go back to the rightsholders for the audio/visual rights, but all the unions for the various people who worked on it and the venue, and then you have to know the distribution agreements with the network and the various sources it's being distributed to. It's a separate world.
Do these things that have never been done before, like the first shows on Broadway HD, or NEWSIES being on Netflix, excite you?
There's so much work to do in the areas in which I consider myself an expert and I have so many clients generating work I find interesting that my attitude is not "give me something else I don't know." I'm just treading water. I want to keep everything under control. I work on weekends because on Monday morning, I don't want to have a pile of work I haven't started. I want to keep up with my work and please my clients and I want to stay ahead.
And what are the areas that you find the most engaging or under your expertise?
I've done a lot of Broadway production work, representing shows and producers, with great involvement in the securities work on behalf of those producers. My partner, Jason Baruch, is doing more of that these days, and I'm doing more artist work, although we both still work in both areas. I represent authors, directors, choreographers and designers, but the area in which I represent the most clients, unexplainably, is arrangers, orchestrators and music directors. I represent over 100 of those, more than all the other representatives combined, I imagine, and I'm very happy to do that kind of work. I also represent a lot of cabaret and concert artists.
Is that a conscious thing? Like, "I've got ten orchestrators. Let me see if I can get another ten?" Or did it just happen that way?
A musician tends to be, if I can generalize, an easier client. They're often level-headed, very organized and usually, not an extreme personality.
?What excites you the most when you get out of bed in the morning?
Breakfast! [Laughs] It does excite me to get to the office to see what's happened overnight and to dig into the work that I've set up the night before, that I knew was on deck for the next day. I love being in touch with so many of my friends and clients. This goes on all day long, and I don't even know where they are half the time. But I enjoy the personalities of show folk. Call me crazy, but I like to be in the middle of it.
Do you give honest opinions if clients ask for feedback, or "Did you like the show that I directed last night?"
Of course, if they ask for it. It's usually hard to be honest right after the performance, but, if they say, "I really want to know what you think," I will tell them. Most of them are very happy to hear what I have to say. And I'm wrong, a lot. My opinion is only my opinion. There are shows running now that I never would've thought would run.
I have some classic examples of my bad taste over my career, one including Jim Dale, who I still proudly represent to this day. When he was given the original script of BARNUM, I was working as an associate to his attorney/manager at the time, who asked me to read and evaluate the script so he could report back to Jim. And I read it and advised that he should pass on it, as I didn't see it as a great show. I've come to like it now more than when I was read it cold. I also remember advising a designer client of a show that went on to run for a decade that it wasn't going to run very long.
So, my opinion is really only my opinion. When CATCH ME IF YOU CAN failed, I was shocked. I still think it has one of the best scores ever.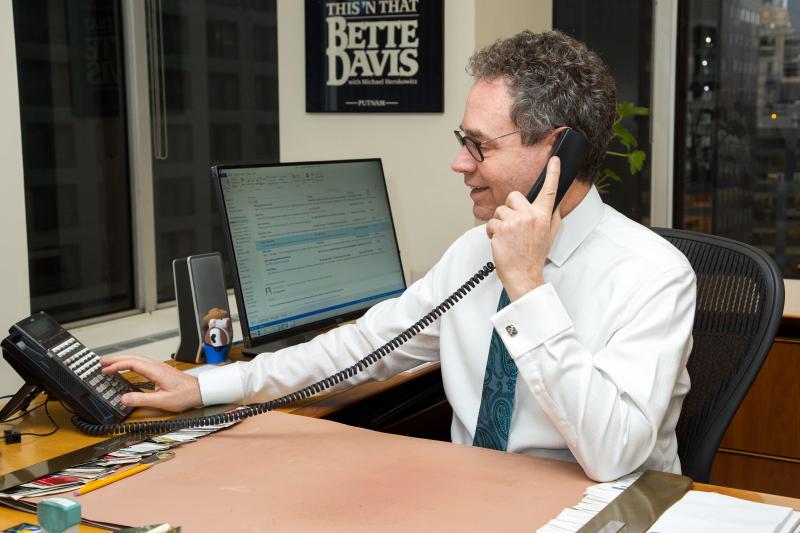 Do you ever invest in shows, or act as a producer?
I have never invested in a show. "Never put your money in a show," as they say in THE PRODUCERS. However, I wish I had spoken up after seeing any of the workshops of HAMILTON.
What advice do wish someone gave you when you were starting out?
Don't represent every client who comes through the door, because you wind up becoming emotionally involved in the lives of too many people. And when the day comes that you're not earning significant money from any of them, you're too close to them to withdraw. On reflection, that sounds a little cold and the truth is that I love my relationships with my clients, whether or not the time invested is leading to commensurate income. It's just the businessman in me saying I could be putting my time into something more lucrative. But the passionate person who really wanted to be a show business lawyer, loves those relationships.
Any unachieved goals?
I would love to have more of a presence in California, and I hope to someday... just to spend more time out there. I have so many friends and the lifestyle is very appealing. Not on a 52-week/year basis, but certainly more than a week here and there.
---
Mr. Sendroff presently represents many of the talented artists whose work can be seen prominently in the areas of theatre, film, television and music. For the theatre, he represents the writers, directors and/or choreographers of such original New York productions as "The Book of Mormon", "Kinky Boots", "On Your Feet", "Honeymoon in Vegas", "Bridges of Madison County", "Beautiful: The Carole King Musical", "Bright Star", "Cinderella", "Motown", "Hairspray", "Newsies", "The Bridges of Madison County", "Aladdin", "Ann", "Tuck Everlasting", "Tail! Spin!", "Big Fish", "First Date", "Catch Me If You Can", "In The Heights", "Rock of Ages", "Shrek", "Bring It On", "Bonnie And Clyde", "The Addams Family", "13", "Spamalot", "The Drowsy Chaperone", "Grey Gardens", "9 to 5", "Dirty Rotten Scoundrels", "Martin Short: Fame Becomes Me", "Beauty and the Beast", "Legally Blonde", "Forever Plaid", "Thoroughly Modern Millie", "Forbidden Broadway", "Little Shop of Horrors", "The Last Five Years", "The Full Monty", "Andrew Lippa's The Wild Party", "Full Gallop", "Handle With Care", "Parade", "Bring in 'Da Noise/Bring In 'Da Funk", "Late Nite Catechism", "Side Show", "Little Women", "Newsical" and "Elf" and of the Broadway revivals of "Jekyll & Hyde", "Finian's Rainbow", "Big River","The Apple Tree", "La Cage Aux Folles", "Grease", "Once Upon a Mattress", "Gypsy", "You're a Good Man, Charlie Brown" and "The Rocky Horror Show". He also represents the stars of such original productions as "The Father", "My Mother's Brief Affair", "Ann", "Grey Gardens", "Frost/Nixon", "The Lyons", "Dreamgirls", "Les Miserables", "Tale of the Allergist's Wife", "They're Playing Our Song", "City of Angels", "Merrily We Roll Along", "Hollywood Arms", "Barnum", "Laughter on the 23rd Floor", "Woman of the Year", "Steel Pier", "The Life", "Seussical", "As I Lay Lip-Synching" and the Broadway revivals of "Pippin", "Fiddler of the Roof", "Grease", "42nd Street", "Follies" and "Candide".
Photo Credit: Jennifer Broski