BWW Interview: Jenna Ushkowitz Talks HELLO AGAIN, Time Travel and Possible Return to Broadway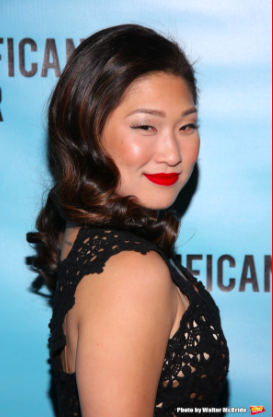 Get ready to see Jenna Ushkowitz like you've never seen her before! The talented lady will be gracing the big screen as Marie, The Nurse - (we'll get to the complex character later) - in the highly anticipated, sexy film adaptation of Michael John LaChiusa's acclaimed musical HELLO AGAIN. The provocative musical features a revolving door of sensual encounters spanning a century. The extraordinary ensemble cast includes six-time Tony Award winner Audra McDonald, Emmy Award-winner and Tony nominee Martha Plimpton, Emmy and Drama Desk nominee T.R. Knight, Rumer Willis, Cheyenne Jackson, Teen Choice Award-winner Tyler Blackburn, Sam Underwood, Nolan Gerard Funk and Al Calderon. HELLO AGAIN is directed by Tom Gustafson, and features a screenplay by Cory Krueckeberg and music and lyrics by Michael John LaChiusa.
Before HELLO AGAIN hits theaters on November 8th, Ushkowitz speaks with BWW about her sexy role in the film, her amazing co-stars and her next move in her busy career.
---
I just finished watching HELLO AGAIN and found it so captivating and and I'm still humming the songs! Could you describe your character Marie or "The Nurse"?
She's two different humans but the same human and she's kinda this suductee and suductress in two different time periods, the 40s and the 60s. My favorite was the suductress with the college boy! She is sexy and she is mysterious in a way. She was so much fun to play! She is pretty far from who I am. The whole thing, all-encompassing, is pretty sexy. I think everybody in the film has this need for connection, for love, for physical connection, for emotional connection, so I think that is the most interesting thing about the story.
Do you consider her to be one character or two?
Our director, Tom (Gustafson) left that up to us. I made her the same human in different lifetimes, so like the same soul. I was pretty lucky with the character arc of her in the two scenes because her virginity is basically taken in the first chapter and then she is being seduced and shown the ropes. She took that and now she is the one taunting this younger man. She was probably burned from the first one and that makes you harder, stronger and different. I loved that because I get to take this thing from one life and brought it to a whole other life, which is basically my song ("In Some Other Life").
What drew you to the part and to the movie in general?
When they approached me about the film, it was pretty enticing to me to begin with because Michael John (LaChiusa) is a genius and his score is absolutely stunning and his characters are strong as well. The way they pitched the film was this darker, more raw version and it had to be because, bringing that to the screen, there must be another level of intimacy that you don't experience in a theater. He was like, "It's gonna be darker. It's gonna be raunchier. It's gonna be pretty sexy." And it felt really safe, which was an important thing as well, just because it is pretty risky for me. This is my first adult role with partial nudity and sexual content. But, really, the draw for me was Michael John and the real and raw side of it. It's so different from what I've done before, especially on GLEE and even WAITRESS. It was such a bigger move, so it is really exciting.
Were you scared filming those more risqué scenes. How did you relax on set?
I was definitely scared and excited, in the words of Little Red Riding Hood. It was new to me and it's risky, but I love that. On set, it was really safe. It was so collaborative. We were moved by the piece, by the song, by the intention and by the story. So, I kept that in my brain. Working with Al (Calderon) was so comforting, especially in the Nurse's bigger scene. We became very close friends very quickly just because of the nature of the film. You look to your scene partner and you have to jump without a net and just let go. I let the character take over and forget where I was and that relaxed me.
How easy was it to fall in love with Nolan Gerard Funk and Al Calderon?!
(laughs) Pretty easy! They're both very pleasing to the eye! I had worked with Nolan previously on GLEE so I knew him a little bit which was comforting and nice to know that you are going in with someone you know. They were great scene partners. I mean, I can't complain! I'm not complaining about the situation at hand. It could be much worse!
What was your favorite scene/era in the film, that you weren't necessarily in?
That's a great question! The senator, with Audra, obviously. I mean, it's Audra! I really like that one because they switched it up from the musical and they decided to represent every kind of relationship which is very cool. I don't know, it was really sexy to me! And I love Titanic. I love, love, love Titanic! I thought Tyler (Blackburn) and TR (Knight) were just so great together. You don't see many other experiences from the Titanic other than Leo and Kate. I enjoyed that one a lot.
Since you don't get to work with everyone in the cast, which one of your co-stars do you wish you could have worked with in a scene.
Really any of them. But if I had to pick, I kinda love Tyler in the film and I would love to work with him.
Were there any notable behind-the-scenes mishaps?
The seams of my skirt kept popping open when I was riding on Al. No wait, that's not the right word, let's go back! When I was sitting on Al. That's not a good word either! My skirt in The Nurse's Song in the 60s kept popping open a little bit. And then, every couple of takes I would be sweating and singing and moving all at the same time and then my tattoos would start to show and they'd be like, "Hold on! We have to cover her tattoos on her back!" At that point, it was like, "who cares?"
If you could travel back in time to one of the decades explored in the film, as yourself, not your character, where would you go and why?
Oh, this is such a good question. Wow - any of them! The Nurse did the 60s so I already lived in that for a little bit, so I think I would go to the Disco Era in the 70s. I visited that in HAIR as well and I think that that time period with the social conflict that was going on in the world is still very relevant today. I would be very interested to see the difference between now and then and, even from an educational perspective, see what we could do differently and how we were affected by that.
Why do you think audiences should go see this movie?
Not only is it very sexy and you get to see Cheyenne Jackson with his shirt off, but I think that everybody has a want and a need for human connection in emotional and physical ways. There is a lot to learn and there is so many perspectives in this film. It is a stupidly talented cast. The music is incredible and we had a really good time filming it so I hope people like it.
What's next for you? Do you have any plans to return to Broadway?
I would love to! It has to be the right sort of thing. Coming off an all female creative with this incredible role [in WAITRESS], I'm excited to see what could top that. But yes, I would love to come back to the stage. I'm pretty much based in New York so it's not a far off dream. I'm working on my podcast (Epic Fail) right now and just waiting for the right thing to come along.
---
About HELLO AGAIN: 100 years. 10 love affairs. One city of lost souls. Hello Again explores a daisy chain of New Yorkers slipping in and out of one another's arms in 10 musical vignettes blurring the parameters of time, love, eroticism and exploitation. The inspiration for HELLO AGAIN is Arthur Schnitzler's Der Reigen, a 120 year-old play so provocative and controversial in its time that it was banned from public performance for decades, before inspiring a heated, even violent responses from audiences.
About Jenna Ushkowitz: Jenna Ushkowitz is best known for playing Tina Cohen-Chang on the Emmy nominated FOX TV series GLEE. She made her Broadway debut at age nine in the 1996 revival of THE KING AND I and was in the original production of SPRING AWAKENING where she performed the roles of Ilse, Martha, Anna and Thea. She was last seen on Broadway as Dawn in WAITRESS. Jenna also starred in HAIR at the Hollywood Bowl alongside Kristen Bell, Amber Riley and Sarah Hyland, and at Pittsburgh CLO as Julia in THE WEDDING SINGER. She served as the executive producer of the documentary film TWISTERS which premiered at Sundance and SXSW.
Her first memoir, "Choosing Glee" was published in 2013; she subsequently launched a podcast called "Infinite Positivities" on which she takes chapters from the book and speaks with actors, authors and experts about how to live life with a positive outlook. Baseball fans may know her as the first host of "Yankees on Deck," a behind-the-scenes show for young audiences on the YES! Network. Her independent film credits include Don Gaille's Babyface, and Georgia Lee's Educated.
She is currently hosting the podcast "Epic Fail," where she chats with her talented friends about on-stage and on-screen failures and mishaps.
WAITRESS PHOTO: Jennifer Broski
Photo Credit: Walter McBride / WM Photos