BWW Interview: Jackie Hoffman, Live and Kvetching at Lincoln Center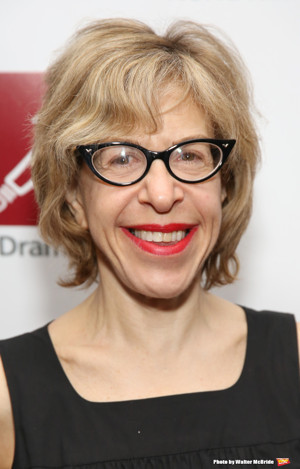 Jackie Hoffman, acclaimed actor and comedian, was exhausted after a lengthy rehearsal for her upcoming January 25th performance during the 19th season of Lincoln Center's AMERICAN SONGBOOK series. To make matters worse, she'd had only five hours sleep the night before.
"This is not normally the kind of thing I do," said the professional kvetcher, referring to her latest project. "But a gig is a gig," she joked. Hoffman is known for being long on talent and lung power, and often performs in small venues.
She should know from gigs: she's had scores of them. On Broadway, in movies and on television. Most recently, she was scene-stealing on Broadway in CHARLIE AND THE CHOCOLATE FACTORY and has been Emmy-nominated for her role as Mamacita in FX's popular series: FEUD: BETTE AND JOAN.
Lincoln Center's allure convinced her to participate this season.
"This is a very cool thing to be excited about," Hoffman said. "But it's all about the place. Lincoln Center! It's amazing. You know what I mean?
"I'll be doing plenty of shtick, but also cover show songs and some original ones. There will be a lot of complaining."
Planning to wear a light blue cocktail dress, Hoffman was happy to divulge her designer's name. "I'm so glad you asked me that," she said. "I have this fabulous Carmen Marc Valvo dress that has what you can't call beads, but not quite sequins." She pondered. "Almost like a little tile. It's brilliantly done.
"He dressed me for the Emmys and I posed for Vanity Fair in one of his dresses," Hoffman added. "I hope people dress nice to come here. As long as they're comfortable. But my crowd is accomplished women and gay men, so there's no question," she said of American Songbook audiences and Jackie Hoffman fans.
This year begins the 19th season of American Songbook, an eclectic musical buffet of the American spirit through song and story. It will showcase a diversity of voices and stories of singers, songwriters and musicians from all genres and will run through March 27. Launched in 1998, the American Songbook celebrates American classics from Tin Pan Alley to contemporary rap.
Composers and lyricists are a centerpiece this year. Featured performers include Matt Ray and Kat Edmonson, who will pay homage to Hoagy Carmichael. The Blind Boys of Alabama are set to appear Feb. 16. The season draws to an end on March 27, with Roseanne Cash.
Hoffman refers to her set as "a musical mélange with a lot of talking. I'm a little too self-involved to talk much about politics and the current talk about sexual harassment and shootings," she said. "I want people to have fun."
Hoffman knew she was destined to perform since her childhood days. As the youngest of four, she had an ideal built-in audience. Her siblings were much appreciative. Most of the time.
"I've always been loud and outgoing. Outgoing. That's a nice word for obnoxious," she said. Important creative influences include her father, Jackie Gleason, Carol Burnett and Joan Rivers.
Hoffman's creative team for her American Songbook performance includes director Michael Schiralli and musical director/composer Bobby Peaco. "It seems like I've been rehearsing a long time-for the past two, three months-to put this whole act together," she said. "Some of my stuff is a few months old, some bits are older.
"We don't do stuff like 'my favorite song in the songbook' kind of thing," she said. "I'll be premiering new twisted Jackie things with covers. And I'll be doing parodies in there, a whole mix of stuff."
The ONCE UPON A MATTRESS star hopes to see other performers during the season, schedule permitting. What's next?
"After this I'll be going on a gay cruise," she said. "Entertaining the gay masses in the Caribbean.
The American Songbook season runs through March 27. More information can be found at americansongbook.org. Tickets can be purchased at the Alice Tully Hall and David Geffen box offices. Performances will take place at three venues at Lincoln Center. Hoffman will be appearing at the Appel Room at Jazz at Lincoln Center January 25th. With its floor to ceiling windows overlooking Columbus Circle, the Appel Room hosts cabaret-style seating at tables in close proximity to the stage. It also offers a stunning view of the Manhattan skyline. The Rose Theater offers an intimate atmosphere, and the David Rubinstein Atrium offers indoor space and many free public performances.
Related Articles
Naomi Serviss is an entertainment/spa writer whose roots include covering Broadway. She has written for Newsday, The New York Daily News, The New York Times (read more...)