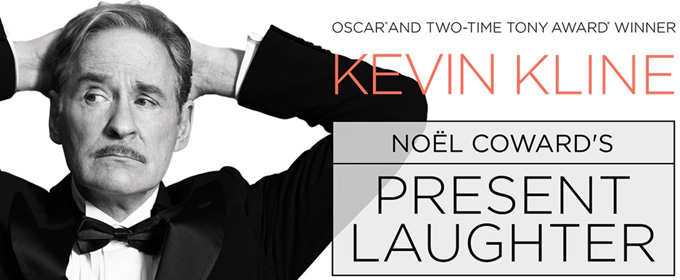 Click Here for More Articles on PRESENT LAUGHTER
BWW Interview: How Moritz von Stuelpnagel Found the Laughs in PRESENT LAUGHTER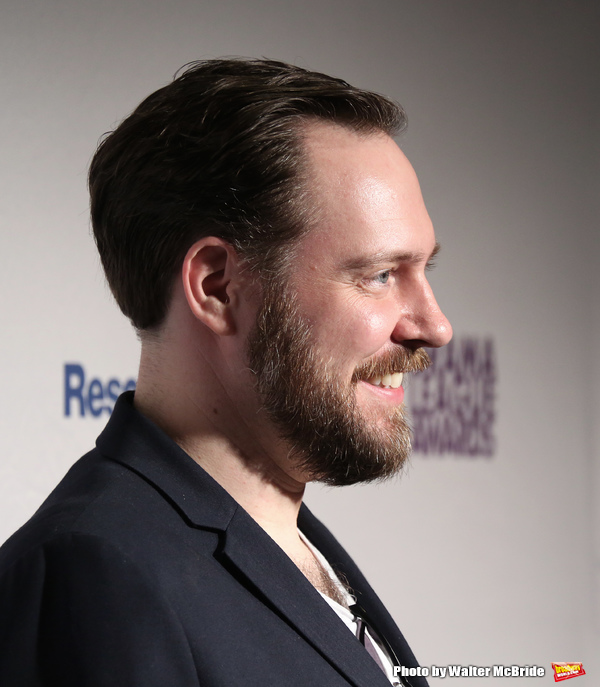 Director Moritz von Stuelpnagel knows how to make 'em laugh. After almost three months of performances at the St. James Theatre, the cackles continue eight times a week for Noel Coward's Present Laughter. He has something to do with that.
The play follows a self-obsessed actor (played by Kevin Kline) in the midst of a mid-life crisis. Juggling his considerable talent, ego and libido, the theater's favorite leading man suddenly finds himself caught between fawning ingénues, crazed playwrights, secret trysts and unexpected twists.
At the helm of the star-studded revival (also with Kate Burton, Cobie Smulders and Kristine Nielsen), is von Stuelpnagel- in his first return to Broadway since his Tony-nominated work on 2015's Hand to God. Below, he chats with BroadwayWorld about how he approached the piece, why he couldn't wait to work with Kline, and so much more!
---
Now that the show is up and running, have you been back to the St. James to check in on it?
Yeah, I go every week or so to check in on everybody and see how they're doing. What's remarkable is just seeing how the company has continued to settle, the way they've found new bits. Every time I see the show Kevin is so fresh and the whole cast with him that it's a brand new show every time, which is wonderful with a comedy.
And you must be very proud of the show's nominations. Congrats!
Thank you so much, we're very happy. And it's such a wonderful season that it is especially meaningful to us considering how many wonderful productions were open on Broadway this year, that the Tony nominators decided to recognize us.
Let's talk a little bit about Kevin [Kline]. My understanding is that you heard that this was a part that he wanted to play?
He originally saw a production of this in London in the early 80s, and it remained in his memory as a part he'd love to do at some point in his life. I think that idea came back around to him recently, and he met with several directors and did a few readings of it in order to decide if it was something that he was game to do, because it is quite an undertaking, that role.
Then he and I met to talk about it and really hit it off. We met for lunch, I think it was at the Lamb's Club and we were there for three or four hours. Then we started walking toward the subway and outside the station for another 45 minutes. We were deep in conversation about this role and this play and a way to do it that didn't feel like we were doing Coward, but that we could actually explore the humanity of who these people were. I think we had one more lunch, which was another three or four hour lunch [Laughs]. We really just got into it and it was just wonderful even right away to begin collaborating. I really felt excited to work with Kevin because of all of the ideas that we were bouncing back and forth about the play and the role, and of course the rest is history.
And he's hardly the only name in this production... the whole ensemble is amazing. What was it like being in a rehearsal room with all of those people together?
I felt very spoiled because we have some of the best theatre veterans that you could ask for. Even Cobie Smulders, who's done some plays before but its her Broadway debut... she acted like a Broadway veteran. She's really doing a tremendous job.
I think that there is something about this play that is a little bit of a love letter to the theatre. In the theatre we cobble together our own weird, strange, artistic families and the cast that we have, many of them have worked together multiple times. You feel that history, not only among the characters, but among the cast members. They were constantly bouncing ideas off each other and looking to play to each other's strengths or talk through the challenges that they may be having. There was a familiarity and a dispensing with politeness that I think allowed some real fruitful comedy to emerge. I think that's because a lot of people in the room have known each other for so long that they might as well be family.
Going into Coward you expect some fluffiness, but these characters seemed deeper and more complex. Is that something that you guys were aiming for from the start?
Absolutely. I often feel like in Coward, the reputation has become the language and witticisms, but actually his characters are wonderfully well-dimensioned. For example, all of the women in this play are wonderfully complex human beings and I think all of us were really excited to dig into the history that these people have together and who they meant to one another. Certainly the relationship that Kevin's character Gary and Kate Burton's character Liz, they have this very strange kinship. They have a wonderfully complex relationship in the way that some modern marriages often do. Even the hangers-on, who surround Kevin in the show are obsessed with him in a variety of different ways, and so there is wonderful depth and complexity in the characters that I think is sometimes overlooked. People think of it as light comedy and therefore shouldn't have much depth, but I actually think that we believe you can have both.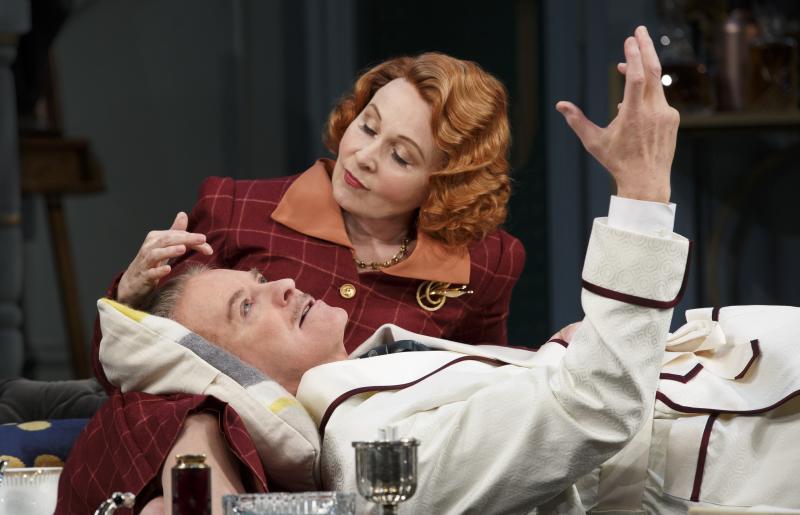 How do you think that actors would describe you as a director? Are you really hands-on or do you like letting them find their own path?
That's a great question. My chief value is allowing there to be some virtuosity in the production. Often that stems from the performers. So everything that I wanna do is empower them to be able to be free and to play and to surprise the audience with some feet of skill or prowess. It's what Kevin is so great at- a spirit of being a clown. So the whole production I really wanted all of them to have enough freedom and specificity in what they were doing so that they could really play every night and play with one another, while still living in a real world. So I don't want to get in their way. I only want to help explore where the opportunity might be for comedy.
It seems like you've carved yourself a little niche in comedy. Have you explored your more dramatic side?
I was trained in psychological realism and early 20th century American drama, so I come from that sort of more naturalistic background. Then I spent a residency at the Royal Shakespeare Company working with them and I've done quite a bit of Shakespeare. But I actually think that all of that has fed into the comedic productions that I've done, solely because I am really interested in seeing what happens to these plays if the characters in them don't know they're in a comedy, but instead are wrestling with dire circumstances or whatever that means. To me that's even funnier. That condition of negotiating life or weathering suffering, for whatever reason I think makes the comedy sharper. So I seem to have worked in that vein up until now and I'm grateful to have done so, because it's really wonderful coming to work everyday and seeing really funny actors make you laugh every day. It's just tremendous and it doesn't get old.
You mentioned Shakespeare, you're doing Twelfth Night soon, aren't you?
I am. It's a beautiful play, I'm doing the Hudson Valley Shakespeare Festival and I think similarly it is a play where a person can get lost in the archetypes of who the people are and it is a strange little fairytale in its way. But also I think what we're trying to do in it is explore the experience of what really being lovesick or weathering grief or any of those things actually feel like. Again, I think that only makes it more strange and funny when they're treated in a more human way. So that's what we're muddling through at the moment.
You're also at Williamstown later this summer, right?
I'm doing a reading of Williamstown in July. That's a new play about two restaurant owners trying to grow their little restaurant in Brooklyn. It's a great piece about how creative energy comes into conflict with commercial enterprise and how to keep both in play when you have a project afoot... in this case a restaurant.
So you're keeping busy!
I'm trying! I'm thrilled that Present Laughter has been running and that we're getting really terrific attendance and that audiences really seem to enjoy it. It's been a really wonderful experience to see that going.
---
Von Stuelpnagel directed
Robert Askins
' Hand to God (five Tony nominations including Best New Play and Best Director, Lortel Award nomination, SDC Callaway nomination). West End: Hand to God (Olivier nomination for Best New Comedy). Off-Broadway: Important Hats of the Twentieth Century (Manhattan Theatre Club), Verité (Lincoln Center Theatre/LCT3), Teenage Dick (Public Theatre), Trevor (Lesser America), Love Song of the Albanian Sous Chef (
Ensemble
Studio Theatre
), Bike America (Ma-Yi), Mel & El: Show & Tell (
Ars Nova
), Spacebar (Studio 42), and My Base and Scurvy Heart (Studio 42). Regional:
ALLIANCE THEATRE
,
Williamstown Theatre Festival
, Huntington Theatre, Hudson Valley Shakespeare Festival, and more. Moritz is the former artistic director of Studio 42, NYC's producer of "unproducible" plays.
moritzvs.com
Related Articles
Originally from Pittsburgh, Pennsylvania, Nicole began writing for BroadwayWorld in 2010. She currently resides in New York City, where she gets to enjoy far more (read more...)