Click Here for More Articles on 2020 AWARDS SEASON
BWW Exclusive Interview: MACHINAL Costume Designer Michael Krass Talks Tony Nomination & More
Costume designer Michael Krass has received a Tony Nomination for his outstanding work in Roundabout Theatre Company's production of Machinal, which ended its limited engagement at the American Airlines Theatre on March 2. Starring Rebecca Hall, and directed by Lyndsey Turner, Machinal is a gripping drama by American journalist and playwright Sophie Treadwell which was inspired by the infamous 1927 murder trial of Ruth Snyder.
Today, Krass speaks exclusively with BWW about designing costumes for this unique production and shares why the experience was "the best job I've ever had!"
To begin with, congratulations on your Tony nomination!
Thank you!
Where were you and how did you find out that you had been nominated?
I was on my sofa in my bathrobe trying to figure out my iPad so I could find out if I was nominated for a Tony.
How did you celebrate the news?
I went to a tech rehearsal, hugged some people, ate some candy, switched some cardigans around, pinned up some hems, and answered nice notes from people I hadn't heard from in ages.
What does it mean to you to be nominated for this particular show?
It's the best job I've ever had, and I knew that as I did it. Lyndsey Turner is an extraordinary director, and her authentically humane approach to the play exactly suited my interests and desires to celebrate human beings and their behaviors and put them on a Broadway stage. and so it's very affirming that work was noticed amidst all the glamour.
What inspired you to become a costume designer?
I think I gravitated to the theatre the same way most people do -Ii was a geek who mercifully didn't fit into the 'norm' and didn't want to. i was a terrible actor (though now I perform every day as a costume designer), had a good design eye, found lumber too heavy and inanimate to be any fun, and was passionate about people and specifically about supporting actors in doing their very brave work. I don't care much about clothes, actually.
Machinal required an extraordinary number of costume changes. How did you approach that challenge?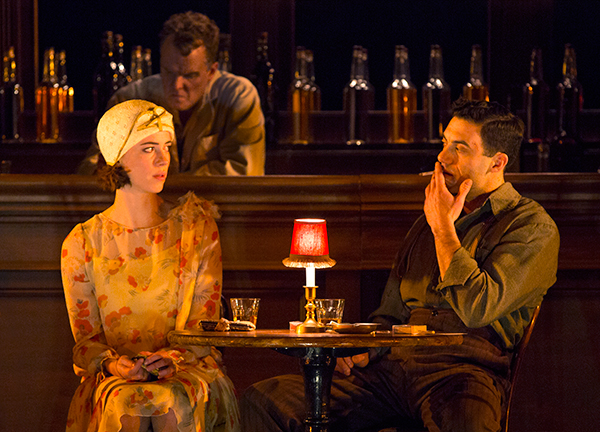 First we made a big big chart. my brilliant associate and friend Tracy Christensen and i figured it out like a giant ever-shifting puzzle - because it did shift throughout the rehearsal period. Lyndsey (our director) had ideas about specific onstage quick-changes, and we secretly dressed some people as onstage doubles of Rebecca Hall so that she could, in fact, be changing costume offstage - ha!
Then we assembled a ton of period clothing from sources all over the country - including from under my bed - fit and rebuilt the clothes to withstand the changes and usage, built specifics and what we were unable to find, and aged those to blend with the authentic pieces. There were a couple of pretty embarrassing things from the 70s in there, too. desperate measures in a small budget.
Then we had an intelligent and caring wardrobe and wig staff to organize and enact the show. The event backstage was an amazing feat.
The play is set in the 1920's which was a significant period in fashion history. Was it exciting for you to create costumes from that era?
I know the period pretty well - i was tony nominated for THE CONSTANT WIFE, which was set in the more pretty and glamorous upper-class side of things - and to be able to contrast that with the more photographic and beleaguered world of MACHINAL was really satisfying. it's a period of violent change and movement - the machine! - so there's 'freedom', but also a good deal of fear to investigate. we were running from the emotional devastation of the world war as much as we were celebrating in speakeasy's.
What type of historical research did that require in order to ensure accuracy?
The research was joyous. There was, for once, no burden to make the actors look pretty - though some of course were - or to create artifice, so I was able to plunge into photo archives and old books to uncover the quirks that create real people. we all aim to look like some icon or other - consciously or unconsciously - and we all miss the goal, and the places we veer away from looking like a magazine photo are where we are most human, where we betray our actual selves. and so to investigate that in period photographs of real people is a rich and loving activity.
Do you take into account a character's personality when designing? If so, how do you incorporate that into their costumes?
That's the job. clothing and accessories are information for the audience, just as text is, and what matters far more than the clothes is how the clothes are worn. Is the defense lawyer a showy asshole? Does he wear a shiny suit? is it a little tight? Maybe lapel pins to show all the clubs he has joined? A flashy ring on his pinky? Perfectly pressed pants? Noisy socks?
All of that work happens in collaboration with my director, but especially in working with each individual actor. together the cast and i created maybe 100 different human beings, and the bulk of them had no lines to reveal themselves. so fit and color and wig and accessory, how a hat was worn, what was in their pockets created a society which surrounded, and included, Rebecca Hall. look at people on the street or in the subway today - if you read their appearance carefully, you can learn extraordinary amounts about who they are, where they are coming from, and who they dream of being. stage work can be exactly that, its information for the audience, so that they might see themselves onstage, and understand a little more about their own lives.
Can you talk about how all aspects of the creative process -costume design, lighting, hair and wig design, choreography - are all interrelated? Is it difficult to coordinate all these different visions?
It's hilarious fun. a director and her designers and choreographer meet and imagine a world that has never existed before, by merging the images in our crazy heads which draw from everything we have ever seen or experienced. and that world is tied to what the play is about, and edited according to the experience we want to lead the audience through. it's like kids bringing all their toys into one room, then finding a communal game to play, and its human and incredibly personal and hopefully loving. in the case of MACHINAL, undeniably so.
With all your wonderful work on Broadway, do you have a favorite show or character that you have designed for?
Well, this one. MACHINAL!
Who are some of the designers who have influenced and inspired you?
Jane Greenwood and William Ivey Long were my teachers in the profession, both masters of the psychology and
of the detail i try to employ. and the tailors and dressmakers and milliners - Paul Huntley, the legendary wigmaster - inspire and teach me continuously by the humanity and love they pour into their craft.
What's up next for you?
I'm doing a contemporary ballet with children for Eliot Feld - as different an assignment as I can think of, and incredible fun. then I'll go to the Williamstown festival - my summer camp - to premiere a new play wherein I get to help Renee Fleming navigate her theatre debut. and I hope to travel and sit on some benches in the sun and watch how people live.
About Michael Krass:
Costume Designer Michael Krass' other Broadway credits include Roundabout's After Miss Julie, The Constant Wife (Tony nom.), Twelve Angry Men, The Rehearsal (Drama Desk nom.), The Man Who Had All the Luck, A View From the Bridge, After The Fall, The Lion in Winter. Other Broadway credits include The Lions, Reckless, Hedda Gabler (Burton), Charlie Brown, more.
Off-Broadway: World premieres by Albee, Guare, Durang, Lonergan, Uhry, Rebeck and Rabe plus multiple revivals, devised work by Built for Collapse and endless regionals. Film credits: Campbell Scott's Hamlet. Opera credits: Pelleas and Melisande(Mariinsky Theatre in St. Petersburg, Russia).
Michael teaches graduate school at Brown University.
Photo credit: Joan Marcus

Related Articles