BWW Exclusive: Broadway Hair Designers Sound Off About What They Do and How They Do It!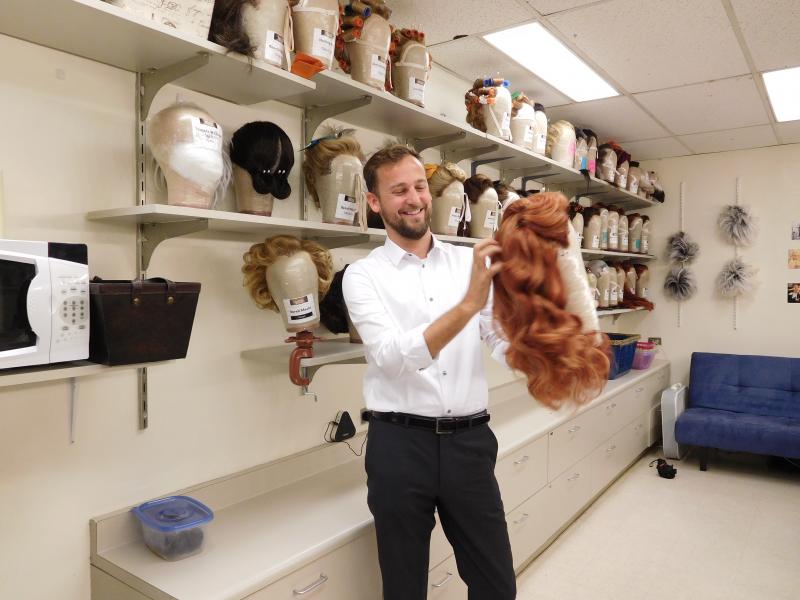 A show is a product of design--from the lights that you see to the sound that surrounds you to the hair on top of the actors' heads. Hair and wig designers help define characters, though their work largely goes unnoticed.
"I like to be billed with Hair Design, not Hair and Wig design like some others," Josh Marquette, currently represented on Broadway by PARAMOUR, SCHOOL OF ROCK, SOMETHING ROTTEN!, ALADDIN, KINKY BOOTS and THE BOOK OF MORMON, said. "I want it to appear that everyone has hair on their head. It all looks like hair. I always try to keep the character in mind and help the actors inform their performance through their hair. Hair is a huge part of who we all are."
Some enter the profession after being hair dressers, some know they want to be involved in theater and find that hair design is the best way to realize that dream. Most start their career by working on a backstage hair crew before moving to a design position. Hair designers are typically chosen by the costume designer, their closest collaborator, though sometimes a general manager, director or producer makes the initial overture. Stars occasionally have their favorites.
Hair designers initially read the script and meet with the costume designer. There is also often research involved. For a show like ON YOUR FEET!, Charles LaPointe--also represented on Broadway by HOLIDAY INN, THE COLOR PURPLE, HAMILTON, BEAUTIFUL and JERSEY BOYS--had pictures of the real people to base some designs on. Marquette looks at pictures from the relevant period on the internet, in photo albums and yearbooks and creates a PowerPoint of the "world of wigs" for each main character and the ensemble as a whole. Others sketch looks or simply hash it out verbally.
"If you say, 'It's the 1930s,' I know what that is," said Tom Watson, currently represented on Broadway by FALSETTOS and WICKED. But that isn't always the last step in the process. "Often with Cathy [Zuber], who he has worked with since the mid-1980s], it is jacked up. It might be 18th century but have a contemporary twist. The more you work with a person the more willing they are to let you take over after that meeting."
Of course there are others whose opinions must be considered. "On FALSETTOS, [co-librettist/director] James Lapine wanted to be kept up-to-date," Watson said. For Tracie Thoms' wig, writer Bill Finn wondered if it should look more natural and curly, but Watson pointed to Phylicia Rashad on THE COSBY SHOW to show that the character's hair would be pressed.
Director/choreographer Jerry Mitchell stood up to producer Daryl Roth when arguing that a wig Marquette loved should stay in KINKY BOOTS. Now Marquette says he has seen the style -- two braids into a mohawk with a red streak -- on the street.
As the looks are being decided upon, a budget also must be drafted and fought for. Producers rarely have hair on their "splurge" list and wigs are expensive. A nice hand-tied, lace-front wig for the theater is around $2500-$3000 with prices sometimes topping that (though still less than wigs for film). The lighter the hair the more expensive; untreated hair is also at a premium. There are cheaper hard front wigs, which generally have a more noticeable line across the forehead, that can be modified. Hair pieces can be added to existing hair; these cost less than a full wig. The leading lady obviously gets the most attention and generally the nicest wig.
Hair designers also often make the wigs. Watson and LaPointe share a studio where they employ about 20 people. (Watson is also head of the wig and makeup department at the Metropolitan Opera and has a team there as well.) Marquette, on the other hand, doesn't have a studio or craft his own wigs, opting to consult with wig makers.
Unless the show requires a man have an unusual hairdo, most men are not wigged during a show. In fact, the concern might be more about their facial hair. Women are often wigged.
"If we are going to use someone's hair it is sort of how they come in off the street," said Watson. "No actress wants to come in two hours before to have her hair tortured. We have 30 minutes for everyone. When we use someone's own hair it is a quick little bun because they are the maid, or we put a scarf in it because they are the prostitute."
There are usually two to five people backstage at a show in the hair crew--large shows can have as many as nine or ten. But the quick changes often don't allow enough time for the crew to work a new style on an actress. It is enough making sure the men's hair continues to look combed and the wigs are properly styled. However not every show wants the expense of making wigs for everyone. LaPointe's shows have run the gamut-- there were over 350 wigs in MOTOWN but in HOLIDAY INN, with its limited budget, there are about 15. So while it might be easier for an actress to go from wig to wig to wig, sometimes it isn't feasible for the designer to design a show that way.
Leah Loukas was only brought into NATASHA, PIERRE & THE GREAT COMET OF 1812 for the Broadway run. During limited runs, such as the ones the show has had previously, it is easier to convince actors to use their own hair. They are more willing to go through a long preparatory time or incur possible short-term damage to their hair. As the run goes on, all of that becomes more difficult to insist upon.
"We need to ask: 'Who needs wigs in order to accommodate keeping their own hair healthy?," Loukas, also represented on Broadway by OH, HELLO (for which she is billed as a Wig Consultant), said. "Coming into this show, it was about keeping the aesthetic of the show and keeping longevity. Denée's hair was being damaged [during the show's tryout] from being pulled so tightly. But it was also a show where they weren't used to having a lot of wigs."
She ended up doing limited wigs and hair pieces.
In addition to budgetary constraints, there are many other things to consider during the design process. Placement of microphones and microphone packs must be pondered. It is often desirable to hide a whole microphone pack in a woman's wig, which enables there to be no visible wires. Also, for musicals, it matters how the hair is going to look during dances.
Wig designers must think about colors and textures and how those are going to look under all different sorts of light. Would a certain character have roots? If so, what are those roots going to look like from A7 of the balcony when shown in mostly blue light?
Sometimes original thoughts about color and texture are modified based on casting as the wig has to look right with a person's face shape and coloring. The makeup designer often is involved so the hair and makeup mesh. (Some hair designers do both makeup and hair design.)
The wig fitting process involves prepping the hair to go under a wig--pin curls or what have you. Then putting a plastic bag or plastic wrap over the head and applying cellophane tape, similar to a papier-mâché mold one might make as a child. The hairline is precisely marked and the creation removed. Eventually each wig is padded out to an actor's precise head shape.
Nice wigs are hand-tied, meaning someone ties pieces of hair, hair by hair, to a foundation to make the wig. A hand-tied wig for Broadway takes approximately 40 hours to complete. Opera wigs usually take longer as opera singers tend to have heads an inch to two larger around than their Broadway counterparts.
At the Metropolitan Opera, a staff chorus stays through seasons and they often use old head molds (and can sometimes reuse wigs). Likewise in his Broadway studio, Watson has some head molds of some actresses he frequently works with such as Judith Light.
Often the wig designer doesn't see the wigs on all the actors until tech. That is the time things are changed on an emergency basis. Loukas said she sits in every seat in the theater to see how the hair and the underlying lace looks from different vantage points. Given how long wigs take to make, it's not easy to simply create a whole new one. The designer first tries to modify the existing product if there are issues.
Part of the concept for the off-Broadway mounting of SWEET CHARITY is that Charity, played by Sutton Foster, is wearing a wig. She takes it off during the show to reveal her wig cap. (This is fairly rare though during previews of LES LIAISONS DANGEREUSES, with Hair and Wig Design by Campbell Young Associates, a similar choice was made for Liev Schreiber's Valmont.) To create the look, LaPointe used a store bought wig and modified it. But, even though it was supposed to look sort of cheap, the team still wanted Foster to pop. When a team member thought the golden blonde/ash blonde mix was making her look too washed-out, LaPointe removed some of the golden blonde part of the mix.
Leading lady Ruby Lewis and some of the PARAMOUR ensemble sport red wigs, but when they began running the show their hair was climbing up on itself and growing during the performance. It was something with the dye. Someone on the hair crew heard about a wig detangling technique using bleach, ammonia, conditioner and a microwave. (Click here for the type of process.) That, in addition to crew members combing it each time an actress was offstage, sufficed until the new wigs arrived.
Loukas recently cut off the back of an Albert Einstein wig she made for Richard Dreyfuss for the play RELATIVITY, currently running at TheaterWorks in Hartford, CT, when it looked "too character-y on."
Once a show is up-and-running, the crew takes over. The designer--who gets paid a design fee and also a small ongoing royalty--often visits the show at least a couple of times a years to make sure the designs haven't migrated. That person also works on tours and sit-down mountings in other states and countries.
Big star replacements might cause a designer to revisit a vision. When other new principals go into a show they rarely get a newly designed wig; more frequently the existing design is tweaked for them if it is modified at all. For example, when Sheryl Lee Ralph entered WICKED, Watson altered the coloring mixture of the typical Madame Morrible wig. Ralph's wig has more white and less yellow, which Watson notes helps the hair look better with her skin tone.
When ensemble members enter a big show they typically get a new wig, fitted to them, that goes along with the set of roles they are doing. No new design work. HAMILTON is an exception. The show only employed two wigs off-Broadway and six wigs when it opened on Broadway, but now it is up to 29. And LaPointe redesigns for each new ensemble member.
"The concept has always been from the neck down it is period, from the neck up it is modern," LaPointe said. "The styling stays the same for the main characters. The ensemble has natural, modern hair, with no set looks. It is modeled on their real hair. It's much more interactive--it's always changing. But having the wig helps with consistency. The wig is going to behave, the hair might not."
LaPointe doesn't know how long that can continue though. As the number of productions grows, they may need to decide on a given style.
Although hair design greatly contributes to the looks onstage, these designers don't take an opening night bow like a costume designer might. Last year, for the first time, the Drama Desk Awards honored "Hair and Wig Design" with its own category (won by SHUFFLE ALONG designer Mia M. Neal) but awards are few. Paul Huntley--who has been designing hair on Broadway for over 40 years--received an honorary Tony Award in 2003.
"When I'm doing my job well people aren't going to notice the hair," Loukas said, admitting that might be why there is not tremendous recognition for her efforts. "It is so important though. It is an aid to the story telling."
This is the third in BroadwayWorld's new behind-the-scenes series, which has so far covered Music Directors and Stage Managers. It will be on hiatus for December, but check back in January for House Managers.