Ariana Grande Wants to Play Elphaba in WICKED: 'I Would Do It Tomorrow'
'13' star Ariana Grande and Hollywood A-lister Seth MacFarlane teamed up for last night's all new edition of CARPOOL KARAOKE: THE SERIES. Watch the episode in full at http://applemusic.com/carpoolkaraoke/.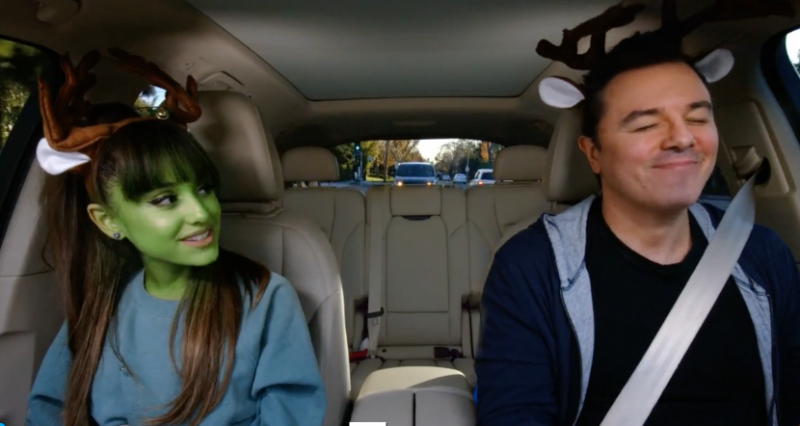 During the 15-minute episode, the talented duo joined forces for performances of WICKED's "Loathing", LITTLE SHOP OF HORROR's "Suddenly Seymour", "10 Minutes Ago" from Rodgers + Hammerstein's CINDERELLA and the Frank Sinatra classic 'Nothing In Common'.
In between numbers, they discussed their shared love of musical theater, with Grande revealing, "I was a huge theater nerd my whole life, still am. It's what I put on when I need to restore my soul and heal myself. It brings you back to home." Agreed MacFarland, "It's very earnest music. I was raised on that stuff.
Grande also admitted her love for a certain Frankie Valli musical, sharing "You want to hear something embarrassing? I used to wait outside the JERSEY BOYS theater in line every f**kin day." She also tells MacFarlane, "One of my dream roles is to play Elphaba. I would do it tomorrow!"
Check out their duet of 'Suddenly Seymour' below: Based on the segment that has become a global, viral video sensation on The Late Late Show with James Corden, Carpool Karaoke: The Series will bring the best celebrity pairings together behind the wheel as they buckle up and belt it out to their favorite playlists.
Related Articles