Hotel California Comes to Popejoy Hall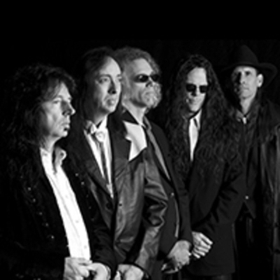 Performing at Popejoy Hall on Friday, April 12, 2019 at 7:30 pm, the five talented musicians of Hotel California blend their extraordinary vocal and musical talents to reproduce the sound of the legendary Eagles. Performing the mega hits "Hotel California," Take It Easy," "Heartache Tonight," and many more, Hotel California brings an energetic night of exciting rock and roll hits. Dedicated to recreating Eagles classics since 1986, the Hotel California lineup consists of Dicky Lee Dickinson, Scott Fronsoe, Wade Hogue, Byron Fry, and Johnny Agostino.
This tribute band faithfully and accurately recreates the hits that made the Eagles one of the most successful rock groups of the 1970s, while pushing the boundaries of rock and roll, R&B, and country. A blend of originality and authenticity, the dynamic show presents Hotel California's renowned vocal harmonies and instrumentation. Hotel California continues to receive international recognition for a show that provides audiences with the chance to experience the energy and magic of this timeless music once again. Each concert presents not only a showcase of The Eagles' greatest hits, but also select titles from the solo works of Don Henley, Glen Frey, and Joe Walsh. These classic tunes are appealing to audiences of all ages, bringing back memories and touching the hearts of every generation. So join us now on a trip down a dark desert highway, feel the cool wind in your hair, and experience the Grammy-winning sounds that defined an era.
Tickets for Hotel California are currently on sale for $69, $49, $39, and $25. Tickets can be purchased at the UNM Ticket Offices. Online purchasing is available at popejoypresents.com.
To charge by phone, call (505) 925-5858. Group orders of 10 or more may be placed by calling (505)-277-1569.