Young Playwriting Scheme 'Pitch Your Play' Celebrates UK Writers In West End Showcase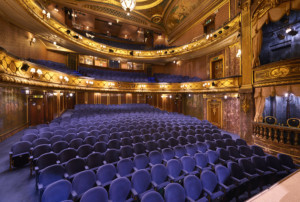 Theatre Royal Haymarket Masterclass Trust announces the successful winning scripts from their successful playwriting scheme 'Pitch Your Play' and free tickets to staged readings at the Theatre Royal Haymarket.
The future of theatre relies on today's generation having the opportunities and support to go forward and create. As such, Masterclass is delighted have brought back their successful Pitch Your Play scheme which invites people aged 16-30 to pitch for the opportunity to stage a reading of a new, unpublished play at the Theatre Royal Haymarket. In addition, the three winning pitches will receive four weeks of admin support, marketing provision, rehearsal space, office space and creative guidance to hone their ideas at the Theatre Royal Haymarket.
In spring this year Masterclass received nearly 200 applications for the scheme and last week invited 6 teams to pitch their plays to the 2018 panel consisting of director Pooja Ghai, producer Vicky Graham and Masterclass' Programmer Hazel Kerr.
Speaking about her experience of Pitch Your Play, Vicky Graham said:
"It was a privilege to meet this year's finalists of the Masterclass Pitch Your Play scheme. Coming from all corners of the UK, each of the six teams showed thrilling talent, vision and originality. I look forward to following the careers of all of the shortlisted artists, and to hearing the winning plays read on the Theatre Royal Haymarket stage in the autumn."
The successful scripts and writers are:
Penny's From Huddersfield
by Wendy Dickinson from Wirral, Merseyside
2:30pm, Friday 28 September
See full details here
Zombiegate
by Matthew Gabrielli from the West Midlands
2:30pm, Friday 26 October
See full details here
Passing
by Indigo Griffiths from Uxbridge
2:30pm, Friday 23 November
See full details here
Each rehearsed reading will take place on stage at the Theatre Royal Haymarket with a professional. Booking is now open and tickets will remain completely free and open to all.
Working closely with Masterclass, this is an exclusive education opportunity for the young playwrights to showcase their work in front of an audience of peers, industry professionals and the general theatre-going community.
Speaking about the opportunity Indigo Griffiths said:
"I am beyond thrilled to have been accepted onto Masterclass's Pitch Your Play Scheme. As an emerging writer, to have my work on a West End stage at this point in my career is a fantastic opportunity and I'm so grateful to Masterclass and the 2018 panel. I'm excited to not only share Passing with a wide audience, but for the exposure and development that taking part in Pitch Your Play will offer."
Commenting on the return of the Pitch Your Play scheme, renowned playwright Jez Butterworth said:
"Twenty five years ago when I gave up my first and last paying job to try to write for a living, I swiftly felt alone. A scheme such as Pitch Your Play would have felt like a lifeline. Witnessing work rehearsed and hearing it read aloud is oxygen for fledgling playwrights. I'm a bit jealous of those taking part, who will hear something for the first time; the strange and familiar voice, which startles, haunts, galvanises and nourishes them enough to try again."
The Masterclass Pitch Your Play initiative is generously supported by the Noel Coward Foundation.
For further information on the successful plays, each writer and to book free tickets, visit the Masterclass website here.