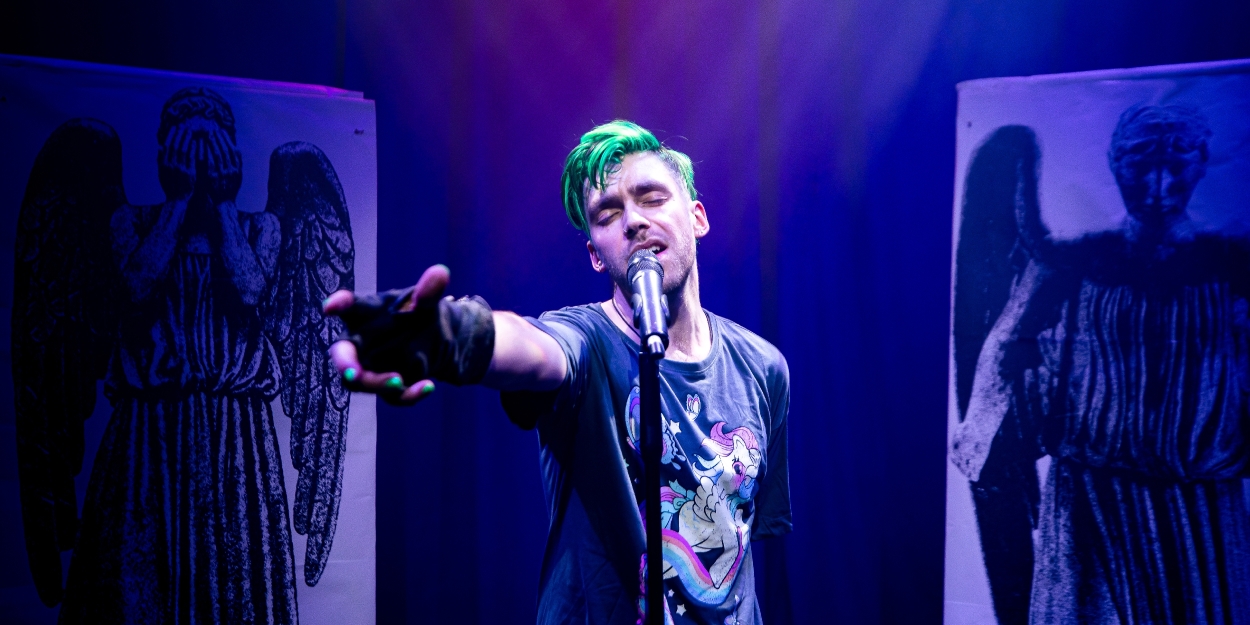 Review: WELCOME HOME, Soho Theatre
Willy Hudson's queer revenge takes the Soho main stage

Willy Hudson's Welcome Home is described on the tickets website as a "queer sci-fi epic" - and epic it truly is, in every sense of the word. In a neon green fever dream of a one man show, Hudson tackles gay coming of age and religious shame, all while creating a rock concert meets gay club atmosphere on the Soho Theatre main stage.
This is Hudson's second show at the venue - his first, Bottom, was altogether a much more low-stakes affair, tackling love and connection in London gay life. Critics said it was "sweet" but lacked depth and a strong, distinctive narrative. His new production couldn't be further from this: Welcome Home is far more sour than sweet, and has constructed its seemingly straightforward autobiographical narrative into a sci-fi quest like no other.
The story begins with Willy's breakup from a four-year relationship: finding himself with nowhere to go in London, his only option is to return to his parents' house. This unwanted step backwards triggers memories of figuring out his sexuality thanks to Robbie Williams music videos... as well as of a fateful church service where the vicar spoke about "saving" a lesbian.
We also get a look into Hudson's family life growing up: his description of his family taking their usual places in the living room for the latest episode of Doctor Who will surely be familiar to British audience members of almost any age. References to the likes of Woolworths, the one family computer, and the smell of school halls add to the nostalgia: while this is a very personal story, it's also in many ways a universal one.
Hudson is a winning storyteller, oozing charm and confidence without coming across as obnoxious. His musical numbers - a mixture of existing 2000's bangers and original songs - give him the chance to further show off his star power. He comes and sits in the audience, and invites us to be involved in the performance in wild and wacky ways without feeling pressurising. We never lose sight, however, of the fact that this is a show based on real life trauma, which helps ground the show's fantastical elements.
And fantastical they certainly are. As Willy's quest reaches a climax, the neon noughties pop vibes are overtaken by something darker and decidedly more gruesome, as we face the "monsters" of the church head on. This show is rated 18+ for a reason, and feels in many ways like the theatrical embodiment of sensory overload. It's deliberately uncomfortable, and undeniably a lot to take in, but effective nonetheless.
Hudson does an excellent job at bridging the gap between the two worlds of the show: while it is most definitely unhinged, it somehow still feels vaguely cohesive throughout, with good use of returning motifs and plot points. It's impressive the extent to which he manages to balance loud, no-holds-barred maximalism with a very personal real life story and maintain both.
A show of this scale couldn't be created by just one person. Welcome Home's programme has a long list of credits for a one man show, and it's clear that a lot of the show's spectacle is due to the many people who contributed to the magical world it creates. Director and dramaturg Zach James, alongside assistant, associate, and movement directors helped shape the piece, and the slick direction throughout proves that this was worthwhile. Special credit must go to set and costume designer Anna Orton for bringing this comic-book-style sci-fi sphere to life, alongside a vast team of sound, lighting, video, and stage management team members.
Welcome Home is not flawless: there are some minor sound mixing issues that mean witty lyrics can get lost, and the chronology of the story can get a little confusing at times. And so as the show began drawing near the end of its 80 minute run time, I found myself wondering whether it was going to stick the landing. I needn't have been concerned: in the final few minutes, Hudson presents us with a truly heartwarming surprise that provokes a chorus of gasps.
While it has an important message about the impact of religious homophobia, Welcome Home's greatest success is the awe and joy it provokes. It's an acid trip of a show, brimming with glee, energy, sexuality, and, above all, fun. If you want to feel part of a touching story, have a wild night out at the theatre, and belt "Angels" by Robbie Williams, get yourself to Soho Theatre before Welcome Home closes.
Welcome Home runs at Soho Theatre until 11 February
Photo Credit: Harry Elletson