Review: THE SHAWSHANK REDEMPTION, Richmond Theatre
A strong cast and clever staging creates a gripping show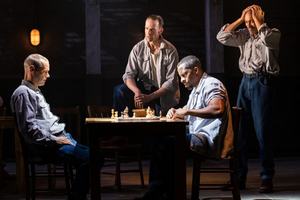 Stephen King's novella Rita Hayworth and The Shawshank Redemption was made into the film which was unsuccessful at the box office in 1994, but went on to become one of the best-loved films of all time.
Because of this, it an inevitably high bar for any stage play to live up to the film, particularly as the characters of Andy and Red are forever associated with the captivating performances by Tim Robbins and Morgan Freeman. However, David Esbornson's touring production is clever, deftly staged and quietly moving.
The story follows a banker named Andy Duphrane who's wrongfully convicted of killing his wife and her lover and is sent to The Shawshank maximum security prison. Among the abuse, violence and despair Andy realises he cannot cope alone and in comes the light of humanity and friendship from popular inmate Ellis 'Red' Redding.
Owen O'Neill and David Johns' adaptation balances a story that could become unrelenting in its darkness, bringing wry humour in at crucial moments. The sense of abandonment and social exclusion is set against the strength and resilience of the human spirit.
This is an excellent cast who really draw you into the emotional heft of the story. Ben Onwukwe takes clear inspiration from Morgan Freeman as Red'; intensely likable as both narrator and character within his own story, despite revealing the violence of the crime that put him behind bars. Joe Absolom plays Andy with meditative thoughtfulness, hands often clasped behind his back or a hand cupped under his chin, quietly delivering his gnomic lines. The pair have a lovely chemistry; often spiky and sometimes awkward, but always sincere.
'The Sisters', who trade on fear are portrayed well as a stalking, menacing force by Jay Marsh and Leigh Jones, who sparks real unease by his unhinged laughing. As corrupt Warden Stammas, Mark Heenehan commands the stage with his booming intonation and physical presence.
Esbjornson's direction creates an immersive experience, creating interest in every scene. A few things don't quite work; fight scenes lack sufficient speed and authenticity and the pace dips towards the end of the play as Red goes on his quest to find Andy.
The production looks great and brims with authenticity; sound designer Andy Graham uses the haunting sounds of echoing corridors and dripping water that combine with Chris Davey's steely lighting design to give an eerie portrayal of the interior of the prison.
Gary McCann's clever staging is stark, with looming prison walls, filthy dank corners and a sense of suffocation. Scenes are deftly changed as tables roll in to create a dining room, or a wall is dropped down to create Andy's cell. It is refreshing to see so much effort in a touring production and deserves to be seen by a huge audience.
The Shawshank Redemption is at Richmond Theatre until 4 February, then touring
Photo Credit: Jack Merriman