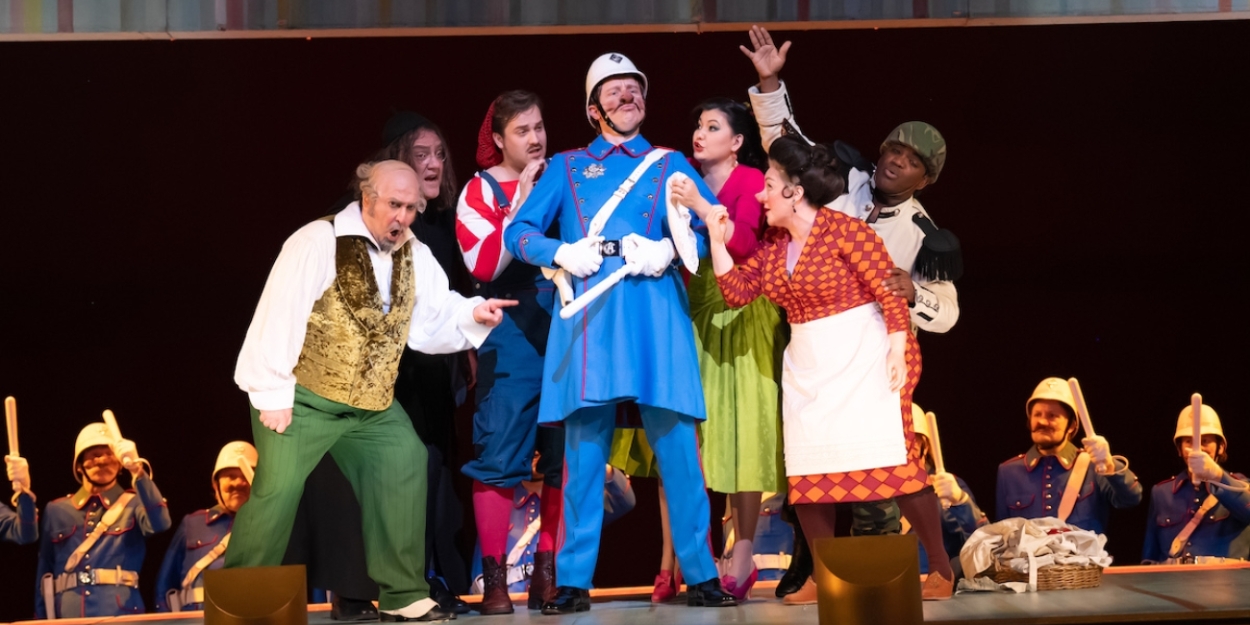 Review: THE BARBER OF SEVILLE, Royal Opera House
A cut above.

Whether you see this because of the scintillating score or because a night out at the opera is now cheaper than heating your home, The Barber Of Seville is sure to warm the cockles of your heart.
Famously written in just three weeks and borrowing a tune that he wrote previously, Giochino Rossini's The Barber Of Seville, is one of the great comic operas. Set in 18th century Spain, we meet Count Almaviva who has come all the way from Italy to pursue the object of his desire Rosina. She's being held captive by Dr Bartolo who plans to marry her for her inheritance but the Count and his resourceful hair stylist friend Figaro have other ideas.
The fifth revival of this brilliant version of Rossini's opera buffa from Moshe Leiser and Patrice Caurier brings with it a host of star names. Venezuelan conductor Rafael Payare makes his debut in the ENO pit but, on this performance alone, looks like he will soon be an attraction in his own right. His frenetic arm movements are a joy to see, amping up the atmosphere and willing on the orchestra to ever greater heights as the cast power through some of opera's most famous arias.
On stage, Andrzej Filończyk as Figaro is the savvy saboteur of Bartolo's plans with a phenomenal voice more than able to deal with the trickiest parts of the vocal performance. Lawrence Brownlee and Aigul Akhmetshina as the lovers are an inspire pairing who push each other to greater heights. In the minor roles, Bryn Terfel as the co-conspirator Don Basilio shows off his comic acting skills more than his barely-required voice and Ailish Tyna is a pocket rocket dishing out fire as Bartolo's put-upon maid.
Leiser and Caurier put their stamp on Barber through details small and large. The kooky costume choices have been retained. Figaro and Almaviva look as if they were dressed by colourblind seven-year-olds: the barber swans around in a red and white striped top under denim dungarees and a red hairnet like a life-size Super Mario Brother while the affluent count pairs a deep yellow shirt with a dark crimson suit. How the least conspicuous twosome in Seville ever managed to sneak into anyone's house - never mind that of a suspicious suitor - is anyone's guess.
The sets (designed by Christian Fenouillat) themselves are evocative and, as we find out before the end of the first act, rather more than what they seem. The initial staging sees Almaviva call out to his love from the street as she stands on a balcony behind very high bars. It won't take Maya Angelou to work out why this caged bird sings but seeing the pair beautifully juxtaposed like this, so close yet so far, is worth sitting through the early expositional arias. Once the action shifts to inside Bartolo's house, a colourfully pastel-striped interior belies several clever touches including sliding panels, hidden doors and mechanical underpinnings; those who suffer from seasickness may went to head to the bar just before the interval.
With its distinct visual style and captivating set design, this production is destined to enter the pantheon of all-time Covent Garden greats. This latest cast more than do justice to the vision of Leiser and Caurier and should prove another hot ticket for the Royal Opera House.
The Barber Of Seville continues at the Royal Opera House until 6 March.