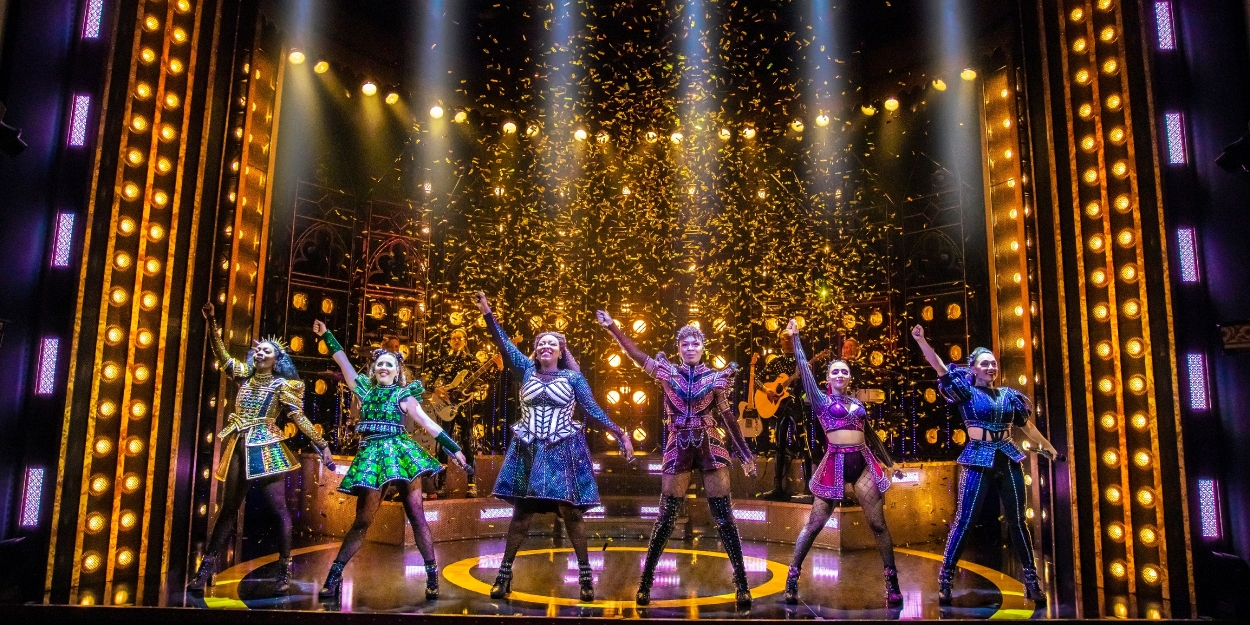 Review: SIX, Vaudeville Theatre
There's a new queen in town - wait, make that SIX! The most successful musical in a post-Hamilton theatre world has just received a fresh cast change.

There's a new queen in town - wait, make that SIX! The most successful musical in this post-Hamilton world has just received a fresh cast change: Rhianne-Louise McCaulsky joins as Catherine of Aragon, Baylie Carson as Anne Boleyn, Claudia Kariuki as Jane Seymour, Dionne Ward-Anderson as Anna of Cleves, Koko Basigara as Katherine Howard, and Roxanne Couch as Catherine Parr. This sensational new girl group is ready to remix the past and bring to light the lives and heartbreaks of the most famous wives in British history.
They are joined by alternates Monique Ashe-Palmer, Danielle Rose, Leah Vassell, Rachel Rawlinson, and Esme Rothero, who will play the consorts on the principals' days off. The show has been a gold mine for creators Toby Marlowe and Lucy Moss (who also co-directed with Jamie Armitage), going from an Edinburgh Festival Fringe curiosity in 2017 to a global phenomenon.
For those still unfamiliar with the plot, the six wives of Henry VIII meet in the afterlife and decide to tell their side of the story. What ensues is a battle of wits and musical styles. Although slightly lacking narratively with a paper-thin premise and negligible historical inaccuracies, Six is so much fun. Furthermore, from the Ladies in Waiting (the coolest band in the West End: Katy Richardson, Alice Angliss, Emma Jemima, Kelly Morris) to the actual queens, it's wonderful to see so much female energy and diversity collected on one stage.
Bejewelled powerhouses from head to toe, the six wives want to identify who was dealt the worst hand in life delivering fiery, show-stopping solos. Colour-coded in gold, McCaulsky is out for revenge as the first. Her Latin-infused "No Way" opens up the dances with pitch-perfect sass. Carson is a firecracker, following with Anne Boleyn's "Don't Lose Your Head" all space-buns and a Lily Allen attitude. While perhaps the weakest vocally, the latter spices up the number by leaning further into the comic side of the song.
Then comes Jane Seymour - "The only one he truly loved (rude!)" - which gives a chance to Kariuki to slow down the rickrolling pace with a controlled, emotional "Heart of Stone". Her co-stars sit back and listen while the power ballad laments her early death. After an interlude that places Anna of Cleaves into her Germanic context but definitely feels like a filler song, it's time for Ward-Anderson to bring the house down with true grungy queenlike behaviour. She steals the scene as the unapologetic divorcée.
Basigara is quite the Ariana Grande-y K-Howard, pretty in pink and sassy as hell, while Couch is the voice of reason as a mature and balanced Catherine Parr. Running at 80 minutes, the piece is very thin in terms of story but conceals a handful of expectedly dark themes under all that glitter. After all, this is the tale of six women who were used and abused by the men in their lives. Whether these women were pawns to create an allegiance, decapitated, or died in other ways, it's a musical about trauma.
Gabriella Slade's costumes and Emma Bailey's set give the production an edgy glamour, using rhinestones, studs, and LED lights (Tom Deiling) galore to achieve a glitzy, lavish look. Whether audiences simply want to be wowed by the visuals and vocals or go explore a tragic side of British history in a different way, SIX will deliver.
SIX is now booking until October 2023 at the Vaudeville Theatre.
Photo Credit: Pamela Raith