Review Roundup: What Did Critics Think Of The UK Premiere Of FALSETTOS?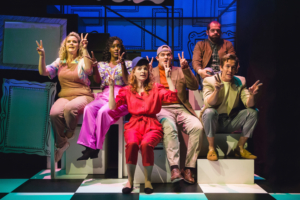 The hotly anticipated UK premiere of Falsettos, the Tony Award winning musical by William Finn and James Lapine opened tonight (5 September) at The Other Palace in London.
The double Tony Award-winning Falsettos is a hilarious and poignant look at a modern family revolving around the life of a gay man Marvin, his wife, his lover, his soon to be bar mitzvahed son, their psychiatrist, and the lesbian neighbours.
Originally created under the spectre of the AIDS crisis, this groundbreaking musical about family dynamics manages to remain buoyant and satirically perceptive even as it moves towards its heartbreaking conclusion.
The cast features Natasha J Barnes, Daniel Boys, Gemma Knight-Jones, Joel Montague, Laura Pitt-Pulford, Oliver Savile, Albert Atack, George Kennedy, Elliot Morris and James Williams. It's directed and choreographed by Tara Overfield-Wilkinson and produced by Selladoor Worldwide.
Let's see what the critics had to say!
---
Andrew Tomlins, BroadwayWorld: The pace is fast, lyrics are thrown at the audience and it's hard to keep up, but it fits in well with the style of these larger-than-life characters - with Daniel Boys, Oliver Savile,Laura Pitt-Pulford and Joel Montague leading a stellar ensemble cast.
Jessie Thompson, Evening Standard: But on the whole this is an intelligent, subversive musical that feels like a neglected gem. The cast expertly tread the fine line between comedy and pathos, with Laura Pitt-Pulford shining as Trina, and Albert Atack as Jason brilliantly conveying the deadpan wit of the lyrics ("My father's a homo - my mother's not thrilled at all").
Dominic Maxwell, The Times: It's a bold bit of programming: a three-month run in a 300-seat theatre for a show with no stars and no mainstream profile over here. Happily, the quality of the songwriting and of the performances in Tara Overfield-Wilkinson's fluid production justifies the risk. And although there are shards of Stephen Sondheim in Finn's gorgeously busy approach, he convinces you that he has found his own genre of confessional storytelling.
Alice Saville, Time Out London: This beautifully sung production is a reminder that 'Falsettos' deserves to be better known; its knotty, prophetic explorations of queer family shine out, even in a production that's (metaphorically, not literally) a little off-key.
Fiona Mountford, The Telegraph: There are flashes of Sondheimian wit in the lyrics; in Everyone Hates His Parents, we're informed that "God hated his". The standout number is What More Can I Say, a haunting love ballad offered by Marvin to Whizzer, but the trouble with the sheer heft of songs is that it too quickly gets buried by the oncoming tide.
David Benedict, The Stage: The piece has been little-seen in the UK, with only a limited four-week West End run for March of the Falsettos, the first act of this now two-act piece. Sadly, if the original creatives were waiting for a production to kick-start its British life, they are likely going to have to wait longer.
Marianka Swain, The Arts Desk: William Finn and James Lapine's musical - which combines two linked one-acts, March of the Falsettos and Falsettoland, set in late 1970s/early 1980s New York - picked up Tony Awards in 1992 for its book and score, and was nominated again in 2016 for an acclaimed revival. Yet the UK hasn't sighted this landmark piece until now, with Tara Overfield-Wilkinson directing and choreographing an engaging if somewhat chaotic production.

Related Articles