Review: HAVE I NONE, Golden Goose Theatre
Edward Bond's 2000 play revived in an uncompromising staging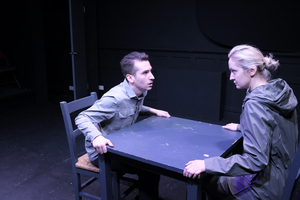 2077 and consumerism is dead, the backlash so all-encompassing that society has broken down, mass suicide is a public spectacle and the past is obliterated by law.
Outside, a paramilitary police force keep what passes for order and inside, a husband and wife bicker about their only possessions, two chairs and a table. A third party arrives having walked from a Northern enclave bearing an (illegal) photograph. He claims to be the wife's brother.

And then... not much happens. More bickering, more violence, more dystopian tropes leaking in from outside, but Edward Bond's avant garde play has the same problem of so many to which that descriptor applies - is it deep and thrillingly opaque or shallow and self-indulgently tedious? That decision is in the eye of the beholder, dependent to some extent on how hard they are prepared to push past the sparring, the shouting and the squabbling to mine the black comedy, the critique of 21st century life and the referencing to other works buried within the play. I certainly caught a nod or two towards Eugène Ionesco's The Chairs, revived last year at The Almeida - there'll be more for sure.

Director, Lewis Frost, refuses to sugar-coat Bond's text and staging. Just the aforementioned furniture, the "brother's" backpack and a splintery crate relieve the black box space with only a door, knocked on from time to time, to suggest that there's anything out there at all. Abigail Stone, Brad Leigh and Paul Brayward commit to their roles, Stone suggesting the woman's hopelessness, Leigh her husband's amoral stubbornness and Brayward a kind of Baldrick figure, but without a plan, cunning or otherwise.

First performed in 2000 and intermittently revived since, this may be one for Bond's hardcore fans only.
Have I None is at the Golden Goose Theatre until 28 January
Photo Credit: Francesco Codardo