Guest Blog: Playwright Tim Whitnall on the Challenges and Pleasure of Bringing NOTES FROM A SMALL ISLAND to the Stage
"I realised that if the book could fly in the face of dramatic convention, then the play could too… "
In 2018, the producer Simon Friend asked me if I fancied adapting Bill Bryson's best-selling travelogue Notes From A Small Island for the stage. Having jumped at the opportunity, I then remembered how the book recounts a road-trip stretching some eight hundred miles, encompassing almost fifty separate locations, flinging its narrator into the orbit of a myriad diverse characters.
One tenet of Greek theatre decrees that a drama should play out in a single location, in real time, employing a minimum of characters. So much for idealism. Compounding the challenge, the British Isles would have to be recreated on a stage measuring 20 square metres, its 65 million inhabitants represented by seven actors, a whopping 0.00001% of our population. Noting further the absence of a sub-plot, the non-existence of an antagonist and precious little in the way of inciting incident, I realised that if the book could fly in the face of dramatic convention, then the play could too...
Just over four years later, I find myself in the rehearsal room of the Watermill Theatre, Newbury, observing as one of our "magnificent seven" familiarises himself with a sitar. The whole building thrums with creative energy. Earlier, a gloriously retro usherette's tray had materialised, courtesy of our prop-builder, complete with KP Wigwams and Fizzy Cola Spangles, authentically priced at 3p; at lunchtime our production manager had allowed us a sneak preview of our all-important exploding Tannoy speaker.
If I'm guilty of laughing the loudest in rehearsals, it's not only Bill Bryson's words that I can blame, but also the deft comic timing of our ensemble cast and the nuanced direction of Paul Hart. Suddenly, those many months of solitude spent researching and re-working "Notes" seem light years away...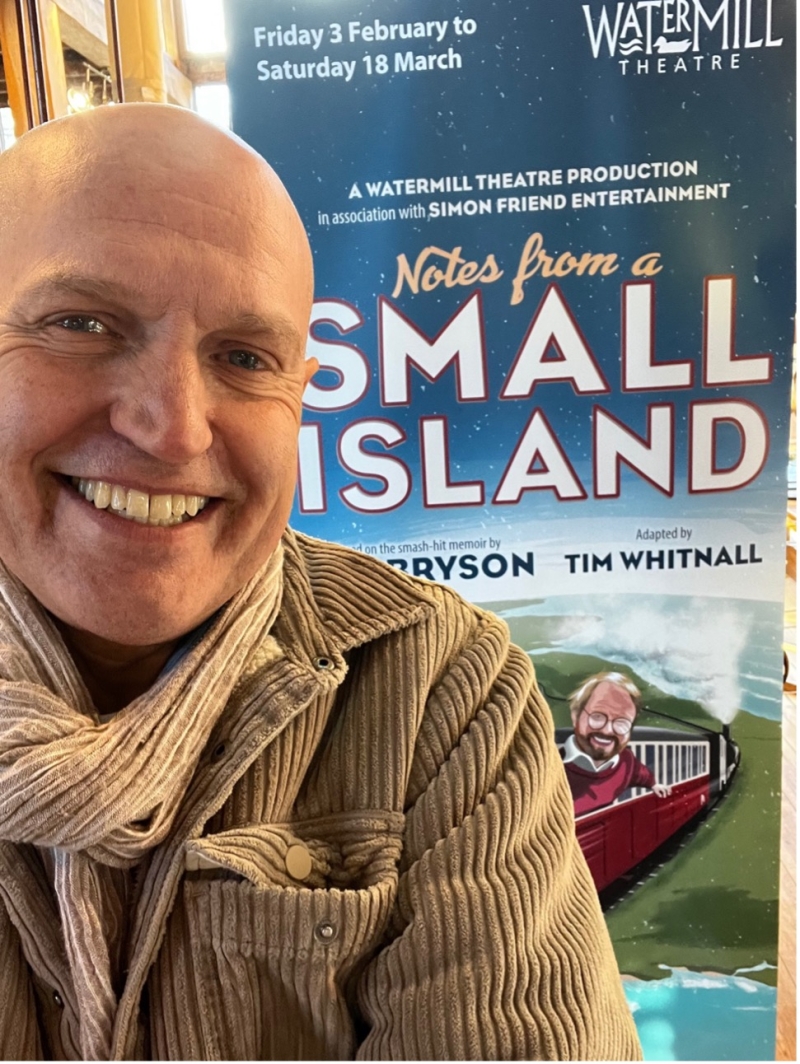 Being present at the birth of any production is always a privilege and a thrill, but perhaps I feel it even more profoundly for "Notes". In early 2019, just days after the
show had originally been announced, the onslaught of Covid flipped our world
on its axis and the play's future - like every play's future - seemed imperilled. Today,
as I finally get to witness 'our Bill' spitting bullets at a hapless hotelier in Weston-Super-
Mare, I can also breathe a sigh of relief and gratitude on behalf of everyone involved.
At the tail end of 2022, just before our production team could begin the process of casting, Arts Council England announced its withdrawal of vital NPO funding for the Watermill. Traversing the building, such a decision seems bewilderingly unjust.
Surrounding the box office, show posters detail an innovative, international body of work; from inside the studio, excitable voices from a children's' drama workshop shake the foundations; the catering staff are stocking up the bar and restaurant as the maintenance crew spruces up the auditorium in readiness for its spring season. Passing the outreach team's office, their tireless plotting and planning resounds from within. With the admin staff, creative team and actors accommodated on site, this vibrant enterprise feels less like a workspace, more a thriving community-within-a-community. It sticks in the craw that its loyal trustees, donors, and sponsors have currently been forced to pursue "other funding options". I sound like Bill Bryson slamming the short-sightedness of our political leaders. "The country, " he once cautioned, "is being nibbled to death".
Before I arrived here, friends and colleagues had spoken of a tangible magic about this place. I realise that it's probably too much to wish for, but if even a tiny amount of that "Watermill magic" could rub off on Notes From A Small Island, we'd all be truly blessed.
Notes From A Small Island will run at The Watermill Theatre from 3 February - 18 March