BroadwayWorld UK Awards 2017: Gary Naylor's Nominations - Pt. 1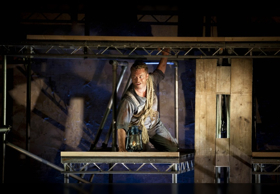 Picking out the best of UK theatre over the past 12 months is a curious task - akin to judging avocado pears against conference pears, we're comparing like with like only in the broadest sense. So, with that necessary caveat, here are some of my nominations for the BroadwayWorld UK Awards 2017.
At Wilton's Music Hall, Adam Guettel's weird musical about a man trapped underground in 1920s rural America, Floyd Collins, collected mixed reviews, but it was an extraordinary example of the power of musical theatre - a show that teetered on the edge of melodrama continually rescued by brilliant acting and remarkable music.
As the eponymous hero/victim, Ashley Robinson carried off one of the toughest assignments he'll ever face: physically trapped but visible to us throughout, his emotional states were conveyed through singing - the very acme of his chosen craft.
Amongst a consistently strong support cast, Rebecca Trehearn shone, cranking up the emotional impact to unbearable levels in a venue that can be unsympathetic to actors, but worked perfectly in this case.
Confinement was also the theme of The Awakening, a slow burner at the Brockley Jack Theatre in which Alex Dowding and Joana Nastari played, with rare and subtle sympathy, damaged individuals thrown together on an isolated island.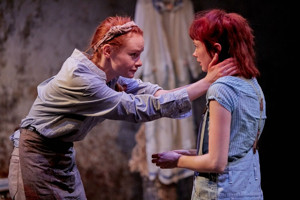 In fringe venues like this, actors have nowhere to hide - every twitch in the face, every pitch in the voice on show, up close and personal. Had we stopped believing in the pair's developing relationship or forgotten the reasons for it, the play would have ebbed away like the island's tide.
Sometimes actors carry a script (as in this case, fine though the writing is), while sometimes the script carries the actors. Director Alice Hamilton evoked a similar atmosphere at Southwark Playhouse with Orca, another play set in an isolated community shrouded by a dark shadow.
Comedy is always tough to get right, even more so when (as is rarer than it ought to be) the setting is right here, right now. This Little Life Of Mine was no classic, but it got its fair share of laughs and, in Greg Barnett and Caroline Deverill, a couple of virtuoso comic turns in a range of supporting roles. London needs to laugh at itself more in its theatres - it's a shortcoming out of character for so confident and vibrant a city.
If theatre is indeed "writing in the air", Thom Southerland continues to undermine that description with his revivals of big musicals brilliantly directed in the Charing Cross Theatre's medium-sized space. Ragtime was a delight - losing none of its epic sweep with a cast crowding, but never crowding out, the narrow, deep stage.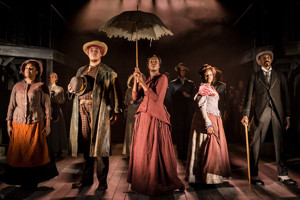 Anita Louise Combe anchored the three hours and Jennifer Saayeng genuinely set the hairs on end with the biggest number in a production not short of showstoppers. I'd love to see Southerland have a go at A Little Night Music, particularly as Sondheim appears to be back in fashion these days.
War and politics - and the politics of war - have been subjects for theatre since the Greeks consulted their muses, and two contrasting productions in the past 12 months have illustrated drama's undiminished capacity for their portrayal.
It Is Easy To Be Dead at Trafalgar Studios followed one of the many, many stories of individual tragedy that emerged from the charnel houses of Picardy's trench warfare. Alexander Knox was heartbreakingly charismatic as the talented, decent, doomed Charles Hamilton Sorley - a lost boy amongst the millions of others, ordinary and extraordinary.
Roman Tragedies was more political - Toneelgroep's adaptation of Coriolanus, Julius Caesar and Antony and Cleopatra into a near six-hour coup de theatre, in Dutch, with us as hoi polloi, the Barbican Theatre transformed into an agora in which actors and audience mixed, chatted and texted freely.
An unforgettable experience was crowned by the single most electrifying moment of the year - Hans Kesting's "Friends, Romans, Countrymen" speech, half-spoken, half-wept (and cynically so), slouched in front of Caesar's bleeding body. Two thousand years fell away, the force of the rhetoric rousing and a scary reminder that populist demagoguery is nothing new.
Part Two to follow...
Gary Naylor is the London Chief Reviewer of BroadwayWorld
Who or what impressed you this year? Submit your nominations for the BroadwayWorld UK Awards here!
Photo credit: Scott Rylander, Richard Lakos