BWW Review: THE TRAGEDY OF KING RICHARD THE SECOND, Almeida Theatre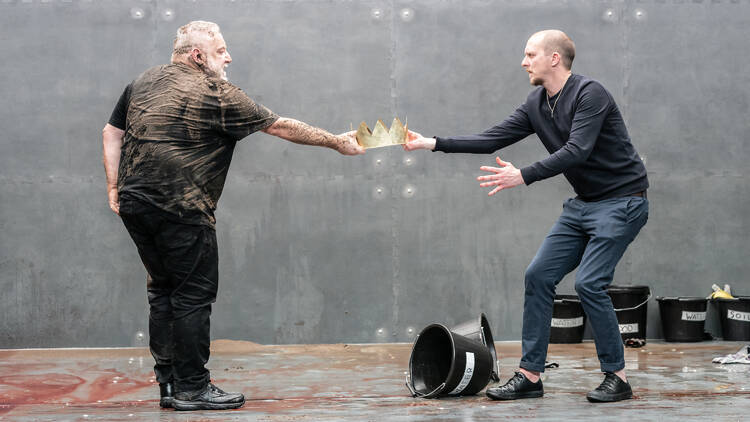 "Forget, forgive, conclude and be agreed..." Sure, the Almeida's The Tragedy of King Richard the Second is one you won't soon forget, thanks to stand out performances from Simon Russell Beale and Leo Bill. Even staunch devotees of the original text will be able to forgive Jeff James's edit, which lifts and drives the piece. But to conclude: it's unlikely that all will agree on Joe Hill-Gibbins' chaotic and sometimes polarising vision.
Opening the show, Richard notes, "I have been studying how I may compare / This prison where I live unto the world". This is the first hint of James's playing with the text, spoken much later by the then deposed king. In the scenes which follow and lead up to this moment, the audience sees just how prison-like the dramatic world itself becomes.
A stark metallic box forms the basis of ULTZ's staging. Stark lighting brings the focus solely on those characters in power and the struggle between the reigning Richard II and ambitious Bolingbroke.
With no exits or entrances, the cast of eight remains on stage the entire time, stalking the outskirts, observing and plotting. Coming together, they form a group, following whichever king is in power. Splintering apart, we see how they round on each other for a taste of such power.
Dressed in modern clothes, the gloves are on at the start. These soon come off, literally and metaphorically as words and gauntlets are thrown down, leading to Bolingbroke's banishment. Underscoring this is Peter Rice's score, hearts beating, blood pumping, and time ticking away. Hill-Gibbins employs this sound again in fights later, repeated and almost inescapable.
Though prison-like the dramatic world may be, James's edit knows no bounds. He carefully trims the text, much like the Gardeners in the play. They don't make the compost heap, and serve as an example of how James reframes such scenes. Indeed, so unrestricted is this edit that we jump forward to Henry IV Part II and see just how "Uneasy lies the head that wears the crown", as it sits on the reigning Bolingbroke.
Overlapping scenes like this result in a heady, relentless pace. As chaos and discontent build in Richard's reign, his actions appear likewise hasty; his banishment of Bolingbroke and other decisions bearing the "rash fierce blaze of riot".
A silence falls at points, in Joseph Mydell's solemn delivery of "This blessed plot, this earth, this realm, this England". This is broken only by some laughs on certain words which can't help but resound, like "shame" and "scandal". Fortunately, Hill-Gibbins does not labour any Brexit metaphor, the relevance to today more than explicit.
Talking about messes, if Simon Russell Beale thought Lear would be the most weather-worn he would get, he clearly hadn't met Hill-Gibbins. Though nowhere near as earthy as his A Midsummer Night's Dream at the Young Vic, that element is still present. The very blessed earth which Richard salutes upon returning to England is literally thrown back in his face in later scenes.
Though the execution may work, the buckets which reliably inform us that they contain SOIL and BLOOD feel rather awkward. The death sequences involving these are likewise forced, the emphasis on the physical impact and reducing the emotional one.
Simon Russell Beale proves he could recite Shakespeare backwards while eating cereal. He keeps time with the pace, but is able to savour and slow down the entire piece. Once Richard's reign has ended he has time, Beale all but stopping the show to masterfully contemplate the "shadow of my sorrow".
Leo Bill picks the pace back up, quick-witted and quick to act. There's a youth and vitality to his movement as Bolingbroke, belying a nervousness and childishness. The remainder of the cast impress, in particular Robin Weaver's conspiring and condescending Northumberland.
To borrow a trick from James's book, a quote from Henry IV Part I seems somewhat apt: "My reformation, glittering o'er my fault / Shall show more goodly". Likewise, James's reframing of the text combined with strong performances glisten over any stylistic shortcomings in Hill-Gibbins' production.
The Tragedy of King Richard the Second at the Almeida until 2 February, 2019
NT Live broadcast into cinemas around the world on 15 January, 2019
Check out our interview with Saskia Reeves
Photo credit: Marc Brenner