BWW Review: THE HEIGHT OF THE STORM, Wyndham's Theatre

French playwright Florian Zeller returns, with another compelling puzzle box of a play - the only thing definite about it being the trademark definite article in the title. But anchoring the human side of this elliptical work is a pair of commanding performances from Eileen Atkins and Jonathan Pryce, ensuring engagement even as reality skips and blurs.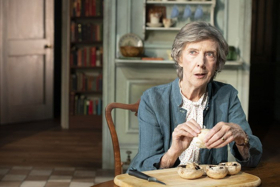 We're in the spacious kitchen of a family home, in an "isolated" part of rural France; there are woods nearby, a vegetable patch in the generous garden outside, and enough seclusion to make the adult daughters worry for their recently bereaved father. Or is it their mother who's bereaved?
The Height of the Storm most closely resembles The Father, the first Zeller work seen by British audiences - and which also began at Theatre Royal Bath. We have characters with the same names (confused patriarch André, daughters Anne and Elise), echoes (the weighted endearment "Little Daddy"), and a similar dislocation as a possible symptom of dementia, breakdown or terrible grief, or perhaps a waking dream or wandering ghosts.
Though Anne remarks that "nothing much has changed", as she returns to her childhood bedroom, change is a very potent and frightening force here. André doesn't want to leave, but an estate agent's visit is threatened, and his repeated phrases suggest someone desperate to reassert control - "I'm here", "That's right" and the plaintive "My position here, what is it?".
There are plenty of fascinating threads. André is apparently a great writer, with - in two different versions of events - his daughter considering a collection of his unpublished work. There's also a bunch of flowers from an unknown sender, and a mysterious woman whose (originally German) name keeps changing, who has a son from a long-ago affair, and may now have a possible claim on the family.
And then there are the stories told within this story, in teasingly metatheatrical fashion: the man who walked into the woods and disappeared, or who perhaps began a new life; the wife who also disappeared, or perhaps dropped dead in the vegetable garden; and the couple who committed suicide by mushroom in a Paris hotel.
Needless to say, Atkins' character Madeleine has recently become a mushroom devotee (there's a mouth-watering recipe recited - don't see this on an empty stomach). Any of these tales might explain the reality before us, or a version of it. Yet Zeller, through one of his characters, cheerfully states that "people who try to understand things are morons".
He may have a point. If you give up on finding a complete solution, and instead let the play speak to you individually, personal experience will no doubt make certain elements incredibly potent. This typically sensitive Christopher Hampton translation is richly textured, but also leaves crucial spaces.
Pryce, like Kenneth Cranham in The Father, offers a powerful, immersive portrayal of someone who can no longer rely on memory, or even what he sees and hears now. He peppers it with amusingly irascible moments - "You think people are dead; that's not always the case!" - and hints at something more sinister - "Everybody should be allowed to take their secrets with them".
But there's also incredible poignancy in the severing of the perfectly matched (perhaps co-dependent) central couple, however it's come about. Pryce and Atkins beautifully underplay their intimate scenes, and show the jagged absence of one another when talking to others instead.
Atkins also supplies whip-crack delivery of the unflappable matriarch's cool one-liners, and inhabits her with such conviction that we can understand why the rest of the family consider Madeleine someone so "present" that she can't possibly leave.
The younger cast don't get inside the material quite as thoroughly, but there are still good turns from Amanda Drew and Anna Madeley as the daughters who were so "marked" by their parents' ideal marriage that it's perhaps affected their own messier relationships.
James Hillier provides the ambiguous, smiling menace always present in a Zeller play (as in his idol Pinter's), and Lucy Cohu strikes just the right note of intrusive glamour as the woman who might be a former companion offering sympathy or a scorned lover sensing opportunity - or someone else entirely.
Jonathan Kent's 80-minute production is nicely paced, with a couple of quick breaks for whispered audience speculation. Anthony Ward's design offers both a handsome communal space and - with careful placement of chairs - one that can quickly fracture, while Hugh Vanstone's gorgeously evocative lighting shifts between moods and realities, casting meaningful shadows that suggest a deeper abyss.
But ultimately, the pleasure lies not in divining answers, but in empathising with those who see or experience the world differently - and in understanding that perspective changes over time, and that for some, the end comes as a friend.
The Height of the Storm at Wyndham's Theatre until 1 December
Photo credit: Richard Hubert Smith
Related Articles
Marianka Swain is the UK Editor-in-chief of BroadwayWorld. A London-based theatre critic and arts journalist, she also contributes to several other outlets, including the Ham (read more...)