BWW Review: THE EXORCIST, Phoenix Theatre

"The Exorcist"! Now there's a playbill that'll turn your head as you're walking through the West End.
And that, of course, is half the problem for director Sean Mathias: how to deal with almost half a century of iconic history piled up by a film that has a place at that rarified level in culture in amongst movies, plays and TV shows - so familiar that we can't recall if we've actually seen the thing or not. Like The Wizard of Oz or Fawlty Towers, it's just there and always has been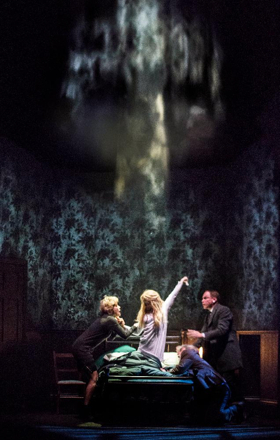 To be fair, the programme does a decent job of acknowledging all that baggage and moving on, and the constant reminders, outside and inside the theatre, that the production should only be viewed by those aged 18+ due to its disturbing scenes is a nice nod back to the marketing of horror movies in their 1970s pre-video nasty heyday.
Though if truth be told, I've seen more disturbing Abanazars in Aladdin than what we get in this production, and even the infamously potty-mouthed Regan feels rather tame post-Malcolm Tucker and Stranger Things.
We do get a wonderfully adaptable set from Anna Fleischle that convinces as a haunted house and some fine lighting support from Philip Gladwell, always a crucial element in the horror genre.
But even such impressive work only draws attention to a flaw in the play: like many stage adaptations from films, the action is just too episodic, John Pielmeier's script a series of scenes rather than a coherent whole. The drama barely generates momentum before there's another blackout, some more lightning flashes and a rattish scurrying sound and we're back in the attic for 90 seconds having just spent two minutes in the drawing room.
As a consequence, key characters are woefully underwritten, not helped by a 90 minutes all-through running time that again owes more to cinema than theatre. Jenny Seagrove's Chris (mother to the demonic Regan) has a secret that is explained away in 20 seconds of dialogue; Adam Garcia's Father Damien Karras is losing his faith after his mother's death, but that's about all we know about him; and Peter Bowles (in hat and cape looking to the manner born as exorcism specialist, Father Merrin) signals a heart problem by, er...clutching his chest occasionally.
Other characters come and go to explain the plot without registering as real people at all. One can't help being reminded a little of another 70s staple - the semi-improvised scenes at the end of The Generation Game.
Fortunately, Clare Louise Connolly is excellent as Regan, completely convincing as a pre-teen daughter becoming the possessed child. She is at her most frightening when speaking in her own girlish (not ghoulish) tones, but vocalising the thoughts of alter-ego, Captain Howdy - alas, that option is swiftly dropped in favour of a lip-synced, echoey, amplified voice that has some devilishly seductive qualities to it, but is about as eerie and threatening as JR Hartley shilling for Werther's Originals.
It's not quite the best job that could be done with the material, but the fault lies primarily with the concept as a whole - The Exorcist, like most films, just doesn't work on a stage, and no amount of big-name casting is going to change that. If the loudest (indeed only) screams of the night came when the house lights went down at the start, we're a long way from The Woman In Black.
The Exorcist continues at Phoenix Theatre until March 2018
Photo credit: Pamela Raith