BWW Review: THE BEST MAN, Playhouse Theatre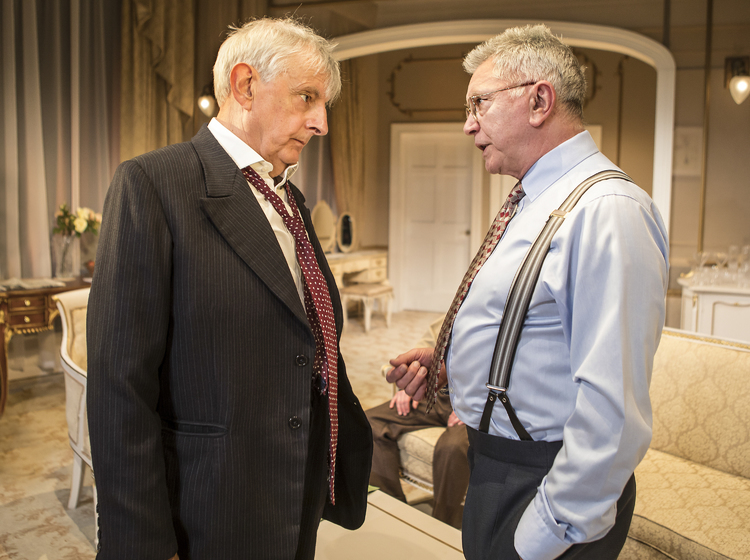 Gore Vidal's 1960 political play The Best Man documents the behind-the-scenes machinations of a fictional Presidential nomination.
This new production, directed by Simon Evans, has been on a short tour prior to a run on London's West End - it takes the place of David Mamet's Glengarry Glen Ross. Martin Shaw and Jeff Fahey lead the cast, which also features Maureen Lipman, Glynis Barber, Jack Shepherd and Honeysuckle Weeks.
It's 1960, the Presidential primaries are in full swing in Philadelphia as potential candidates start to gather their supporters. Vying for the top spot are former Secretary of State Bill Russell and Senator Joe Cantwell - both are trying to accumulate the requisite support from the delegates, but also want to work out whose side ex-President Hockstader is on.
With little between them, tactics start to get personal; Russell's infidelities and state of mind are called into question, and Cantwell faces a revelation from his past. Can they keep it strictly professional? And who will be the next President?
I suppose it's quite understandable that the play has now made its UK debut, following several Broadway runs, as the nation's interest in US politics continues to rise. Several themes also feel particularly pertinent - for example, the notion of what's in the public interest.
Just as political commentators here argue whether Jeremy Corbyn's past meetings with members of parties such as Sinn Féin are relevant to his actions now as Labour Party leader, both Russell and Cantwell's advisors try to justify releasing private information about past actions of their opponents.
Of course, it also sounds familiar when you think about the current US presidency; "we've gone beyond truth" suggests fake news, and it feels like it's more about the prestige of winning rather than the aspiration to do a job. Cantwell's propensity to act on reflex, opposed to Russell's more reflective approach, draws a shudder as the audience immediately thinks of Donald Trump's tweets.
Despite its relevance and frightening accuracy (Vidal actually ran for Congress in 1960 and was a prolific political commentator) the production feels somewhat safe, but also not particularly clear about the workings of the American political system for those of us who aren't too familiar with it.
This isn't helped by some of the cast's delivery; talking over each other and ripples of audience laughter means that lines go missing, and though speaking quickly might fit with the characters being portrayed, a lack of enunciation merges several words into one. Ironically, given his comments about younger actors last week, Martin Shaw is one of the worst offenders. He gives a strong, impassioned performance nonetheless.
Maureen Lipman provides some bright comic relief as Mrs Gamadge, but it's Jack Shepherd who really stands out in his portrayal of dying ex-President Hockstader. Not only does he have some of the best lines ("In those days you had to pour God over everything, like ketchup"), delivering them with aplomb, but he also has the ability to turn the mood on a sixpence - showing the gravity of his, and the party's, situation.
All set in a hotel in Philadelphia where the convention is taking place, Michael Taylor's design is straightforward but full of nice little details as it switches between Russell's and Cantwell's base. It is all rather magnolia, which isn't alleviated by a quite samey lighting design (Chris Davey). Evans's direction at least breaks it up with injections of energy through simple, but effective, scene transitions.
The writing is sharp and has (mostly) carried well across the decades, blending entertainment and drama to make an interesting political play. On the whole, though it may not be a particularly groundbreaking production, it definitely has its moments.
The Best Man is at the Playhouse Theatre until 12 May
Watch our interview with the cast here
Picture credit: Pamela Raith
Related Articles View More UK / West End

Stories

Shows