Review: TARTUFFE, Theatre Royal Haymarket

The Royal Haymarket Theatre's new production of Tartuffe reimagines the classic Molière comedy in the West End's first ever dual-language production. The play, adapted by Christopher Hampton, sets the satire in contemporary Los Angeles, with hints at Donald Trump replacing original references to King Louis XIV. It's a surprisingly funny and disarmingly relevant modernisation, supported by a cast of English and French actors who have done impressive work across theatre, film, and television.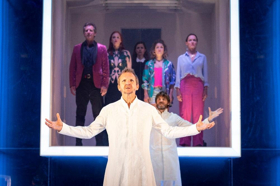 This Tartuffe, directed by Gérald Garutti, tells the tale of a French family living in Hollywood whose patriarch Orgon is completely duped by a radical American evangelist.
While his son, daughter, brother, and second wife attempt to show him the man's duplicity, Orgon and his mother remain steadfast in their belief in the 'holy' man. (A comparison could easily be made to Rasputin and the Russian royal family.)
The play was written in 1664 but originally banned by King Louis XIV. Hampton has translated about half of the play into English, in addition to peppering a handful modern references throughout it. The English text is in blank verse and its informality can sometimes seem at odds next to the more classic French Alexandrine metre.
The production is supported by the Institut Français and has subtitles for the opposite language of whichever is being spoken at any time (when an actor is speaking in English, French subtitles appear). While they have several screens placed throughout the theatre, I did sometimes feel I was missing the actual acting and performances due to reading the subtitles.
Paul Anderson makes his West End debut as the titular character. Best known for his work in film and on the television show Peaky Blinders, he is strangely charming as the American evangelist. Even as you watch him manipulate Orgon and the others around him, he seems harmless, even to the point of being a bit goofy, which makes it all the more chilling when his darker side is revealed.
French actress Audrey Fleurot is brilliant as Orgon's wife, the cool and elegant Elmire. She is delightfully funny in the role and wears some gorgeous gowns. Sebastian Roché, known for The Young Pope and The Man in the High Castle, is amusing as the besotted Orgon, who is oblivious to his family's concern over his beloved Tartuffe. In the second half of the show, he showed a commendable vulnerability.
There's some wonderful irony in George Blagden playing Orgon's son, Damis, as he's well known for playing King Louis XIV in the television show Versailles, the same king who banned this play. Blagden's disgruntled, spirited Damis, who is desperate to open his father's eyes and defend his stepmother, makes it easy for the audience to root for him.
Seasoned French actor Vincent Winterhalter, with an impressive CV that stretches across television, film, and theatre, plays Orgon's brother, Cléante. I felt he was the best at delivering the almost cavalier humour of the piece, as he tries to reason with Tartuffe and Orgon.
The one downfall of the piece is its set, designed by Andrew D. Edwards. While it's aesthetically pleasing and gives the right vibe for a show set in Hollywood, it is lacking in functionality. The glass box makes people's voices sound rather odd when they're in it and when the piece moves backwards and forwards, it makes an awkward noise. Sometimes the use of it doesn't actually add anything to the production.
At times the modernisation also feels a bit forced, but always retains its humour. The ending of the piece is littered with references to Donald Trump without ever having to say his name. The modern dress, mobile phones and references to social media update the piece without having to change too much of the original text.
I plan on returning to see Tartuffe a second time and hopefully I'll be able to concentrate a bit more on the acting instead of trying to keep up with the subtitles. Even after over a decade of studying French, it was hard to understand everything and I did have to rely on the screens in the French-heavy parts. However, I appreciate that the show took a risk and overall, it paid off.
This tale of a man who is nearly able to con someone out of his wealth and family through his trickery, though written in the 17th century, feels alarmingly timely in our current political situation here in the UK and in America.
Tartuffe has delicious moments of tension, wicked satirical humour, and an impressive blend of some wonderful talent from England and France. Will this be the first of more dual-language productions in the West End? Only time will tell.
Tartuffe is at Theatre Royal Haymarket to 28 July.
Photo Credit: Helen Maybanks