BWW Review: SVETLANA ZAKHAROVA - AMORE, London Coliseum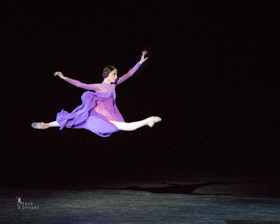 It's at the final curtain call of the evening (and they are events in themselves at the ballet) that one is struck at just how different dancers are compared to the rest of us. When a conductor joins the line to take his well-earned bow, they look like an ambassador from the human race to a species of alien that share some of our characteristics, but not many really - the aliens idealised and perfected versions of homo sapiens, sometimes scarily so.
One such "alien" is Svetlana Zakharova, a Ukraine-born star of the Bolshoi Ballet and many other companies around the world - and Amore is very much her show. Taller than many ballerinas I have seen, she commands the stage with a compelling charisma, limbs describing airless arcs, never less than alive to her fellow dancers' needs, but so, so much the centre of our attention. A principal dancer for two decades, she effortlessly wills the spotlight to her without ever overstating her case.
That said, effort - mediated through beauty, balance and grace - is everywhere, Sitting just three rows back (my favoured vantage point) one sees the sweat, the contraction and expansion of muscles that power the jumps and the holds and, more than all that, the supreme control required to manage all that potential energy and match it to the music and the choreography.
Ballet is a wholly different, more nuanced, more visceral experience live, up close and personal - still graceful, an unrivalled aesthetic pleasure, but also, for all the extraordinary appearance of these beautiful creatures, rooted in the human body's capacity to move through space. For all the so-called exclusivity of ballet, we know instinctively that the dancers have taken that everyday experience and elevated it to art - it's our privilege to witness.
Three very different works comprise Amore. The first is the most narrative and, to a punter like me interested more in storylines than abstraction, the most satisfying, but the other two supply plenty of charm and wit in compensation.
Francesca Da Rimini tells a tale from The Divine Comedy as interpreted through the music of Tchaikovsky and the choreography of Yuri Possokhov. As one might expect, two minutes into its 30-minute run time, the passions are already dialled up to 11 and they never drop.
Francesca is the object of desire for two brothers and, of course, that triangle collapses into murder and ultimately, hellish comeuppance. love and death - those Russian obsessions - woven in and out of every step, Mikhail Lobukhin and Denis Rodkin (uncannily alike as brothers) pursue their doomed paramour, la Zakharova compulsively - and, frankly, who wouldn't?
There's splendid work too from the Court Ladies, dressed in bloody scarlet, the external manifestation of Francesca's internal anxieties and the Guardians of the Inferno, given vibrant, malevolent life from their stone forms atop Rodin's Gates of Hell.
Rain Before It Falls revolves around another menage-a-trois, this time less obviously tragic, as a woman must choose between different men. The piece's choreographer, Patrick de Bana plays one, the other is played by Denis Savin, whose look reminded me of 70's cult actor John Lazar. We. like the characters, have plenty of time to contemplate the choices we make as they circle each other warily, but not without the emotions bursting through the veneer of intellectual enquiry.
Strokes Through The Tail changes the mood completely with Marguerite Donlon foregrounding humour and slapstick in place of torment and turmoil. Venturing into territory long occupied by Les Ballets Trockadero de Monte Carlo, we get pratfalls, fourth wall-breaking and a lot of fun as the dancers relax without ever losing the precision at the heart of their classical technique. There's a bit of cross-dressing, a lot of heavily muscled male flesh on show and even a bit of fighting - if Charlie Chaplin did ballet, this is what he would do.
Like a Christmas selection box of choccies, you're invited to choose the ones you like most, and not everyone will be equally satisfied by all three (Pavel Sorokin's wonderful orchestra are strangely absent for the electropop-inflected Rain, for example), but you can gorge on what you enjoy and, even if you've a coffee creme in hand, you're never far from a strawberry fondant.
Amore continues at the London Coliseum on 24 and 25 November,
Photo Jack Devant