BWW Review: MACBETH, St Paul's Church, Covent Garden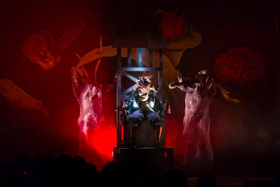 After Barry Gibb's storming set at Glastonbury, a tweet about his blatant plagiarism (sic) covering songs by Steps, Take That and Boyzone, sparked righteous fury amongst those not in the know ("The NITK"? - so vocal these days). There's some of that risk in Macbeth of course, the language of which veers from early 17th century to eerily 21st (""Nothing in his life became him like the leaving it...") with characters and mise-en-scene familiar to Game of Thrones fans. Shakey though, like Barry, was there first.
With a nod towards The Night's Watch's Jon Snow, this Macbeth is raised from the dead (or near dead) by witchcraft performed by the Weird Sisters, supernatural creatures with a look of Dr Who's Sea Devils. Suddenly emboldened by their prophesy of kingship, Macbeth, like a wild-eyed sales executive fresh from a motivational seminar, is fired by ambition and, when his wife joins in to plot his murderous path to the throne, the die is cast. Of course, the quasi-Faustian deal struck by Macbeth is not a pick-and-mix and his dismissal of the inconvenient truths of the witches' tale comes back to haunt him (literally) as guilt and his own hubris combine to bring him down.
Outdoors (mainly - and it can get as cold as a Scottish heathland even in July, so wrap up) Iris Theatre bring ten years' experience of such shows to dazzle us with their panache and imagination - and, lest we forget, brilliant acting. There's a stilt walker (Linford Johnson), a beautifully lit feast (by Benjamin Polya) and swords that clang and crash with authentic metallic screeching (props to Roger Bartlett for the frighteningly close quarters fighting). Almost nothing in a series of scenes that horrify and amaze could not have been performed in 1606, yet the spectacle is plenty enough to shock even the most complacent of CGI sated teens - I know, because I asked mine!
David Hywel Baynes is back after his Richard III of 2014 to leer, creep and stay just the right side of psychotic, his Macbeth drunk on destiny revealed and destroyed. It's a performance many of those who make an annual pilgrimage to this church will expect, but no less powerful for that. More of a revelation is Mogali Masuku, whose professional debut is marked by her cool, clear, yet still bonkers, Lady Macbeth, the familiar lines spoken beautifully, their weight renewed by such wonderful delivery. Just five others support the principals, but the doubling never feels forced, the actors smeared in the mud of battle and the gore of victims.
If the promenade format and inclement weather can make demands on the audience over the two and a half hour running time, it's worth getting a good night's sleep and digging out sensible footwear, for this is a Macbeth that speaks of the danger of investing a madly ambitious king, that stints not on the visceral aspect of close combat and that stirs blood into the poetry in a way that has been attempted many times since 1606, but seldom equalled. This production shows why.
Macbeth continues at St Paul's Church, Covent Garden until 29 July.
Related Articles View More UK / West End

Stories

Shows
Gary Naylor is chief reviewer for westend.broadwayworld.com and feels privileged to see so much of London's theatre. He writes about cricket at for 99.94 (nestaquin.wordpress.com) (read more...)