BWW Review: HANSEL AND GRETEL, Royal Opera House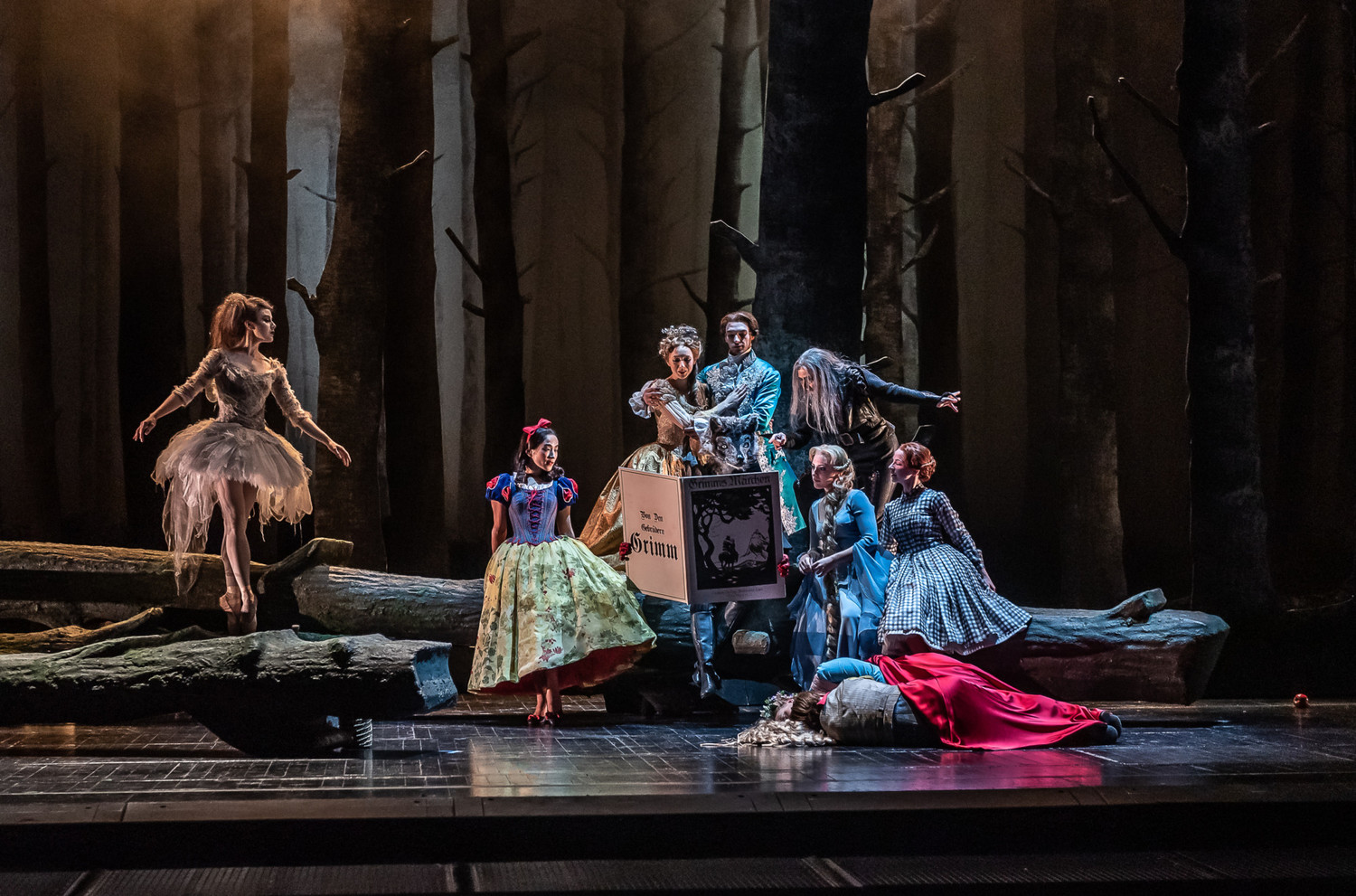 Suffused in forestial hues, Antony McDonald's wondrous new production of Engelbert Humperdinck's Hansel and Gretel is a visual splendour.
Adopting all the ingredients for a superlative cocktail of fairy tales, the simplistic but bewitching conceit relies on such storybook facets as oversized houses and people-sized cakes, the border of a golden frame around its setting and slow alternations between black and white or sepia to colour that repeatedly submerge its viewers into a nostalgic melting pot.
Although the co-production between ROH and San Francisco Opera relies on traditional means of evoking The Brothers Grimm tale - inviting other characters from their collection, such as Snow White, Little Red Riding Hood, the Big Bad Wolf and Sleeping Beauty, to both interact and waltz across the stage - it is by no means easy or predictable.
Enticing the eyes even more than the ears, its miniscule but palpable details are never obscured. A large pot of freshly cooked spaghetti oozes steam; the backdrop of towering beech trees effuses a black and white, then rustic brown tint reminiscent of the start of The Wizard of Oz; a cake knife digs into the cherry-topped gingerbread house of the Witch.
At the same time, the production manages to exploit the fine line between horror and fairy tale: it's no coincidence that dripping jam descending the top window of the house resembles blood spatter. The cannibalistic witch, here sung by tenor Gerhard Siegel, strips down from a matronly costume to reveal an eccentric bald scientist clad in a lab coat.
No finite detail is irrelevant across the changing spectacle: from mundane brown greases on the family's oven to eerie long spikes that protrude from the tree barks.
As the titular roles, Hansel and Gretel, Hanna Hipp and Jennifer Davis make for a mischievous pair and a luscious harmonious duo. Davis's rhythms across higher notes are well sustained and playful, her soprano voice adhering to a set of hedonistic trills and whimsical inflections symbolising Gretel's troublesome, indulgent nature. The girl's growing elation as she approaches the gingerbread house is made visceral by Davis's easily flowing crescendi.
Hipp's physicality as Hansel - who apparently performs a workout routine after sleep - is delectably puerile. Offering the silvery-toned but occasionally husky mezzo to her partner's soprano, her voice provides the figurative clarinet to Davis's flute-like birdsong.
In the Act I duet "Brüderlein, komm tanz mit mir", the contrasting instruments clamber and interweave like the two halves of Gretel's tapering plaits, occasionally struggling with breaths in quick passages but using the difficulty to express childish giddiness. Together, they make for a mellifluous comical treat.
The Witch - or, in this instance, witchdoctor of human treats - is made into a brazen but short-sighted magician in Gerhard Siegel's brash incarnation. As a directorial approach, it's intriguing to adopt a more modern interpretation that calls to mind evil film characters mixing a brew.
To that end, Siegel fully dissolves into the character's hubris, even flinging vocal phrases insouciantly to embody the Witch's panache. It is arguable, in certain instances where his voice bends the vocal line, whether this aids his incarnation or hinders his aria's musicality.
Applying a tenuous, eerie timbre for the role of the Sandman, soprano Haegee Lee performs the character's expositional aria, "Der kleine Sandman bin ich", with sinuous contrasts of pace and the minute precision of raindrops.
As the siblings' mother Gertrud, Michaela Schuster uses the bass register of her ponderous voice to accentuate motherly ire and lethargy, spouting emboldened high notes and inelegant body postures to vivify her frustration.
Substituting at the last minute for ailing baritone James Rutherland, Eddie Wade struggles with certain high notes as Peter, the Father, but exudes a nature fraught with fatigue in his confessional aria, "Ach, wir armen Leute!" - in which he emphasises how much "hunger is the best kind of cook".
Sweeping through both dainty and occult kinds of melodies, Sebastian Weigle's conducting manages to capture the aura and contrasting temperatures (and tempi) of the opera, despite falling into avoidable mistakes of incoherent strings, disorderly brass and delayed entrances. Given the mystical, entrancing visual ambience, Weigle's somewhat unprepared assumption of the orchestra falls unexpectedly short.
A motley gem whose three-dimensional, pink-brick cake-house and overflowing chocolate cauldron stirs cravings for sugar, the production thrives on a uniquely embroidered concoction of both modern and traditional aesthetics of fairy tales. Granted some steadier singing across smaller parts and a much better handled orchestra, it could transform into an irresistible attraction.
Hansel and Gretel runs at the Royal Opera House until 29 December
Photo credit: Clive Barda