BWW Review: FRANKENSTEIN, Manchester Royal Exchange Theatre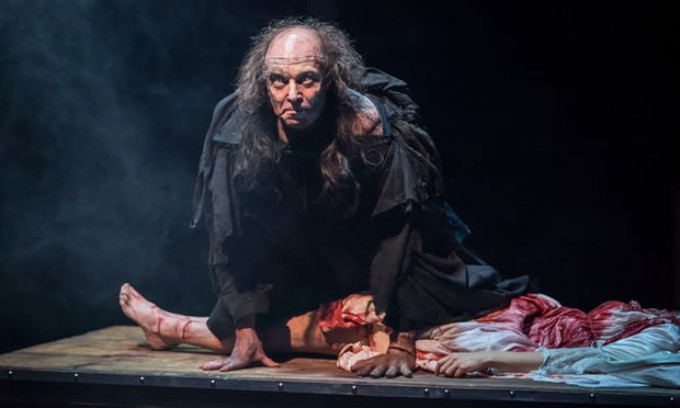 April De Angelis's adaptation of Frankenstein, directed by Matthew Xia, stays true to its source's literary narrative.
It begins as Mary Shelley intended, set on a boat as a ship's captain writes letters to his sister Margaret about his adventures. Captain Walton is friendless and lonely, and is quick to welcome a new arrival, Victor Frankenstein, onto his vessel. Frankenstein recounts his wild and unbelievable tale of misery and torture, as he delves into why he believes himself a murderer.
The story progresses to reveal what terrors Frankenstein has encountered, when his life seemed so idyllic from childhood. He had a doting mother and father, and playmate, Elizabeth, who it's hoped will one day become his wife. But tragedy soon besieges the family as Frankenstein is drawn into his pursuit of knowledge. In De Angelis's version, it almost seems as if the unexpected death of his mother, taken by fever, feeds his desire to forge human life.
The floor is filled with hidden cut outs, often filled with gruesome body parts. There's no hiding from the horror of the story and plenty of moments to make you jump. Designer Ben Stone brings Frankenstein's Creature alive with a vivid lightning bolt and eerie blackouts.
The Creature, often covered in a cloak, is made up of stitched-together flesh and white eyes. His appearance seems to reflect the hatred he was inflicted with. It's hard not to empathise with a character who was abandoned by his creator and met with disgust by mankind, whose approval he so craved.
Shane Zaza portrays Frankenstein as a man haunted by his past. His manic behaviour conveys his guilt and shame. Yet, he's magnificently alive with his thirst for knowledge.
However, his role is overshadowed by the formidable performance of Harry Attwell as the Creature: both humanising and terrifying. Attwell's characterisation of a man stitched together without understanding of the world is excellent.
Ryan Gage should be commended for his portrayal of Captain Walton, who remains on stage at all times, helping to entice the audience into Frankenstein's story. The supporting cast is similarly strong.
Matthew Xia's production doesn't redefine what Frankenstein means, but does emphasises its core messages. The show asks you to decide who is the true monster. Is there more than one? And what is the cause of this monstrosity? A strong translation of a classic tale.
Frankenstein at Manchester Royal Exchange Theatre until 14 April
Photo Credit: Johan Persson