BWW Review: DOWNSTATE, National Theatre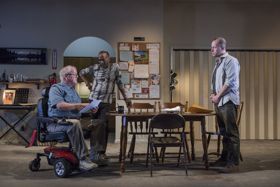 Pulitzer-winner Bruce Norris once again challenges audiences with a play built around a difficult topic - in this case, asking whether paedophiles are irredeemable, how they should be punished, the distinction between justice and vengeance, and whether an empathetic response betrays our support of their victims.
The recent Michael Jackson documentary lends topicality to this National Theatre and Steppenwolf co-production, but Norris wisely hones in on a few individuals, lending very human shading to the stats and debates. It's easy enough to write off an abstract group of "monsters", harder to do so with the people that Norris spends patient time with, contextualising with backstory and leavening with humour.
That in itself feels like a radical, taboo act, but it's supported by the arguments Norris puts across - that 76% of abusers were themselves victims of abuse, and that such horrific behaviour can be understood as an involuntary sickness or compulsion, rather than purely criminal choice.
Viewed in those terms, is a long prison sentence and subsequent social restrictions a draconian response? Here, we see four convicted sex offenders, post-incarceration, living in a shabby Illinois group home and subject to constant harassment - plus unable to go online, own a smartphone, or go within a set radius of places like schools, even if the latter is extended by the council more for political posturing than logical safeguarding.
We get to know three of the men before finding out about their specific crimes - witty, protective Dee, shy Felix, and motor-mouthed Gio - while the fourth, Fred, initially presents as non-threatening, an elderly, wheelchair-bound man who loves classical music and the snack food Nutter Butters.
But that image is also challenged from the start by Andy, who visits the house to confront his abuser Fred. The stark language describing his rape and subsequent shame, suffering and depression plays in bewildering - even, with neverending trivial housemate interruptions, comic - juxtaposition to the kindly Fred we see, who's at pains to be hospitable and seems confused by the reason for their meeting.
It's clever framing from Norris, underlining the fact that such cases generally come down to one person's version of events against another, and who we find most credible - and that abusers often present an entirely different image to the world. Victims, then, have double the trauma: enduring the abuse, and then having to relive it - with the danger that they won't be believed.
But the play also goes further than that. All of these ankle monitor-wearing men have been convicted, and none dispute the charge (although Andy and Fred disagree on some further aspects of abuse, and Dee firmly views his relationship with an underage boy in romantic terms). So, can we write off these people entirely? Ask for the death penalty? Or - an incendiary idea - still view their humanity, alongside their heinous acts?
The latter is hard to resist when Norris narrows the gap between "us" and "them", the so-called monsters and society. The group's house-share squabbles will feel familiar to most, as will elements like Dee's love of musical theatre and classic movies, or Gio's bickering with fellow Staples employee Effie.
Yet the latter immediately feels uncomfortable given Effie's younger age, and throughout the play, seemingly innocuous information is lent significance by this context - like several enquiries about whether Andy and his child had a good time at the local waterpark.
A superb cast, directed by Pam MacKinnon, adds texture to Norris's piece. Francis Guinan's Fred is fascinatingly ambiguous; is his golly-gosh-darn folksiness and seeming vulnerability really just a cover for a "fundamentally evil" person, as Andy insists? Fred's repeated anecdote about Chopin falling in love with the "wrong" person seems telling, as do details like him calling both Andy and fellow victim Tommy "special".
As Andy, Tim Hopper demonstrates all the painful contradictions of this situation - how easily survivors can feel guilt for the fate of their abuser, how impossible it is to fully communicate the depth of his trauma, and how, on some level, he still seeks Fred's approval and understanding. It's a performance of remarkable delicacy and complexity.
Glenn Davis is very funny as the swaggering Gio, who combines faith with capitalist ambition - "Christ was a small businessman" - as is Aimee Lou Wood (so brilliant in Netflix's Sex Education), packing a lot into a small but vivid role. The female characters are generally underwritten here, though Matilda Ziegler communicates mingled empathy, frustration and distaste as Andy's wife.
Eddie Torres's anxious Felix anchors a chillingly tragic subplot, while Cecilia Noble demonstrates the defensive, unsentimental doggedness of the parole officer who handles close to 50 such cases a week. But the standout is K Todd Freeman as Dee, articulating the unsayable with riveting charisma, and also showing the vicious darkness bubbling beneath the erudite surface.
Todd Rosenthal's design lends a visual framing to the pitiful proceedings, with grim interiors and a stained roof, and Adam Silverman's lighting adds a sickly glow. It's a tough watch - as it should be - but also one asking necessary questions about victimhood and compassion; who is worth saving, who does that benefit, and who decides? Gripping theatre.
Downstate at National Theatre until 27 April
Photo credit: Michael Brosilow