Review: CORALINE, Barbican Theatre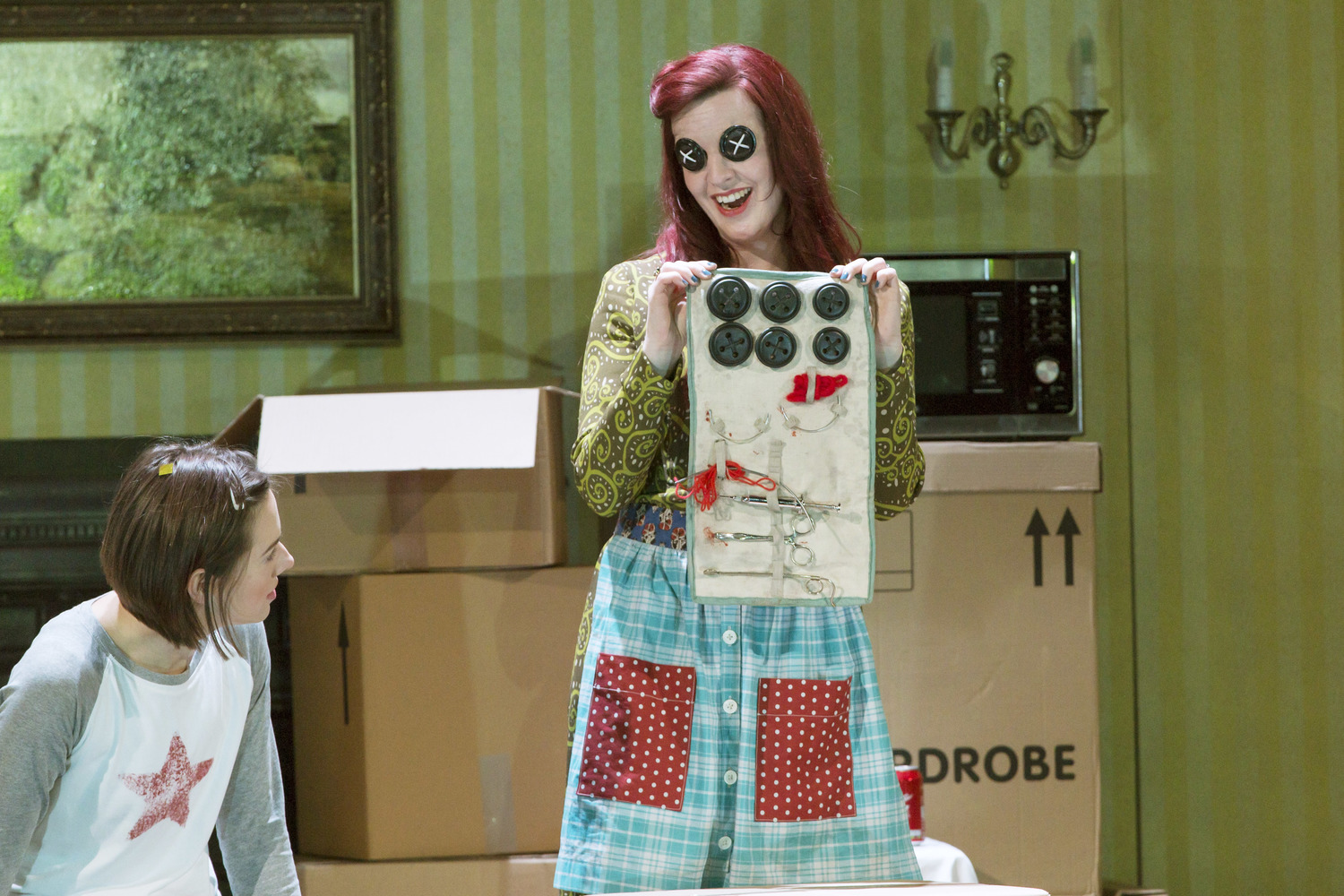 The promotional poster for the Royal Opera's world premiere of Mark-Anthony Turnage's new opera
Coraline
, based on
Neil Gaiman
's 2002 popular children's novel, displays a small girl in a shady house as she examines her reflection in a mirror. The figure looking back at her appears cartoon-like and has buttons where her eyes should be.
It's an eerie image that beguiles and frightens - and easily sells the production it's promoting. It also seems to be entirely detached from both playwright Rory Mullarkey's sitcom-style libretto and Aletta Collins' largely unimaginative production.
Gaiman's novel - later adapted into a hit animated film - revolves around a thrill-seeking 11-year-old girl, Coraline, who moves into an old, lugubrious house with her two parents. Exploration leads her to discover that a door can guide her to another world: one like her own but shinier and brighter - with a pair of parents that appear identical to hers except for having buttons in the place of eyes.
In such a glittery parallel universe, Coraline is offered the adventures that her spirit longs for. The price? The surgical removal of her eyes so that her Other Mother can bestow two buttons in their spots.
The premise for the parable is generations old: we're left to guess if Coraline will sell her soul for these material goods and visual (or else gustatory) feasts. It's unsurprising that we ultimately learn the Other Mother is a tyrant who wants nothing more than to rule the children she has snatched into her kingdom.
Given the polar contrasts that appear throughout the plot, Turnage's music oddly tends to conform to the consistency of similar dynamics, tempos and motifs. Ominousness is usually expressed in a I-V chord interval on brass or brisk repeated ditties played by strings or woodwind. For a setting of this magnitude the score's behaviour is unusually minimalistic - and doesn't manage to approach what could have been a motley, variegated presentation of these characters and plot.
Mullarkey's contextually reductive attitude to the libretto likewise doesn't help this adaptation of the story; he seems to want to turn a children's fantasy into a family-friendly farce. Emphasis on the flailing careers of supporting characters, has-been actresses Miss Spink and Miss Forcible, is lengthily drawn out into the clichéd trope of old, deluded actors hellbent on believing in an imminent return to stardom.
While both characters appear in the novel to predict Coraline's dismal future, here they are obviously employed to give the parents of the children in the audience a more 'grown-up' style of comedy. Far from being funny, the result is an embarrassing and weak attempt to make the public laugh.
Collins' staging showcases both sides of this two-faced world in the small confines of an averagely simplistic home. Therefore the audience struggles to understand how Coraline could be so tempted by the other universe at all: it has the same striped yellow walls, no visual stimuli and all of the same objects. We only hear only of the promised gifts through characters' long, expositional tellings.
Only in the scene where Coraline meets ghosts of other children taken by the Other Mother dressed in white, ruffled attire, bearing pasty faces and resembling 19th-century figures, does there appear to be a stroke of the fantastical; an element that could recall a Tim Burton movie.
And yet all of its singers do their utmost to convey this crazy parable - and are collectively far more convincing than the music, the libretto and direction altogether. Mary Bevan gives her heroine all the body language of an aggravated prepubescent girl. She uses the pulsations of a thick vibrato in the top notes to convey Coraline's brief moments of hysteria. Her diction, entrances and exits in and out of vocal phrases, timing and sudden switches in dynamics are finely executed.
Most aptly representative of these opposing worlds is Kitty Whately as the Mother/Other Mother. Starting the opera as a patronising woman with a purposely restricted use of volume, abruptly she becomes almost unrecognisable when she embodies the deceptive Other Mother. Whately uses creepy false smiles, gradual and unexpected slow crescendos, and a jagged body language to display a bloodthirsty, unstable woman.
As the Father/Other Father, Alexander Robin Baker has to deal with a most thankless role. Frequently having to sing falsetto comically - as well as mimicking the various gifts that Coraline could get inside the other universe by hopping like a pony or else jumping up and down to symbolise a trampoline - his character is nothing but the butt of terribly unfunny jokes. Nevertheless, his middle register sustains the bold, declamatory approach demanded of his lines.
While brass occasionally come apart, for the most part Sian Edwards' conducting of the Britten Sinfonia is a set of punchy and delicate starts, ends and pauses. It is a pity that the score at hand only supplies thin, scant orchestral textures she can treat.
Overall, the product here does not do what the advertising package says. There is insufficient variation in the music to convey the story and thus qualify the whole work as an opera. Most of the humour is too lowbrow even for the smallest children. Visually, it misses out on the alluring splendour that could have arrested its audience's eyes.
And so we leave the theatre still unsure for whom this opera in its present guise is actually intended.
Coraline runs at the Barbican Theatre until 7 April
Photo credit: Stephen Cummiskey