BWW Review: COME FROM AWAY, Phoenix Theatre

A remarkable true story birthed this modest Canadian musical, which went on to storm Broadway in 2017, and now makes it West End debut at a time when its heartfelt message seems more necessary than ever. In these murky, cynical times, Irene Sankoff and David Hein's show feels like coming up for air.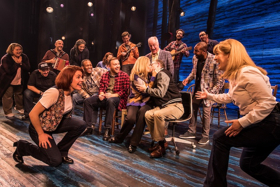 Following the 9/11 attacks, American airspace was closed and flights diverted - 38 of them to the tiny town of Gander, in Newfoundland; its huge airport was once used as a refuelling stop for transatlantic flights. For five days, some 7,000 strangers from around the world (the 'come from aways') were welcomed into a community of around 9,000 locals.
The stories told are all based on real encounters, with some characters acting as a composite of several people. That authenticity was confirmed on opening night by the appearance at curtain call of the inspirations for this tale, and it also rings out through Sankoff and Hein's beautifully matter-of-fact, almost verbatim work.
That helps it avoid schmaltz, or putting too cosy a spin on what was, and remains, a time of horror. But it's a salient reminder that tragedy and adversity can bring out the best in humanity - even if such a response, shamefully, hasn't always been in view in recent times.
The idiosyncratic detail also makes clear that this isn't a sweeping historical retrospective, but a show peering through the microscope at these people, in this time, and drawing honest tales from their experience - funny, sad, romantic, painful, scared, confused, and ultimately transformed, albeit in subtle ways.
Christopher Ashley's 100-minute, straight-through production keeps us absorbed as a tight-knit ensemble of 12 together narrate and act out multiple stories, the pace and seeming spontaneity reflecting the real thing. Everyone plays both local and visitor, making the clear thematic point that we could all, at some point, be in either position, and a superbly crafted staging uses chairs, tables and a central revolve to swiftly evoke a variety of settings.
There are the requisite local references - from the mayor beginning his day at Tim Hortons to elk/moose gags and the Newfoundland initiation (it involves alcohol, and a fish) - but this isn't a show that sneers at small-town life. Rather, it introduces and then gradually shades in its individuals, so that we too have the experience of overcoming snap prejudices and getting to know each person; strangers to friends.
Among them are Janice, who covers the action on her first day as a TV reporter; air traffic controller Doug and his wife Bonnie, who works at the local animal shelter and insists on rescuing the animals in the plane holds; tongue-tied Brit Nick and Texan Diane, who form a tentative coupling; LA-based gay couple Kevin and Kevin, whose relationship is tested; Hannah, who fears for her New York firefighter son; and trailblazing pilot Beverley, American Airlines' first ever female captain.
Rachel Tucker - who, after all, has some experience defying gravity - embodies the latter superbly and delivers her big number "Me and the Sky" with soulful conviction. She also supplies a lovely comic runner, as local Annette livens up her narration by reimagining several male characters as sexy heroes.
Jenna Boyd and Cat Simmons build a believable bond as two mothers of firefighters, Clive Carter is the gruff voice of authority as the mayor - who's first horrified that the hockey has been cancelled, but then realises the ice can act as a giant fridge for all the food being sent to the town - and Mary Doherty is great as the calmly relentless Bonnie.
Jonathan Andrew Hume and David Shannon's Kevins follow different paths - one (a gradual awakening) more interesting than the other (incessant snarking), but there's real poignancy in the unravelling thread of their connection, given extra heft by Kevin J feeling a duty to his family in New York.
Hume also plays Muslim Egyptian Ali, who suffers suspicion and is ostracised from the group - an important reality check in this generally kind tale, even though the audience is given a different perspective. The reverse is also true, with the Kevins fearing "redneck" Texan Diane will judge them if they disclose their sexuality; in fact, she could care less.
Helen Hobson and Robert Hands keep their characters' sweetly fumbling transatlantic romance just this side of Richard Curtis. It's impossible not to root for them; I don't think I've shipped a couple this hard since the heady days of Tim and Dawn on The Office. And as Janice, Emma Salvo shows a fledgling reporter coming into her own.
But this is, above all, a triumph of ensemble storytelling - the piece's structure effectively mirroring this extended community coming together. Faiths mix, in the stirring joint "Prayer", and one agonising moment of fear and confusion, where we can see both sides, is resolved when religion becomes a bridge rather than a barrier.
Sankoff and Hein's Newfoundland-influenced, Celtic-inflected folk score always serves the drama - whether rousing, lush or contemplative. As do Beowulf Boritt's woodland-backed set, Toni-Leslie James's understated costumes, Kelly Devine's grounded movement, and Howell Binkley's exquisite lighting - the latter showing not just passage of time, but subjective mood and feeling.
All combine in a production of genial wit and restrained charm, but which packs a major emotional punch - and a profound challenge. "You'd do the same" is the modest response of the compassionate Gander residents, waving away thanks and offers of payment. Would I? Would you? It's a question that increasingly defines our morally turbulent times. For this and so many other reasons, Come From Away is this year's must-see musical.
Come From Away at Phoenix Theatre until 14 September
Photo credit: Matthew Murphy