BWW Review: CIRQUE BESERK!, Garrick Theatre
A family-friendly cross between a variety show and impressive circus acts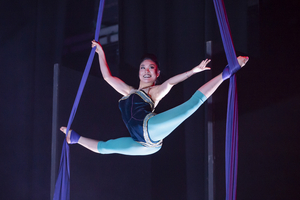 Cirque Beserk! is a circus with a very good pedigree. Founded by Martin Burton, the original Zippo The Clown, this entertaining and skillful production brings the traditional circus show into the modern age, using talent sourced from around the globe.
It now seems more common to watch circus acts in a theatre rather than a big top and Burton's production is a circus show designed specifically for the stage. With no introductions or speaking parts, the show whips along with a continuous stream of performances.
There are some visually stunning performances. The headline act of Globe of Terror deserves its billing and is worth the ticket price alone; three motorcyclists circle at dizzying speed inside a round metal cage. There is no room for a centimetre of error, as they race faster and faster, crossing each other's paths as the audience collectively holds its breath.
Timbuktu Tumblers are street acrobats, building human pyramids and limbo-ing under burning poles with charm and speed. Elberel is a effortless contortionist who is also an archer, using her feet to shoot an arrow whilst performing a handstand.
Knife-thrower Toni aims knives and axes at his wife Nikol, as she spins on a board. Acrobatic brothers Antonio and Connor display incredible poise and strength in their balancing act; a huge backflip landing on one hand is particularly impressive. Younger audience members loved Paulo Dos Santos; a talented acrobat who also amuses with his physical comedy and slapstick sound effects.
Not all acts hit the mark; a fire-breathing giant robot is visually underwhelming as it shoots sparklers from its hands. The Khadgaa Troupe perform some high platform jumps and somersaults, but the use of a dusty old mattress to break their falls erases any jeopardy. The stage is also too small for their act, with some performers landing almost in the wings.
There also seems to be a previous energy missing from the show; the dancing is lacklustre and some performers do little to engage with the audience.
There will be inevitable comparisons with Cirque du Soleil. However, as the show is designed for a traditional theatre, it feels more intimate, more anarchic and a little less slick. That's not to say it is not professional, more that it is less structured and polished, which some may find welcome.
Sean Cavanagh's set design is a little static, with the huge metal cage for the Globe of Death act on stage throughout and Mike Robertson's careful lighting design is bright and exciting.
Overall, this pacy show is great fun, with some very impressive acts. It is a great way for the family to end the summer holidays.
Cirque Beserk! is at the Garrick Theatre until 11 September
Photo Credit: Piet-Hein Out