BWW Review: AS A MAN GROWS YOUNGER, Brockley Jack Studio Theatre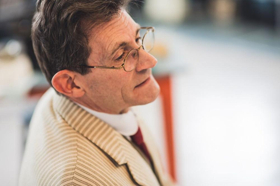 Port cities produce people who prove difficult to put into the boxes that please authorities (and authoritarians). Ethnicity, politics, attitudes get jumbled up on the quaysides and the men and women who emerge from the homes clustering around docks and warehouses tend to have independence born into them and the means and desire to tell those who want to listen -and those who don't - all about it.
One such was Italo Svevo (born Ettore Schmitz in Trieste, an ex Austro-Hungarian port in north-east corner of Italy) a man who presented all those contradictions at a time when Mussolini's Blackshirts were putting people in boxes (literally as well as metaphorically) and the always fragile Italian nationhood was being talked up by Il Duce. It was a dangerous time to be a little of this and a little of that.
Howard Colyer explores these themes and many more in a monologue that sees Svevo looking back at the contradictions of his life as bullets fly in the streets below his little office. He examines the ups and downs of his own life (of which there were plenty), his shifting identity, his navigation through politics as a left-leaning capitalist, his travels in a Europe busily erecting barriers to such free movement and, most of all, his literary career as a novelist and playwright.
As Svevo, David Bromley tells us of it all, sometimes through something akin to pantomime (often to offset his well-founded fears for his safety), sometimes through adopting the persona of James Joyce, a friend, teacher and fellow outsider, and sometimes through a compulsive, reflexive lighting up of a cigarette, a means by which endings can be stalled.
It's beautifully staged, William Ingham's lighting particularly effective and there are some bleakish laughs too (the long shadow of World War I colours many of the stories and Svevo is in no doubt that there's another on the way). There's a pervasive mournfulness in the tone, especially on the very day that a British citizen's right to be British can be snatched away by a politician acting in an extra-judicial capacity. Old Benito would have approved.
That said, Svevo is a larger figure in Italy and France than he is in Britain and, perhaps, the monologue format is stretched a little too far in trying to capture a man and his times that will be unfamiliar to most in the audience.
Searching for parallels, for the more comic moments, I was reminded of Frankie Howerd's Lurcio from Up Pompeii! and, in the darker moments, of Bertolucci's disintegrating Italy in his masterpiece, Il conformista. Rather different those two comparators!
It's somewhat esoteric stuff and maybe there's just too broad a breach to straddle to engage fully with a figure whose slipperiness was no fault of his own, but caused him endless heartache, as well as powering a late blooming literary career.
As A Man Grows Younger continues at the Brockley Jack Studio Theatre until 23 February.