BWW Interview: Mark Perry Talks BANANAMAN THE MUSICAL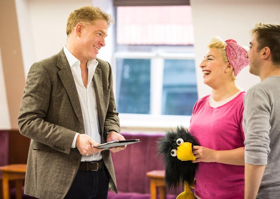 Mark Perry is the founder of Sightline Entertainment and has worked as both an actor and director in the West End. This Christmas season, he's directing Bananaman the Musical at Southwark Playhouse, which begins 15 December.
Did you grow up attending theatre?
Yeah, I did. I've been involved in theatre in different ways as long as I remember really. I was always taken along as a child. My first theatre experiences were pantomime, which I loved, and then quickly into musicals, and then I was acting and directing in shows from school age.
How is moving between acting and directing?
I started directing a long time ago, when I was a lot younger, straight out of drama school. I directed musicals then and a couple of plays before acting took over for a while. I sort of went that direction, but then I got involved in a theatre in West London which I took over as Artistic Director and that brought me back to directing. It's great to come back to it with something as fun as Bananaman.
What was your directing debut?
I directed a production of a musical called A Slice of Saturday Night by The Heather Brothers, which was a really fun Sixties musical. So again it was a comic musical, which is where I think I've spent a lot of my time.
What have you learned from your past experiences?
I think for me, as a director, it's always trying to do two things. One is to serve the material and the other is to serve the audience and make sure that you're able to guide the audience through whatever story it is that you're telling - and to do it in a way where you're almost their eye. That's what's very different being on the directing side from the acting side.
As a director, you're very conscious of where the audience is going to look and what story it is that they're receiving, rather than the individual stories that the actors are giving. It's having that sort of bigger picture, that overall narrative which you need as an actor, but as an actor you're also absolutely focused on the story your character is telling.
One of the things I love is being able to work out the different aspects of the show you want to get across, and the way in which you want to position the whole visual side of it as well as the narrative side. It's much more of a bird's-eye view that you're having to portray and think about what the audience is going to enjoy and what they're going to want to see or hear.
Is directing a musical different from directing a play?
It's much more technically challenging because there are so many different departments that you have to build in. It's much more collaborative; you've got the music department, the choreography, and the design elements as well, which can often be far more complex within a musical.
I have to say I enjoy it because of all of the different elements coming together. That makes it much more complicated, sitting in the room as a creative team, working it out together. Whereas with a play, of course there are still different elements and different departments that you're working with, but having the musicality behind it really does add to it.
Leon Paris's score for Bananaman is very much interwoven between song and dialogue. Almost 85% of the show is either sung or underscored with music. You're very rarely in a place where the band and musicians are not involved, which is a really exciting part of it. But it does mean that all the team is sitting there at the front trying to work out how to weave these different elements together.
I think it's one of the most enjoyable things about the show, about Leon's brilliant writing, is how he's managed to weave song and dialogue quite seamlessly into different parts of the show. One moment you're in the middle of a sort of huge piece of music and suddenly then you're into dialogue and then you're back into music again and you sort of roll between the two throughout. It makes it really exciting; the audience won't know what's coming next.
Did you like comic books as a kid or grow up watching cartoons?
I loved comics. I was an avid reader of the Beano and the Dandy as I was growing up. All the Beano characters - Dennis the Menace, The Bash Street Kids, all those sorts of things - were a big part of my childhood.
As well, I grew up as a child of the Eighties, so Bananaman the cartoon was always on the telly. I remember coming home and looking forward to those five-minute episodes that were on the television. I loved them and watched them again and again when they were repeated. That was a big part of my childhood.
What first drew you to Bananaman?
I'd worked with Leon on a couple of shows and he and I had both decided we wanted to work on something else together, because we'd enjoyed it previously. We were looking for something that was a farce, something to appeal to a big family audience that had that fun elements to it. We wanted something iconic.
We were searching around for different ideas and concepts and by chance, one conversation we were having we joked and said, "Wouldn't it be amazing if someone had made a musical of Bananaman?" So we searched around and found out that no one had.
I dug into who owns the rights and what had happened with it. I found it's owned by DC Thomson, the publisher and the rights owner of the Beano and the Dandy. I contacted them and said I'd like to have a chat with them about Bananaman. We also put through a few ideas, but the one that we wanted was Bananaman.
By chance, they had had someone else apply to them previously to write a musical. But the previous person, the treatment for the way they wanted to approach it was quite an adult parody, making him into this more adult-focused character. DC Thomson didn't want to go that way and they actually declined the offer.
So we came and told them we were interested. At first, they were sceptical about what we wanted to do with him, but I convinced them to read our treatment. The treatment that Leon and I put together was absolutely faithful to not just the cartoon, but to the comic strip. We went back to Bananaman's very earliest appearances in the Nutty comics, before he went to the Dandy, and now he's at the Beano.
The way we saw him is absolutely a parody of the superhero genre, which he absolutely is. He does sort of laugh at Batman and Spiderman and Superman, all those famous superheroes. But it's his farcical, slapstick fun, it's his typical farce comedy.
Bananaman is the most useless superhero you'll ever meet. He almost saves the world from the evil traps of Doctor Gloom and General Blight by accident and always with a smile and charm. He sort of falls over himself to save the world rather than doing it on purpose.
Seeing his stupidity and his accident-prone behaviour is what makes him so funny and so popular, because he's not a superhero who takes himself seriously. The story laughs at all the superhero clichés and set-ups. He's got a slapstick fun to him, which we think works. We wanted to keep that parody, but also change it from a comic strip or a cartoon into a two-hour musical.
How do you balance that slapstick comedy element with making an emotionally engaging musical?
That was one of the things that we needed to do is to make sure this is a story. There's loads of good characters in there, obviously Bananaman and Doctor Gloom and General Blight, his arch-enemies. But Eric Wimp really is the hero of the piece in some ways. He's the kid who eats the banana and becomes Bananaman, but he's really your typical sci-fi geek. His story, how he feels about becoming this accident-prone superhero, is a big part of the show.
One of the characters we put in there is Fiona, who in the cartoon was a parody of Selina Scott. Those people who were around in the Eighties will remember Selina Scott was this very sophisticated newsreader and that's how she's portrayed in the cartoon. But in our story, Fiona is a contemporary of Eric and one of the other kids at Bash Street High, which a link back to the Beano as well and The Bash Street Kids. Eric and Fiona's relationship forms part of the heart of the show. As does Eric's relationship with his mum, Mrs. Wimp, who again was in the comic and the cartoon.
Rather than it being a two-page comic strip or a five-minute cartoon, we've had the luxury of being able to tell the story of all the characters, and you really do get a sense of the whole world of Bananaman and not just a fleeting glimpse. That's part of the fun of being able to do a full-length show: being able to explore all of these different characters.
Are you concerned about people coming in who watched the show or read the comics and how they'll react?
You've got to respect everything that's come before, so we want to serve the character and serve why people love Bananaman. When you talk about Bananaman, people always go, "Oh I know: 29 Acacia Road". They always remember where he's from; they remember him and Doctor Gloom and General Blight and they love him. We've got to make sure we get that same feel that they remember from when they were growing up.
But also, there's also a whole new generation coming to Bananaman who don't know him. We've got to put together a show that will serve both audiences. Right from the outset when I was writing this with Leon, that was something we kept coming back to: how do you feel if you've never met Bananaman before, or don't know who Eric Wimp is? And constantly making sure that anyone who comes to it new gets the same enjoyment from it as someone who knows all the characters.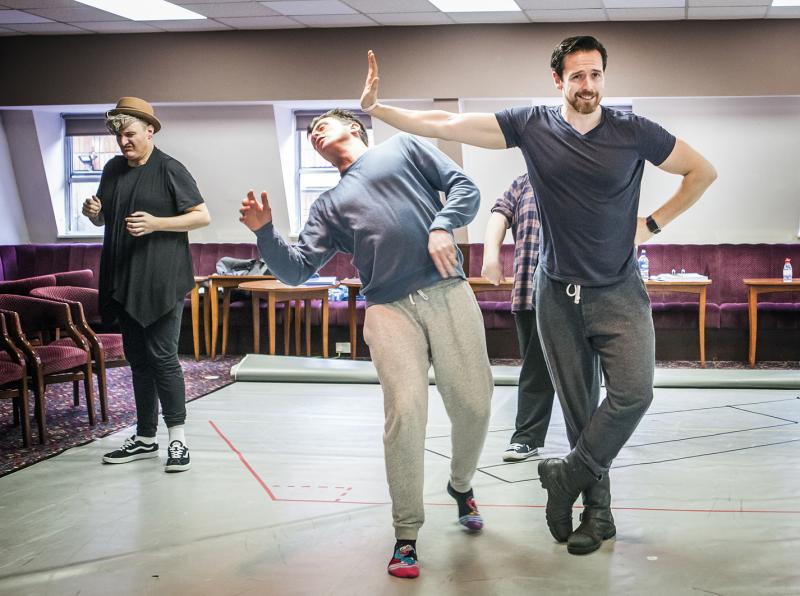 What kind of score does the show have?
I can't really describe it in a genre as such - the only thing I would compare it to musically is Matilda. Because Matilda has different styles within it; it also has this mix of traditional big musical theatre songs and narrative within the songs. A lot of the songs move the action forward as well as just telling the story about particular characters.
In terms of style, it's contemporary, there's a lot of big melodies and some big tunes that you'll come out singing, not least the title tune. I can say this because I didn't write it, but some of the music is beautiful and also just really exciting.
Are you relying on props and newer technology or using more old-school theatre tricks?
It's a combination of the two. What we've tried to do is go back to the comic and the cartoon. Now when Bananaman flies, he's actually using a swimming action, so the same thing applies to us. Sometimes there's high-end tricks and sometimes very low-end tricks. We're using some old-school theatrical devices, but also there's some exciting ones as well.
There was a musical called Spiderman: Turn Off the Dark, and Bananaman should be everything Spiderman wasn't. We're not going for all that complexity. In the same way that Spiderman as a character is sophisticated and clever and hugely successful, Bananaman isn't any of those things. So we should be very different to that.
If you could have any superpower, what would it be?
Well of course the big one that Bananaman has is "the muscles of 20 men but the brain of 20 mussels". But also, he can fly and that's the one that Doctor Gloom and General Blight always want, so I think that's the one I'd want.
Why do you think people should come see Bananaman?
In terms of an evening at the theatre, I just think it's going to be brilliantly fun. I think you'll laugh at all the characters, and you'll get excited at all the action in it, because there's loads of action sequences.
It's really visual. There's magic, there's there's movement and dance. But I also think the music's wonderful. You can switch off your brain and sit there and let it all happen. It's definitely not Chekov - it's just a really fun night out.
Any advice for aspiring directors?
The only thing that I would say - and I've been really picky about this - is that you've got to love the show you're doing. You become so enveloped in it, you spend so much time in the text and in the music and working out the intricacies, you've got to love the material you're dealing with. If you don't, it's a really hard task. I'm lucky because I adore this show and this character so for me, spending hours upon hours in the rehearsal room and outside the rehearsal room working out what it to look like is great.
If you love the material, then the whole process is wonderful. You have to be absolutely committed and believe in your material. As soon as you have that, you can put your trust in your collaborators and work with them to create the show you want. And then it becomes just an exciting and fun experience.
We're lucky because our cast is wonderful: they're really funny, they're really enthusiastic, and they all love Bananaman as well. So you can sit there in a row and everyone is enjoying the process of putting it together, but that all just starts from the one main thing: loving the material you've got in front of you.
Bananaman The Musical is at the Southwark Playhouse 15 December-20 January, 2018
Photo Credit: Pamela Raith
Featured This Week on Stage Door
Shoutouts, Classes, and More from Your Favorite Broadway Stars