Interview: Jessica Swale Talks THE JUNGLE BOOK Tour
The Jungle Book continues its tour around the UK, playing in Bromley this weekend. In the second part of our interview series (read the first part here), playwright Jessica Swale speaks to us about writing for different spaces on stage, and the inspiration behind the world and characters of this adaptation offstage.
How did your new adaptation of The Jungle Book come about?
It was a bit of a joyous surprise, to be honest. I had decided not to do any adaptations for a while. Most of my projects at the moment are in film and of those films, two are adaptations of novels, two adaptations of my own work and only two are brand new stories.
So I thought it was important to give myself some time and space for new ideas, and to get back to directing. But then Fiery Angel and the Children's Touring Partnership are such wonderful companies, when they asked me to do it, I thought it would be an opportunity to work with some of my favourite people and do some more theatre again.
More importantly though, I was desperate to make work that was joyful. My Dad was very ill when I was offered the commission, and I remember he didn't want to watch anything bleak or morbid, he just wanted to watch life affirming stories. And I decided that I wanted to make work that my Dad would enjoy.
Sadly, he never got to see it, but the experience made me appreciate the capacity of storytelling to bring joy and light into people's lives, and so I've made it my mission to make work that is heart-filled and redemptive.
That doesn't mean avoiding reality or important themes, in fact when work has comic bones it's usually easier to address big ideas - but it is very much part of my agenda, to entertain- and to be hopeful and to celebrate life.
Last time we spoke about writing plays with specific spaces in mind, like Nell Gwynn. What was this process like in comparison, writing a show which you know will tour to different venues?
It's been a really enjoyable rollercoaster of a ride. When we all signed up to it, we were intending to make a play with perhaps a couple of songs. And by the time we reached rehearsals, it was a full scale musical! You can't really work with a talent like Joe Stilgoe and try and restrict him to a couple of numbers - and rightly so!
So it was quite a mountain to climb, because of the ambition of the show. But the lovely thing about working with Max Webster and Joe is that they're so full of energy and ideas. So our process was very much pitching things in and throwing them out, then rewriting and rethinking. We learnt quickly to be very honest with each other, and ruthless, which is essential, I think.
We also had a timely gap after our Christmas run at Northampton, before the show went on tour around the country. So by seeing it and getting to know it much better, there were elements I wanted to rewrite and shift around, knowing the sorts of theatres we'd be moving it to - and considering it was no longer going to be a Christmas show.
Festive audiences do tend to expect (and want) something a bit more interactive and pantomime, which was great fun, but needed a bit of a gear shift for the rest of the run.
There's a great deal of energy that comes from taking a show to new places, editing, and chipping away until you get it right. Which now, I hope, we have!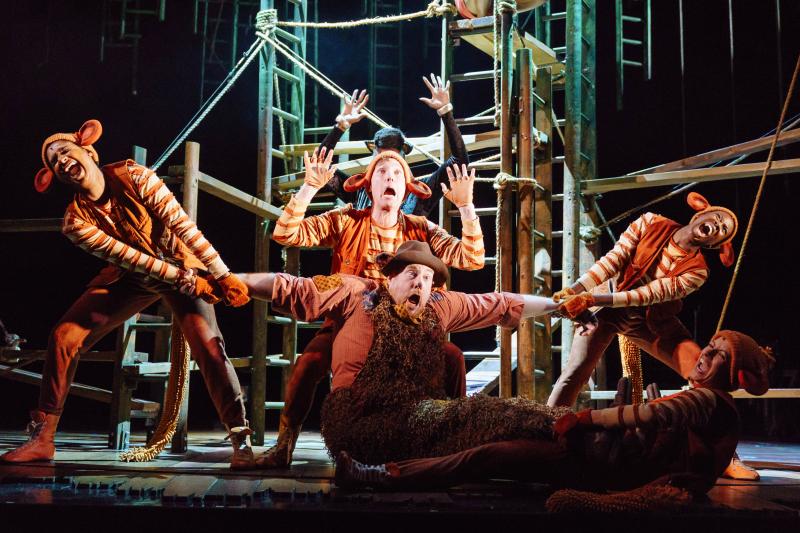 Were you familiar with the original material?
Not really, if I'm honest. I had read Rudyard Kipling's stories as a child, and watched the Disney film when I was five. But I hadn't since then and I didn't watch the Disney film while I was writing, because I was determined to respond to Kipling's original material, not the film.
That's what I tend to do when I'm adapting: write my own version, ignoring any current versions that exist. Then when I'm happy with it, I might watch others, to make sure that I haven't accidentally done the same thing.
When you were adapting it, did you find there was a character you particularly enjoyed writing most?
I loved writing Kaa. I'd recently come back from Los Angeles and Kaa is totally inspired by the ageing Californians who'll botox themselves to the nines to avoid appearing their natural age.
Our Kaa thinks ageing is disgusting, but she's well over a hundred and is gutted that people know she's ageing, because she keeps shedding her skin. So I really enjoyed that.
We also had a workshop part-way through the process, which I always enjoy as it means you can rewrite to suit particular actors once you've met them. For example, Bagheera is a gym-loving, feminist, front-footed Beyoncé panther in the script, and that was definitely influenced by working with Deborah Oyelade who is so vital and energetic, and thinking "I wonder what would be fun for her".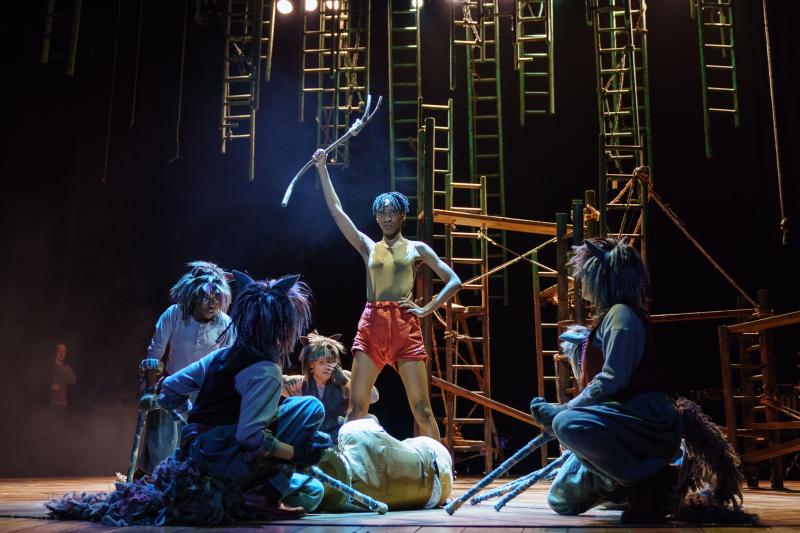 Finally, why should audiences come and see The Jungle Book?
I think it's a story that has something to say now, as well as being a children's classic. The original Kipling tale I found quite tricky in terms of its politics, because it's essentially the story of an immigrant boy who wants to fit in with a foreign community, realises that assimilation doesn't work, and goes back to his own tribe!
That is not a tale that I thought we ought to be telling at the moment. I think it's really important (particularly with young people) to have open conversations about immigration and the importance of diversity. And in the wake of the Brexit vote, I wanted to write a show which held inclusivity at its heart.
So hopefully people come away with a message that it doesn't matter if you have fur or a tail, everyone's welcome. Diversity is a great thing and we're all in the same jungle. That's the message of the show and I stand behind that.
It's also why I'm so pleased that we've cast a young woman as Mowgli, and that there are no references to her gender at any point in the show - so we never know whether she's a boy or a girl. It's lovely to watch the kids coming out wanting to be him/her, depending on how they saw it.
I also think people should see it because it's great to go to the theatre with your family and friends. It's so easy for people to get all their entertainment in isolation, staring at an iPad or a phone. So it's great to see families out together. I love that.
Plus the interval ice cream is excellent.
The Jungle Book on tour until 12 May
Photo credit: Manuel Harlan