BWW Interview: David Horovitch Discusses NOT TALKING at Arcola Theatre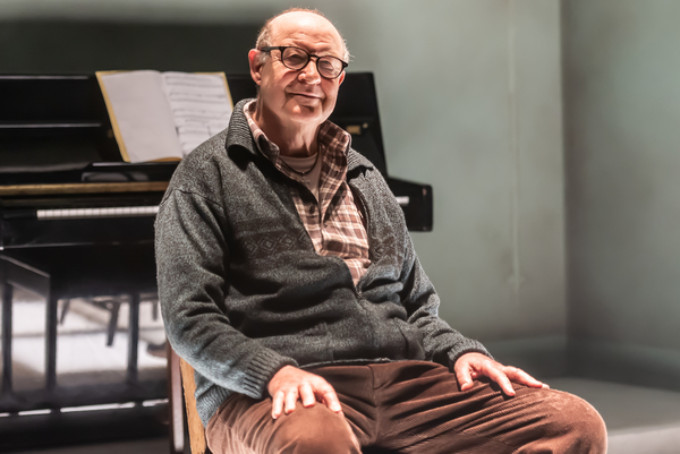 David Horovitch is currently starring in Mike Bartlett's Not Talking. Originally broadcast on radio, the play is now being performed on stage for the first time at Arcola Theatre.
Did you go to the theatre a lot as a kid?
Yes, I did. My father ran a children's home and I think my earliest memories of being at the theatre were generally of going there with the children of the home - coach parties seeing pantomime.
I saw some spectacular things. I saw some Shakespeare quite early on too, done by amateurs - it didn't mean much to me until much later when I started doing Shakespeare plays when I was at boarding school.
And did you love going when you were young or was it something you just did?
Yeah, I loved it. I loved going to the theatre and I loved going to movies as well. I went to the cinema almost every week - I used to go with my pocket money I got.
When did you decide you wanted to be a professional actor?
I think I was about six. I didn't know there was such a thing as a professional actor, but I appeared on stage in a children's production at school. I had one line, I think - I came on, I said my line and I waved at my mum and the teacher told me off.
And I thought my teacher was right, I shouldn't have waved at my mum. I was supposed to be a priest and a priest wouldn't wave at his mum! I took it very, very seriously at such an early age.
Where did you train?
I went to Central [School of Speech and Drama] when I was 18. I really loved it, I had the best time of my life. I couldn't stop thinking "Oh my God, I'm actually doing what I wanted to do!". I could never quite believe I got in. I was told on the day and I didn't even have to wait.
What was your first professional job after you graduated?
It was in Cheltenham, at the Everyman Theatre, and I was there for nearly two years. In those days it was sort of like an extension of your training, really, and I think it's very sad that actors don't do that anymore. I think I must have done over 30 plays there. By the end I was sort of playing leading parts and I think I learned a great deal, probably a lot more than at drama school, because you just had to do it.
You rehearsed a play for two or three weeks and then you opened the play and then you started rehearsing another play. You'd be rehearsing a play during the daytime and performing another at night - it was sort of like doing two plays at once.
It was very, very hard work, and I look back on it and I think I was probably not very good at it back then. What you learn from something like that is that acting is sort of a muscle and you need a lot of resilience and knowledge. But it was a lot of fun!
Do you have a favourite role you've played in your career?
I played Prospero in The Tempest in what's one of my favourite theatres, the Royal Exchange in Manchester, which is in the round and it's so beautiful. I loved doing that.
I've done a couple of things there; I've played Undershaft in Major Barbara, a George Bernard Shaw play, which is a wonderful character. He's an arms manufacturer, but Shaw is so clever that he makes him play sympathetic and witty and very wise, although he's a proper villain, in a way. I thought that was a wonderful part.
Is there something you haven't played but really want to?
I don't know, sometimes I think I would like to do King Lear, but I'd like to do it in quite a small theatre. A sort of intimate version of it. I think that's the only part really, there are a few part that have passed me by now because I'm too old, but I think I'd like to have a crack at Lear.
You're now starring in Mike Bartlett's Not Talking at Arcola Theatre. What is it about?
It's a fascinating piece. It's Mike Bartlett's first play and I think he wrote it when he was about 24. It's set in 2005 and was first performed in 2006. He wasn't a well-known playwright back then, so although it was written for the theatre it was originally performed on the radio, where I think it won an award. I can imagine it on the radio, although it works very well in the theatre.
It's about an old couple, James and Amanda - myself and Kika Markham, who plays my wife and who's wonderful in it. He's a conscientious objector in the Second World War and he's looking back on his life, when he decided he wasn't going to fight and the effect that this had on his marriage.
His wife sort of went off him, at first, because she thought he was a coward. There's a woman in the town where he goes to register and he has the opposite effect on her - she finds him very inspiring. He has an affair with her, and this is years and years in the past.
Then there are a couple of younger actors playing two characters in their teens, who are in the army in 2005. They're played by Gemma Lawrence, who's absolutely terrific, and Lawrence Walker, who's also very talented. The puzzle for the audience is how the two plays intersect.
And they do - I'm not going to tell you how because that would be a spoiler, but they do intersect about halfway through the play. Although the telling of the play is slightly complicated by this fact, it's actually a terrific story, a very good narrative. I mustn't give too much away!
What's your character like?
He's a terrifically sort of optimistic character, very much someone who loves life, who loves talking. The first thing he says in the play is that when he was a child he just talked all the time - he's never been able to understand people who are shy or tongue-tied and can't talk.
But secrets grow between him and his wife, and people stop talking. He's a Christian but he's not virtuous at all nor pious. His Christianity prompted him to become a conscientious objector because he says Christ's example is non-violent and he wants to follow Christ's example.
He's a very open and generous, optimistic person, and as the play goes on the worst thing he can possibly do is to stop talking, which is what kind of happens between him and his wife. He's someone who's able to break down barriers, I think. There's something very innocent and unsophisticated in him. He's a good man, but he's a sort of accidental hero even though he's not a heroic type at all.
What's the main challenge of this role?
What I haven't told you is that the play itself is very difficult to stage, something I've never done before. Although we're on stage together two by two in various permutations, all of the play is told to the audience. We never actually talk to each other.
I found that immensely challenging, I've never done anything quite like it. Mike Bartlett came to rehearsals once, and he said that it's almost as if you've got two actors on stage but what you're actually watching is not a dialogue scene where the people interact - you're watching two one-man shows going on simultaneously.
Each actor is always trying to enlist the audience and telling their story to them, and the stories overlap and interweave and are told in different times. You never really interact with the other actors. It doesn't really exists without an audience - they're almost a character in the play - and that's a real challenge.
The play was written 22 years ago - do you think it has a different meaning now?
It's curious, because I think it's very pertinent now. It's not a predictable play at all. Mike was saying that it's his most personal play - my character is based on his grandfather. But it does sort of have a political aspect. It's very much about war and the undesirability of war.
War is constantly with us and I feel it's very much with us now. We're living in a very precarious time and the battle lines are drawn almost in a way that they were during the Cold War.
On a global level I think it's very important, as well as on a personal level, because it's important to talk rather than just to try to punch your way out of a situation. That's so much the thing with the play, I don't think that will ever go away.
What can the audience expect from the show?
I think they can expect to be moved. All four characters have a very moving journey through the play. It's also quite funny - it's a very lively piece of writing.
If you like being drawn in and involved for 80 minutes in people's lives, this is the play for you.
Not Talking runs at Arcola Theatre until 2 June
Photo credit: Lidia Crisafulli