BWW Interview: Cast of MAGGIE MAY at Finborough Theatre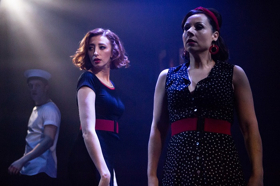 Kara Lily Hayworth and Natalie Williams are currently starring in Finborough's revival of Lionel Bart's musical, Maggie May. They spoke to BroadwayWorld about the show.
Who or what inspired you growing up?
Natalie: My family was a huge inspiration for me growing up; neither of my parents work in the industry, but both have a huge passion for music and storytelling. My mum loves Barbra Streisand and used to always play records of her and other show songs around the house, and I always remember singing and dancing along in the living room.
My grandpa was also a proper raconteur and loved engaging anyone who would listen with his stories and characters. I think that passion for connecting with people through music, storytelling, and dance has filtered down to me from my family.
Kara: Anyone who knows me knows that my absolute idol is Celine Dion. I grew up listening to her and she is the reason I wanted to be a performer! I mean, I have T-shirts and mugs and I've seen her several times; for my 30th birthday, I saw her Vegas show!
What can you remember from your first experience at the theatre?
Natalie: Gosh, it seems so long ago now, but I remember going to see a local production of Joseph and the Amazing Technicolor Dreamcoat when I was about six years old.
I was fascinated with the whole spectacle: the costume, the set, the choreography, the ability to be transported somewhere else. I left the theatre that night mesmerised and wishing I had been up on the stage too.
Kara: My first experience of musical theatre was the VHS of Cats, which I watched on repeat. We didn't go to the theatre much when I was a child, but I knew from a very young age that's what I wanted to do.
I did a lot of am-dram when I was young at the Elgiva Theatre in Chesham and the Wycombe Swan as part of their youth theatre, and when I was 11 I played Annie in the National Tour, which really reinforced my desire to be a performer.
What made you want to be part of Maggie May?
Natalie: When I heard there was to be a revival of Maggie May I was fascinated: I'm a great admirer of Lionel Bart's work.
I hadn't heard of Maggie May so immediately researched the piece and asked my agent to submit me to the casting director to be considered to audition for the show.
I'm from a small former steel and mining town outside of Glasgow and music, storytelling and social dancing were all a strong part of our community. It was once a buoyant and thriving working-class town, but when the Ravenscraig steel works were closed down unemployment was very high.
The town has never really recovered. It's a shell of what it used to be. I could see a lot of parallels with the book for Maggie May and was keen to be part of the show.
Kara: The Finborough Theatre is so well respected in the industry and produces fantastic work so that was obviously a draw. Have played a Scouser in Cilla the Musical for the last couple of years, I loved the idea of playing another one.
Also, to be in a lost gem of a Lionel Bart musical was very exciting. It hasn't been on performed in London for 55 years and it was a hit at the time, so I think it deserved to have another life.
What is Maggie May about?
Kara: It's mainly about the doomed love story of sex worker Maggie May and her childhood sweetheart Pat Casey (son of a union martyr), who went away to join the navy, and the rekindling of their relationship on his return.
It's set against the backdrop of the Liverpool docks and the struggles of the workers and the union at the time - specifically, Casey's fight against corrupt bosses to prevent a shipment of guns and how torn he is between having a simple life with Maggie and fighting for what he believes in.
Natalie: To add, it's about community spirit, love, hope, solidarity, struggle, power, change and how it impacts and affects us all.
Can you tell us about the character you play?
Natalie: I play Maureen O'Neil, a sex worker and best friend of Maggie. She has a steely exterior, is loud, direct, no-nonsense and more hardened than Maggie. She is resigned to her way of life and place in society but doesn't feel sorry for herself, and unlike Maggie doesn't dream or romanticise of a better life.
She is working for herself and doesn't want to be pitied; she will absolutely put the men she encounters in their place and won't shrink to empower them, though ultimately they are what allow her to put food on her table and a roof over her head - and her reality, though her choice, is also great sorrow.
Kara: I play Maggie May, who is a sex worker. She's been in love with Pat Casey since she was a child and declares that she will never love another man. When she becomes a sex worker she actually calls all of her clients Casey after him.
She is a very feisty character and knows how to hold her own in any situation. She also has an amazing vulnerability, which makes her such a joy to play.
Do you have any favourite numbers or moments from Lionel Bart's score?
Natalie: Yes, there are two moments I especially love from the score. "Casey", which is when Maggie and Maureen are working at the docks with some sailors - musically, it has a strong jazz influence and takes you on a journey into the reality of life and work.
There are wonderfully placed accents in the music and the tempo starts steady, builds on the dance break and settles again at the end; it sets up brilliantly the control and power the women grip on to through their sexuality and work, but also the chaotic and unpredictable nature of the situations their work places them in. It's a very evocative piece of music.
I also love "Dey Don't Do Dat Today". It's a song called the dockers' song and it has a real earthiness and folk influence that captures the essence of the Celtic roots in a lot of the Liverpudlian community at the time, and the lyrics are both heart-breaking and humorous. It really captures the working-class spirit while also talking of the day-to-day struggles the dockers are facing.
Kara: There are some truly fantastic numbers in this show and it is so diverse, ranging from folk and music hall to Mersey Beat and rock 'n' roll. Some of my favourites are those that the dockers sing together, including "Dey Don't Do Dat Today".
I also absolutely love Pat Casey's song "I'm Me", which James [Darch] sings so well. And "Carryin' On", which is the rock 'n' roll number in the show that Aaron [Kavanagh] sings ridiculously well. They're all fantastic!
How do you think the theatre industry is doing in representing all classes and clans in the stories being told on stage?
Natalie: I think the theatre industry is making progress with the range of stories being told on stage today, but there is no doubt we are absolutely still a way off of having a true balance and equal representation for all communities in the work being funded and created for the stage. We must continue to work together to insist and ensure there are opportunities for all.
Kara: Lionel Bart was the first person to put working-class stories on the stage and this show really celebrates that. I think theatre is improving with its diversity in all aspects all the time; it's not perfect but it's getting there, and celebrating people's uniqueness is so important.
With shows like Everybody's Talking about Jamie and Hamilton in the West End at the moment, I think it's a really special time in theatreland.
What other stories do you think should be told on stage today?
Natalie: I feel passionate about all communities having a voice and platform to share their stories. The form and narrative they have are not for me to dictate but I would love to be exposed to as much new and relevant work as possible.
Kara: My favourite shows are stories about real relationships and real life. I love connecting with stories and emotionally investing in the characters. The best show I've seen recently and maybe ever is Come From Away. It was so simply told and staged and I didn't want it to end. More of that, please!
Why do you think now is the right time to revive this show, 55 years after its debut?
Natalie: I think it's the right time to revive the show with it being 20 years since Lionel Bart's death and 55 years since the show's debut.
Maggie May seems to be one of his lesser-known works and it seems a fitting time to celebrate and share it. The themes of exploring class, corruption, power, community spirit, gender politics are all very relevant today.
Kara: This year marks the 20th anniversary of Lionel Bart's death so it is quite fitting that the production should be revived this year and really celebrate his work. He was brilliant and often described as "the father of British musical theatre". His songs do stand the test of time and this show deserves another life.
Why should people come to see Maggie May?
Natalie: People should come to see Maggie May to be moved, entertained and engaged. A rare chance to see one of Lionel Bart's forgotten gems in an intimate space with 13 actors and a wonderful creative and technical team bringing to life a small piece of Sixties working-class Liverpool to south-west London.
Kara: It's a real working-class story with a lot of heart and packed full of amazing songs. It has been cleverly done for the tiny but gorgeous Finborough Theatre. It has been beautifully directed with love and passion by Matthew Iliffe and the musical direction by Henry Brennan is incredible - he truly fills the space with just a piano.
The set design, lighting and sound is so cleverly done that you really believe you're by the docks in Liverpool. It's amazing what the whole team have achieved. Oh, and the cast - they're all pretty good too!
Maggie May at Finborough Theatre until 20 April
Photo credit: Ali Wright
Related Articles View More UK / West End

Stories

Shows